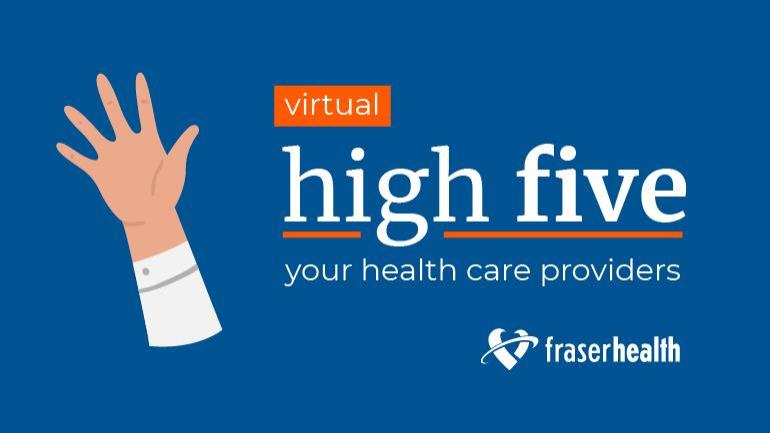 This week's high fives go to our amazing people at Abbotsford Regional Hospital, Langley Memorial Hospital, Peace Arch Hospital, Royal Columbian Hospital and Surrey Memorial Hospital.
Want to send a high five to your health care provider or Fraser Health team member? Leave a comment below or send your thanks using our online submission form. Read more kudos at fraserhealth.ca/highfive.
---
For Abbotsford Regional Hospital
I visited Abbotsford Regional Hospital for an MRI and was very nervous. However, everyone from the triage staff to the MRI technician was amazing. Everyone was very kind, informative and made me feel at ease. They turned a stressful procedure into a positive one. Thank you.
---
For Langley Memorial Hospital
I recently visited Langley Memorial [Hospital] for an MRI. I wanted to thank the excellent care provided by a group of gals who attended to me. I was in and out within the exact time frame given. Thanks to all; well done.
---
For Peace Arch Hospital
Thank you to all the staff who cared for me, from registration to the doctor that performed the procedure. I would like to share a special thanks to Cassandra. As the first person who attended to me, she was so pleasant and calming. She did an amazing job of putting me at ease.
---
I recently had my first colonoscopy and was pleasantly surprised with the whole experience. I was so impressed and hope you pass on my kudos for a job well done. Thank you.
---
For Royal Columbian Hospital
I had minor surgery in the Surgical Daycare Department. The entire experience went smoothly, but one person made the experience so much more comfortable for me. Nurse Sheryl was amazing, pre-operative and post-operative. I was just so impressed with her care and bedside manner.
---
Nurse Macy is kind, caring and patient. There are many excellent nurses we encountered who deserve recognition and much thanks for their dedication.
---
Paediatric Nurse Gabby was the best nurse I have ever had. She took the time to listen, was very empathetic and most importantly connected and built trust with my four-year-old. Thank you so much for your service and commitment to your patients.
---
I recently visited Royal Columbian [Hospital] and was very pleased with the care I received. I received quality care from everyone but would like to single out Simone and Carmela as standouts. They are both so attentive, caring and professional, just awesome nurses. What a great team.
---
For Surrey Memorial Hospital
My husband was admitted to Surrey Memorial Hospital for septic shock. I can't tell you enough how grateful we are for the quick diagnosis and excellent care he received from the staff. Every single person was compassionate and caring. Thank you all from the bottom of our hearts.
---