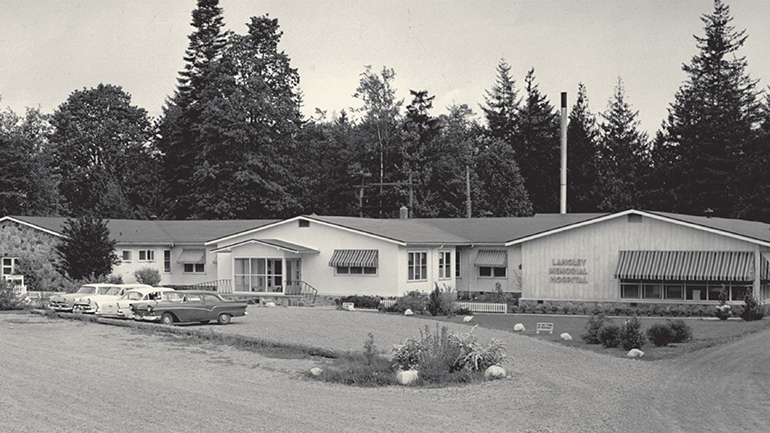 For 75 years, Langley Memorial Hospital has provided exceptional care for its patients and their families. Behind this achievement lies a remarkable group of individuals including staff, medical staff, volunteers, foundation members, auxiliary members and community partners.
Photo: Langley Memorial Hospital 1948
Langley Memorial Hospital or "the cottage hospital", as it was originally known, opened in 1948 with 35 beds. As the community grew, so did the hospital campus, but it has always managed to keep its reputation of being a family hospital.
For the McKay family, it was an "all in the family" hospital. The McKay family worked at Langley Memorial Hospital for two generations and a cumulative total of 124 years. Bruce McKay joined Langley Memorial in 1975 as an orderly.
Bruce's eldest daughter Kelly Mackenzie was hired in 1977, working in the laundry department. During her career at Langley Memorial, she also worked in dietary and portering services. She retired in 2015 after 38 years of service.
Kelly's sister Korreen Magee started as a porter in the X-ray department in 1980 and also worked in dietary services. She retired in 2018, having worked at the hospital, like her sister, for 38 years.
And finally, Koreen's sister Kris Howes joined the hospital in 1991 as a clerk in the X-ray department, and working in various departments including portering.
Photo: The Porter Sisters (from the left to right: Kelly, Kris and Korreen)
"Staff and patients knew us as 'The Porter Sisters' because we all worked in portering," says Korreen. "We were really in our own little world because you could move from department to department and if it didn't happen at the hospital, it didn't happen."
Korreen met her husband—also a hospital employee—at a staff softball game, and when they adopted a child, her co-workers showered her with kindness.
"I couldn't believe it, everyone at Langley Memorial was so generous," she says.
Now retired to Vancouver Island, Korreen reflects fondly on her years at Langley Memorial Hospital and the wonderful people she met there.
"I remember walking down the hall eight years after I worked in the sandwich bar, looking up, and seeing a smiling face: 'Hey turkey-on-12-grain' or 'How is salmon-sandwich-no-mayo-and-carrot-sticks?'" she says with a laugh, describing the lunch orders that became nicknames over the years.
"I might not remember a name but I made life-long friends and we sure had a lot of fun."