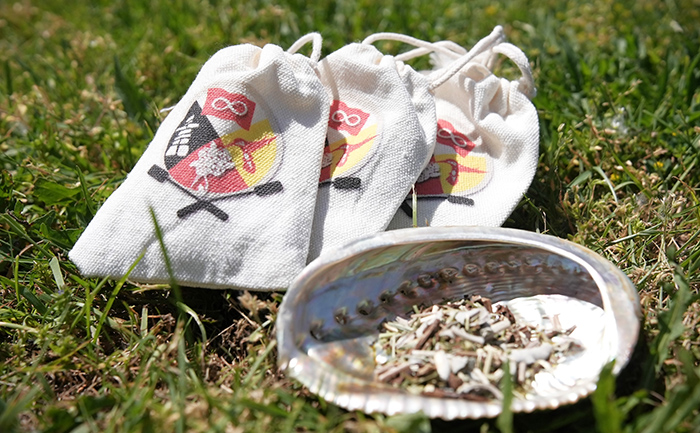 Indigenous health liaisons hand out more than 500 medicine bags every year to help with physical and spiritual healing.
Hospital rooms are often filled with life-saving equipment. Ventilators help people breathe, dialysis machines filter blood and extracorporeal membrane oxygenation (ECMO) effectively takes over the work of the heart and lungs. Occasionally, amidst the high-tech equipment, there might be a small, special bag containing Indigenous medicines.
"Medicine bags are spiritual and tangible at the same time," says Elder Carol Peters, Indigenous cultural safety liaison/advisor with Fraser Health. "You can hold them, smell them and pray with them. Patients might put the bag on their bed or table or hang it from a bedrail or IV pole."
When an Indigenous patient is referred to an Indigenous health liaison, the liaison offers the patient a hand-made medicine bag and a story to go with it.
"Good thoughts and prayers are encapsulated within the bags," says Beverly Lightfoot, coordinator for the Indigenous Health Liaison team.
"Each bag contains cedar to restore positive thoughts; sage to drive away negative energy and impurities and bring strength and sweet grass for good feelings and intentions. Tobacco is offered during the harvest for the purposes of prayer and thanks for being on this earth," says Elder Carol. "The bags are intended to help patients feel connected to their spirit, community and culture."
The unique healing properties of the medicine bags begin even before a patient is admitted to hospital. Elders and community members gather the medicines and offer good intentions and prayers into each bag.
"There are a lot of things we do for our patients and clients that are felt on a spiritual level," adds Beverly. "This is something I know for myself and I very much believe in."
Beverly is one of 11 Indigenous health liaisons at Fraser Health. She connects with First Nations, Métis and Inuit patients, family members, health care professionals and other service providers to ensure patients receive culturally-safe, appropriate and timely care in the hospital or community.