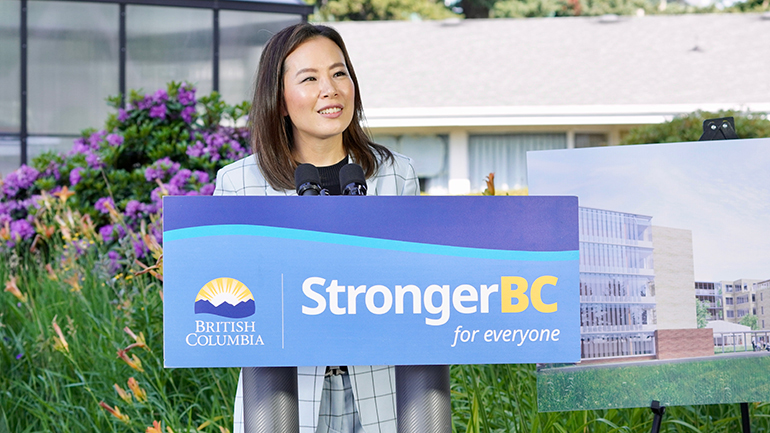 More people living in the eastern Fraser Valley will have access to high quality long-term care as Fraser Health prepares to build a new care community with 200 beds.
"Seniors in B.C. deserve the best quality of health care services in state-of-the-art facilities that are close to their home," said Adrian Dix, Minister of Health. "That's why we are building a new care community that will provide more long-term care beds and enhanced community services in Abbotsford. By increasing capacity for long-term care in this community in a building purpose designed to meet the needs of seniors, we are delivering on our commitment to serve those requiring long-term care."
With the Fraser Valley Regional Hospital District, First Nations and community partners, Fraser Health will build a new five-storey long-term care facility. It will be built on vacant land adjacent to the Maplewood House long-term care home and the Abbotsford Hospital and Cancer Centre at 1919 Jackson St. The facility will replace 109 beds at Cottage and Worthington Pavilion and add 91 net new beds.
The project is in the procurement phase with construction expected to begin in 2025 and be complete in 2027.
"Through purposeful design and collaboration with the Fraser Valley Regional Hospital District and Indigenous, community and provincial partners, we are meeting the evolving needs of our seniors and individuals requiring long-term care," said Dr. Victoria Lee, president, Fraser Health. "This state-of-the-art facility, built with meticulous attention to COVID-19 best practices and cultural sensitivity, will foster a nurturing environment, while ensuring the well-being of our diverse population."
This new care community model takes lessons learned during COVID-19 into account with designs using the new best practice infection control standards, and improves pandemic resiliency, while being culturally sensitive to the community's diverse population.
The care home will be designed as "households" accommodating 12 to 13 residents in single bedrooms with bathrooms. It will include the social and recreational spaces found in a typical home, such as a living room, dining room, activity space and access to the outdoors.
There will also be community spaces and services for residents, families, visitors and staff, including art and activity rooms, a hair salon, sacred space and a 32-space adult day program for people living more independently in the community. As well, a stand alone child daycare facility will be built with capacity for 49 children.
The capital cost of the project is almost $211 million. Funding is from the provincial government through Fraser Health, and a contribution of up to 20 per cent of the cost of the main facility, excluding land, from the Fraser Valley Regional Hospital District. The care community will be built, owned and operated by Fraser Health.
Long-term care communities provide care and supervision for people with complex care needs who can no longer live safely and independently at home. The range of services will be delivered by trained staff.
To meet growing demand during the past five years, government has invested approximately $2 billion to expand and improve quality care for seniors in British Columbia, including investments in primary care, home health, long-term care and assisted living.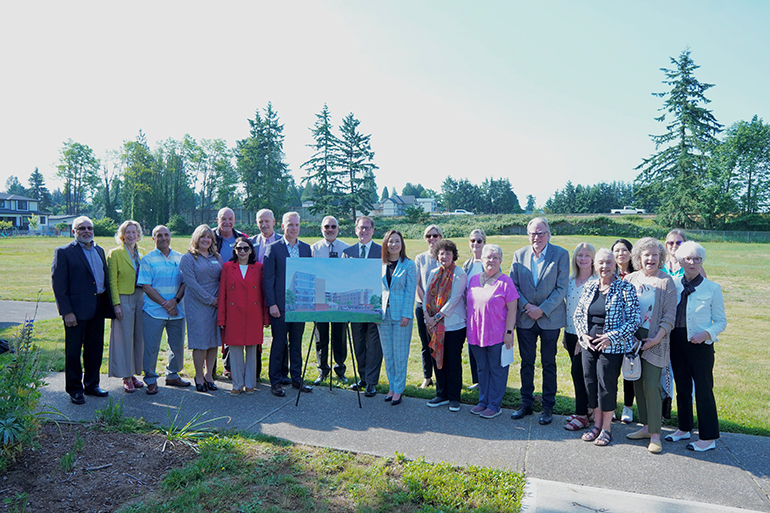 Quotes:
Pam Alexis, MLA for Abbotsford-Mission –
"When you're so deeply connected with a community, you want to continue to enjoy your community connections for as long as safely possible. This long-term care home will support seniors living in Abbotsford and surrounding communities to continue that important connection with family and friends, while receiving quality care and services that will allow them to age with dignity."
Harwinder Sandhu, Parliamentary Secretary for Seniors' Services and Long-Term Care –
"Our government wants to ensure that seniors have access to long-term care within their community and close to loved ones, when they need it. The new long-term care home in Abbotsford will help keep people in community, connected, and will also provide an adult day program, enabling seniors to remain in their own homes as long as safely possible, while having access to quality services."
Ross Siemens, mayor of Abbotsford –
"As our population ages, access to quality care and long-term support is becoming increasingly more important. This new long-term care facility and the additional long-term care beds will have a significant and lasting impact for many Abbotsford residents, by providing a compassionate and supportive environment for those who require specialized care and assistance in their daily lives. The City of Abbotsford is grateful to the Province for making this important investment in our community and for responding to the challenges our communities face in providing adequate care for all of our residents."
Margaret Lissner, daughter of Cottage Pavilion resident –
"It's important that we give our loved ones the care they need so they can live comfortably in a safe setting. I'm very grateful that seniors in B.C., like my mother, are receiving more support, so they can continue to age with grace and dignity. It gives me hope that the growing senior population will have the support it needs."