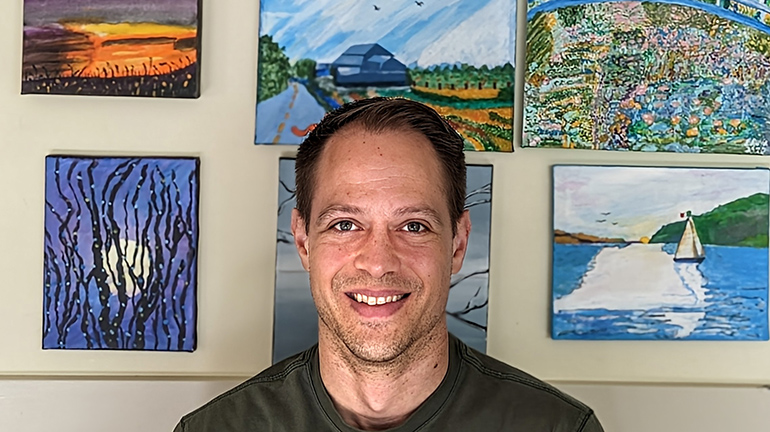 How an assisted living care community is supporting a staff member's passion for holistic art therapy for residents.
Photo: Adam Krut, activity aid specialist, Swedish Canadian Village
Adam Krut, activity aid specialist, is known around Swedish Canadian Village for his kindness, flexibility and willingness to take on any challenge.
Hired initially as a maintenance worker at the Fraser Health-affiliate care community, Adam's connection with the residents was quickly noticed by management.
"Adam really cares about everyone who lives here and it shows in everything he does," says Tyson, manager, Swedish Canadian Village. "It was a natural progression for him to take on a more active role in the residents' lives."
A new job with the community's recreation team had him leading a painting program where he was able to use his artistic talents.
"I have always been interested in art and its many therapeutic qualities," explains Adam. "From the very first day, I found working in this environment highly rewarding as it allows me to address the holistic needs of older adults, including their mental, physical, spiritual and artistic needs," says Adam.
His class soon became one of the most popular activities – with resident-made art covering every inch of available wall space in the recreation room.
Resident art displayed on the walls at Swedish Canadian Village
As the success of his class grew, Adam looked into pursuing additional recreational therapy education and a close friend pointed him toward a certification in art therapy.
"Art therapy captured my interest because it combines creative expression with psychotherapy to promote psychological healing and personal growth," says Adam. "It's a non-verbal way of expressing emotions – which can be especially beneficial for older adults."
Adam met with Tyson and spoke to the benefits an art therapy class would have within the care community, along with a plan on how he would implement and lead the program.
Having seen the many positive impacts of Adam's art classes, Tyson and the board of Swedish Canadian Village offered to pay for half of his tuition to become a certified art therapist for the care community.
"Adam is a valued member of our team and community," says Tyson. "To see him blossom in the way that he has and to see how that growth has in-turn benefited our residents, it's a win-win for everyone."
As Adam nears the end of his art therapy certification, he looks forward to using his education to continue to positively impact the residents he works with every day.
"Art therapy can build community, show people their strengths, help them keep healthy and provide a way of working through grief and loss," says Adam.
Adam's art therapy program reflects the collaborative, on-going partnership between Swedish Canadian Village and Fraser Health which focuses on enriching the quality of life of residents as well as their overall well-being.
"We are delighted with the art therapy program that Swedish [Canadian Village] offers, as we know that it will have a positive impact on the health and well-being of residents," says Sarika Choy, manager, Assisted Living Services, Fraser Health.
"The support and guidance we receive from Fraser Health has been vital. Through this partnership, we can provide the desired levels of quality care and a safe home for our residents," says Tyson.
For Adam, he encourages everyone to explore and express themselves through art, no matter their age.
"This is something we can all benefit from, but being able to do it with this group, that's something that means a lot to me."