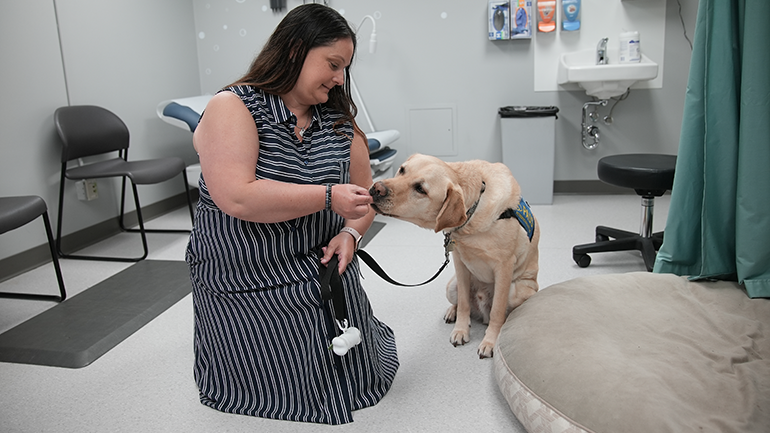 People experiencing interpersonal violence may suffer a brain injury and not even know it.
Photo: Nurse Practitioner Jen Ehirchiou and Pacific Assistance Dogs Society (PADS) dog Levi support clients at Embrace Clinic
"Most of the time, interpersonal violence occurs in private, unwitnessed or where the only witnesses are children," says Jennifer Ehirchiou, nurse practitioner at Embrace Clinic, part of the Fraser Health Forensic Nursing Service that provides short-term medical care to survivors of recent violence.
Fraser Health's Embrace Clinic was featured at the second annual BC Consensus Building Day on Brain Injury, June 22, 2023. Jennifer was one of the panelists at this year's brain injury awareness event that took place in Victoria. The conference brought together stakeholders in the field of brain injury and intimate partner violence. "The people we see—most of them women—often can't sleep or concentrate and may have headaches or difficulty coping with daily life. In many cases, they may not know they have a brain injury," she adds.
"I couldn't tie my shoes and was fearful of my kids being taken away," says Ali, a survivor of multiple assaults by a partner who was eventually sentenced to eight years in jail. "A brain injury is invisible to the survivor, and to me it felt like the death of who I was."
Ali shared her story with conference participants with the hope that it would help others access the care and supports they need. "I believe services should be more accessible to people in their time of need because they may not live to ask for help a second time."
Embrace Clinic is the only one of its kind in Canada - supporting clients with timely medical-forensic care and services and involved in research. "I am incredibly proud of the work we do to support clients at Embrace," adds Jennifer Ehirchiou. "I just wish people like Ali didn't have to experience the stigma and humiliation that stems from intimate partner violence or interpersonal violence. I wish all survivors had access to a service like Embrace Clinic."
The BC Consensus on Brain Injury is a research project aimed at reaching a consensus on the priorities and solutions needed to best serve people experiencing the intersections of brain injury, mental health and addictions in B.C.
June is Brain Injury Awareness Month.
Learn more