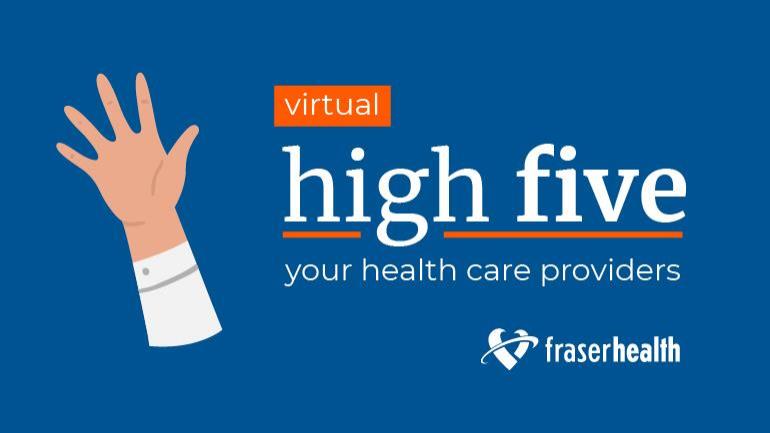 This week's high fives go to our amazing people at Abbotsford Regional Hospital, Langley Memorial Hospital, Eagle Ridge Hospital, Port Moody Urgent and Primary Care Centre, Royal Columbian Hospital, Burnaby Hospital, Chilliwack General Hospital, Surrey Memorial Hospital, and Peace Arch Hospital.
Want to send a high five to your health care provider or Fraser Health team member? Leave a comment below or send your thanks using our online submission form. Read more kudos at fraserhealth.ca/highfive.
---
For Abbotsford Regional Hospital
I appreciate the care that I received at the Endoscopy Clinic. Thank you to all the staff.
---
For Langley Memorial Hospital
Kudos to the team at Langley Memorial for stepping in. They provided timely, urgent palliative care. Fantastic professional and empathetic service by the nurses and Frail-Seniors nurse practitioner. Thank you.
A big thank you to the emergency room staff for the excellent care I received after falling and breaking my ankle. Dr. Holloway and his team were the best. They were quick, efficient and put me at ease when I was nervous. When I went in for surgery I again, received top notch care. I have never had a surgery procedure before and was very scared. Dr. Syal and the team in the Operating Room were incredible. Thank you so much.
---
For Eagle Ridge Hospital
Thank you to the fabulous Nurses Alex, Katie, Muriel, Julie and Dr. Beheshti. Special appreciation for Rouweza who took the time to help me get showered and organized. She was an absolute angel. The shower did wonders for my mental health and she was so gracious and caring. I am so lucky to have received care from this lovely team.
I brought my daughter in to the Emergency Department for a finger injury. I wanted to say a huge thank you to the volunteer who brought my daughter a stuffed animal as well as the incredible x-ray technician, nurse and doctor who took care of her. Their bright, happy faces and kindness did not go unnoticed. They were angels and I can't say enough kind words about them. Thank you.
I attended the emergency room with severe tooth and head pain. The staff were gentle with me and very caring. The attending doctor, Dr. Nathan, was just amazing. He used humour to calm me. The emergency room was busy but he took the time and made me feel like I was the only person there. Thank you.
---
For Port Moody Urgent and Primary Care Centre
I was unsure how urgently I needed a doctor. I went to the Urgent and Primary Care Centre and was triaged promptly and my concern was addressed. Thank you for your prompt care.
---
For Royal Columbian Hospital
I would like to extend my deepest thanks to the hardworking and knowledgeable nursing staff during the birth of my son. Kristie and Erin worked so well together as a team and were incredibly attentive to my needs. I cannot thank you all enough for making me feel comfortable and providing such high level of care. We are forever grateful, thank you.
I brought my daughter into the emergency room with a great concern. From the receptionist to the admitting nurse to the doctor, we felt well taken care of. Dr. Wong was so incredible with my daughter. The admitting nurse even gave my daughter a Popsicle which helped calmed her down. Thank you.
---
For Burnaby Hospital
I received great care provided by all the staff. Thank you.
---
For Chilliwack General Hospital
Thank you to the security staff member who came to see if I was alright while I dozed in the waiting lobby. I truly felt cared for as well as safe and protected. Much respect and gratefulness for the humanity.
The team in 3 North were incredibly professional, caring, thoughtful, helpful, quietly considerate, compassionate and kind. We found compassion and care at every level, from the medical staff to the volunteers and security guards. Thank you all.
---
For Surrey Memorial Hospital
I visited the hospital for three days and needed a lot of care due to surgical complications. Nurse Harman had a friendly attitude and didn't make me feel like I was a bother. Harman stands out in your team as a great nurse. Thank you Harman for your care.
I was quite nervous about starting my physio program at Surrey Memorial. I feel blessed to have been assigned Justin as my physiotherapist. He was professional, encouraging and knowledgeable. He set my mind at ease from day one and made me look forward to my physiotherapy sessions. Thank you Justin.
I spent some time in the Intensive Care Unit (ICU) and encountered one of the best nurses I have ever met, Nurse Belle. She was patient, kind, caring and showed an incredible amount of empathy. She was thorough doing her duties and developed a trusting and appreciative relationship with me.
---
For Peace Arch Hospital
Nurse Dan and Paul gave my father amazing, compassionate care. They were also a great support to his wife, daughters and granddaughters. Their kindness will never be forgotten. They are a credit to the nursing profession. In the darkest of times, they were our light. Thank you.
I wanted to pass on my gratitude to Nurse Cody. What a wonderful, supportive and knowledgeable nurse who was able to combine reassurance with humor and excellent care. Made my stay more than tolerable and was always there when needed.
---