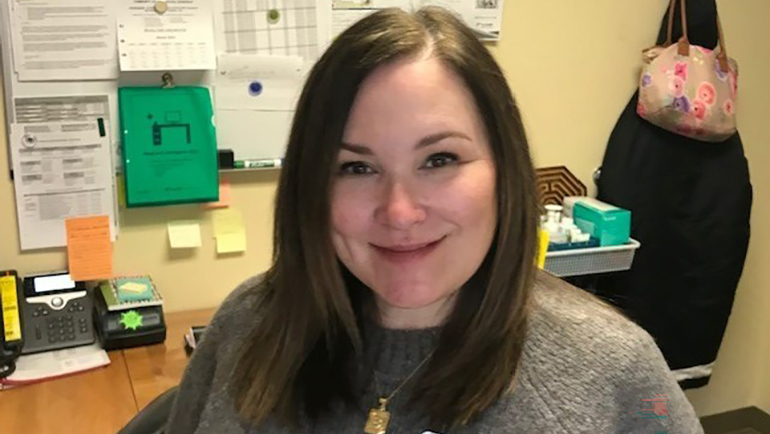 "How can we make someone's illness journey better, right from the very start?" Learn how clinical nurse educators are broadening care providers' understanding of palliative care.
Photo: Becky Williams, clinical nurse educator
Christian Villegas, clinical nurse educator with Fraser Health's Palliative Care Network, works every day with care providers across Fraser Health.
Together with Becky Williams, also a clinical nurse educator, he teaches courses to Home Health, acute care and hospice staff on a palliative approach to care – work that in turn, helps broaden and deepen providers', clients' and family members' understanding of what 'palliative care' is.
"At the beginning of each course, I always ask, 'what does palliative care mean to you?'" explains Christian. "There are people who answer, 'comfort towards end of life,' or who say specifically 'hospice care'. More and more, people are saying things like "managing someone's health or deteriorating health. We're slowly seeing that shift away from thinking about palliative care as strictly end-of-life."
It's a change welcomed by Becky.
"I think what some people might not understand coming into our courses is that so much of what they are already doing is a palliative approach to care," she says. "It's just an intentionality piece – and not more work to do, on top of the great care they are already giving."
For both her and Christian, a palliative approach to care comes down to one thing: the person who is receiving care.
"It's a person-centred, needs-driven approach to care," says Becky. "One that includes education and support that is honest and gentle about what's to come."
A crucial part of this approach, says Becky, is applying it as early as possible in a person's care journey.
"The earlier on in a life-limiting illness, the better," she says. "So that these conversations are not happening in a time of crisis."
Applying a palliative lens earlier gives more opportunities to tweak care and support as needs change – this may look like symptom management, as well as taking part in advance care planning conversations.
Talking about this to a client or a family member can be hard and can depend on where a person is in their illness or disease.
"Some individuals might be more accepting, some others may not," says Christian. "When we talk about the word 'palliative' to the people who attend our courses, we talk about it as quality of life, in both living – for weeks, months or years – as well as in death."
"How can we make someone's illness journey better, right from the very start?" adds Becky.
Christian and Becky are optimistic about the positive impacts of a palliative approach to care – no matter where care is being delivered or accessed within the system.
"The integration of a palliative approach to care is our on-going work to ensure clinical staff and our clients see palliative care as greater than the last moments of life," says Christian. "Because palliative care is not just the dying process. It is a quality of life for living. And every journey is different."
Becky agrees: "It's just excellent care for our patients and our families. And we can all provide it, together."
We are highlighting and celebrating stories of nurses who provide exceptional, person-centred and compassionate care in celebration of National Nurses Week. Read other stories here.
Interested in a nursing career with Fraser Health? Visit our Careers page.