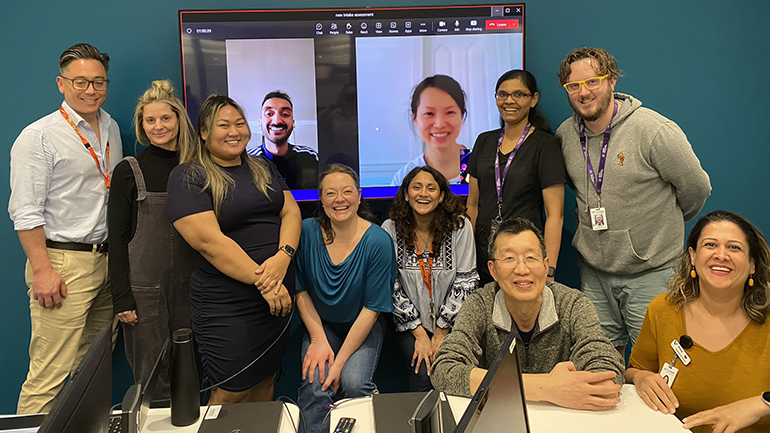 Cheryl Hillman, registered nurse, and Sarah Rourke, clinical nurse specialist, see Fraser Health's Virtual Care as integral to the future of health care.
Photo: Min Naruki-can Velzen, Sonja Hausmann, Monica Rodulfo, Jason Mangat, Cheryl Hillman, Sonia Jose, Vicky Pai, Sarita Singh, Kevin Lambert; Far right side, front two people: Walter Lo and Niloufar Mirzaei
Fraser Health's Virtual Care (FHVC) service is supported by registered nurses who provide patient care and assistance through video conferencing, phone calls and messaging apps. Digital technology is used to assess patient health and provide medical advice and support to patients.
For Cheryl Hillman, registered nurse and member of the Fraser Health Virtual Care team, the opportunity to learn and grow in a new and evolving role in her profession has been invaluable.
"Virtual care provides a different model of patient interaction," she explains. "This role allows me to spend more time with clients, which has been an incredible gift. Our team is focused on partnering with clients to problem-solve and also provide education and resources. It has been very empowering for nurses and clients."
Every day, Cheryl sees first-hand the benefits virtual care provides to patients.
If an in-person visit with a health care provider isn't possible or desired, Fraser Health Virtual Care – a service where patients can speak directly with a registered nurse who can provide health care assessments, make referrals to appropriate programs and provide general health care assistance through video conferencing, phone calls and messaging apps - can be the difference maker in ensuring a patient receives the care they need.
"Patients can ask all their questions and we can look up any resource. And we can address more than one concern per interaction."
She also explains how the team can help support continuity between acute and community settings.
"All of our clinical conversations are documented in the Electronic Medical Record (EMR) to ensure the client's other providers are able to see all the assessments and interventions we have performed."
"Virtual care is beneficial for a variety of patients," explains Cheryl. "This can include older adults, clients with mobility issues, people who live in remote areas, busy parents or workers who want to be able to connect through their device."
"Sometimes people just need someone on the phone to talk things through with them. This can help prevent emergency department visits and provide peace of mind when people aren't sure what to do."
Looking ahead, Cheryl believes that providing health care virtually will provide much-needed care to individuals and communities in new and unique ways.
Sarah Rourke, clinical nurse specialist, shares Cheryl's outlook on the future of virtual care. Working closely with clinical leaders, Sarah supports teams to integrate virtual health solutions into clinical practice. Through collaboration with Fraser Health Virtual Care and other teams, she is enabling the development of virtual care options across the health system by developing clinical practice resources, such as care standards.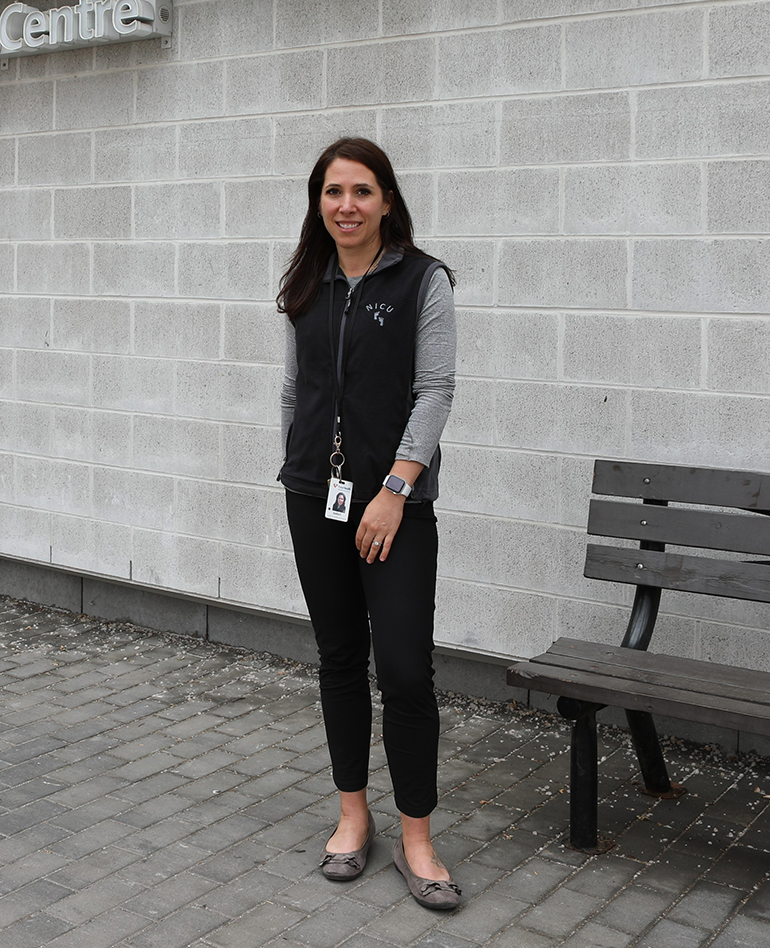 Photo: Sarah Rourke, clinical nurse specialist
Sarah brings the higher-level systems and populations lens to ensure the clinical decision support tools necessary to provide care virtually are grounded in evidence and aligned with existing best practices and policies.
Sarah is not only involved in identifying and assessing how existing policies apply to virtual care, but also in advocating for policy change or new policies when she sees potential gaps.
"A lot of policies and regulations were written to support in-person care," she explains. "So part of my role is to identify when there are opportunities for policy to better support how we provide care virtually."
Her background as a registered nurse provides Sarah with a unique perspective in her system-level work.
"I often go back to the core things I learned as a nurse," she says, "being a critical thinker and problem solver; focusing on the population we serve and integrating evidence into practice."
When evaluating policies, she says, "I think about if I was a nurse impacted by this policy - how would this impact how I provide care? Are there any barriers I would face? And then I take these considerations forward so we can hopefully write good policies to better support staff in providing care. I am constantly trying to translate policy from paper to the real world."
Sarah is particularly passionate about virtual care because she saw how much COVID-19 changed how people accessed health care. "It opened my eyes up to the possibilities of a new way of providing health care, and I was inspired to be a part of that change."
---
We are highlighting and celebrating stories of nurses who provide exceptional, person-centred and compassionate care in celebration of National Nurses Week. Read other stories here.

Interested in a nursing career with Fraser Health? Visit our Careers page.