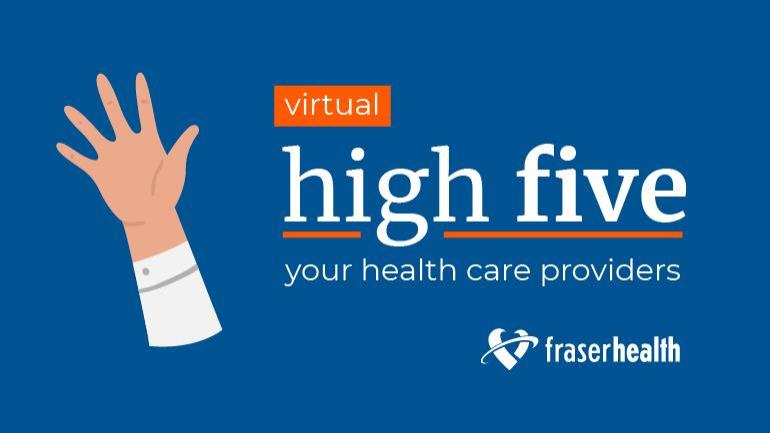 This week's high fives go to our amazing people at Abbotsford Regional Hospital, Chilliwack General Hospital, Delta Hospital, Langley Memorial Hospital, Peace Arch Hospital, Royal Columbian Hospital, Sardis Satellite Laboratory and Surrey Memorial Hospital.
Want to send a high five to your health care provider or Fraser Health team member? Leave a comment below or send your thanks using our online submission form. Read more kudos at fraserhealth.ca/highfive.
---
For Abbotsford Regional Hospital
When I visited the Surgical Unit, I found all the nurses there exceptional. They made my stay so comfortable. Keighlynn and James were especially amazing. Thank you so much.
---
For Chilliwack General Hospital
Thank you to Nurse Christine for your care. It has been a long journey caring for our loved one living with Alzheimer's. Christine listened to our needs and worked with the paramedics to advocate for our loved one. I am so grateful.
---
For Delta Hospital
I visited the Emergency Department due to low hemoglobin. Every single person I dealt with was amazing. Thank you to the team.
---
Thank you Gurinder for helping me with my CT scan. Thank you for caring, listening and for keeping me warm. You are the best.
---
For Langley Memorial Hospital
I received excellent treatment when I visited Day Surgery. It was wonderful, competent, thoughtful, efficient and respectful care. Thank you to all the specialists I interacted with and my surgeon Dr. Archambault.
---
A huge shout-out to Dr. Tavakoli in the Emergency Department. I was very fortunate to have him care for me. He was so knowledgeable, compassionate and kind. He also followed up with me at home the next day. I am so very grateful for this doctor. Thank you so much.
---
Please send my gratitude for the great, professional and kind service that I received from the medical technicians who supported me. From the staff booking my appointments, to administration, to Maria who assisted with my MRI. She had a great attitude – thank you.
---
I would like to send a message of gratitude to the Emergency Department staff at Langley Memorial Hospital who took care of me during my visit. The triage nurses and doctors all took quick action to provide one of the best medical care experiences I have had. Thank you for your professional care and service.
---
I would like to send a sincere thank you to Registered Nurse Kylee and Licensed Practical Nurse Jordan who took excellent care of me while in the Emergency Department. Both nurses were extremely helpful, caring and knowledgeable. It is so comforting to know we have compassionate health care professionals. Thank you.
---
For Peace Arch Hospital
I visited the Emergency Department and was scared and concerned for our seven-year-old son's well-being. Nurse Micky immediately helped calm us and went above and beyond in caring for our son. Thank you Micky – you made our visit much less stressful. You are amazing at what you do.
---
For Royal Columbian Hospital
During my visit, all the nurses I encountered were fantastic. Special shout-out to Nurses Maria and Jisu who were especially attentive and amazing. The nurses worked so hard and they made my stay much better. I am grateful for their care.
---
I want to thank Dr. Findlay for her excellent care of my baby. She was patient and understanding from the initial assessment to discharge. Her warm and comforting demeanor allowed me to express my concerns openly. I appreciate how she never dismissed my concerns. She was very thorough and ensured my son was referred to appropriate specialists in the community. Thank you.
---
Nurse Gillian in the Emergency Department was excellent in taking care of my six-month-old baby while he was struggling with an anaphylactic reaction. She was detailed, compassionate, patient and professional throughout a very stressful situation for my baby and me. She even grabbed me a much-needed granola bar. As a nurse myself, I felt relieved to have my son under her pediatrics experience and care.
---
For Sardis Satellite Laboratory
I have been going to this lab since it opened. No matter how busy they are, they always greet you with a smile and a hello. The staff go the extra mile, opening doors and helping patients get steady when standing up. They are as gentle as possible when doing the blood draws. Kudos to the entire staff.
---
For Surrey Memorial Hospital
I would like to acknowledge Dr. Mui, the surgical team, surgeons and nurses who assisted in performing my full hysterectomy procedure. I felt safe and cared for, from my arrival at the door, until my departure. Thank you.
---