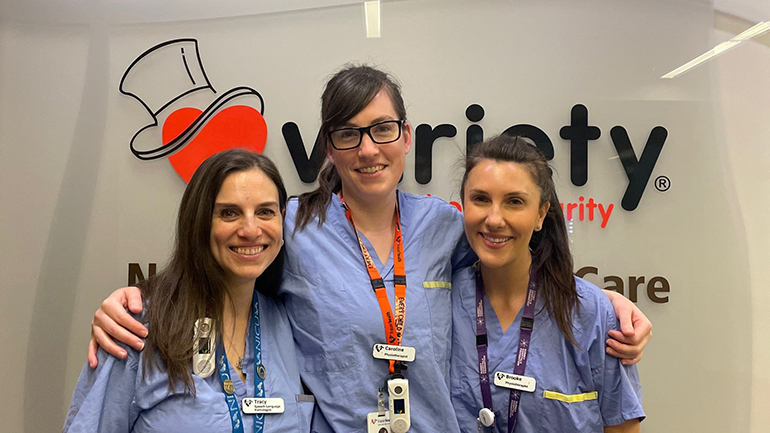 Physiotherapists support Neonatal Intensive Care Unit patients and families to grow and thrive.
Photo (Figure 2 from left to right): Tracy Marshall, speech-language pathologist, Caroline Mombourquette, physiotherapist, Brooke Hannela, physiotherapist
"Physiotherapy in the Neonatal Intensive Care Unit is an incredibly rewarding field," says Brooke Hannela, physiotherapist.
Caroline Mombourquette, physiotherapist, describes the job of a physiotherapist in the Neonatal Intensive Care Unit (NICU) as being able to support the development of premature and medically-complex infants, with the goal of promoting optimal long-term health and developmental outcomes.
Physiotherapists are an important part in the care journey of a baby and their family across all stages of their stay in the NICU.
"We may meet with a family at the beginning of their NICU journey, provide education on their infant's development and guide them on how to first touch their baby and do 'hand hugs' – a gentle touch that can minimize premature babies' pain. Alternatively, we may meet with a family whose baby is nearing discharge, practice developmental activities like tummy time, which they will continue at home, and discuss plans for developmental follow-up after leaving the NICU," Brooke explains.
Brooke and Caroline work closely with speech-language pathologists, who support babies as they learn how to feed, as well as in their language and auditory development.
"The physiotherapists and I work very closely in caring for the same babies," says Tracy Marshall, speech-language pathologist. "We follow them throughout their stay, until they are discharged, and often after they are home. We will often see babies together, and even though we are from different disciplines, we support each others' goals."
Danielle Harvey and her daughter, Brooklyn, spent four months in the NICU receiving care from Tracy, Brooke, Caroline and the NICU staff at Surrey Memorial Hospital after Brooklyn was born at 25 weeks.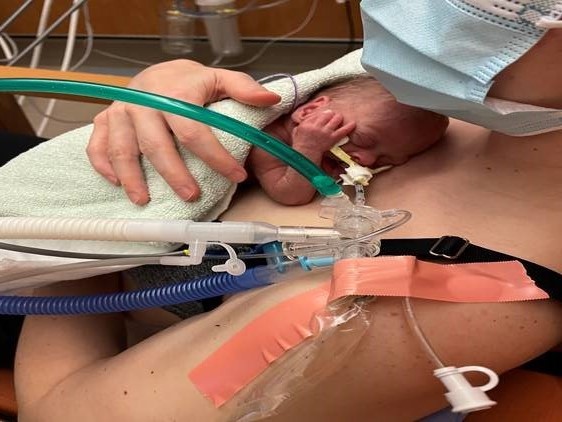 Photo (Figure 3): Brooklyn in the Surrey Memorial Hospital NICU
"Tracy spent countless weeks teaching me how to breastfeed my baby, celebrating the highs and supporting us in all of the lows," Danielle says. "Brooke taught us the importance of positive touch through massage and helped us bond with our baby. Caroline emphasized the importance of safety in our routine along with all the steps to help Brooklyn grow stronger with physiotherapy exercises. To this day we get support from their team encouraging us on our journey."
As Brooklyn's first birthday approaches, Danielle says her family is "so thankful for everyone that made it possible for our little girl to be here today."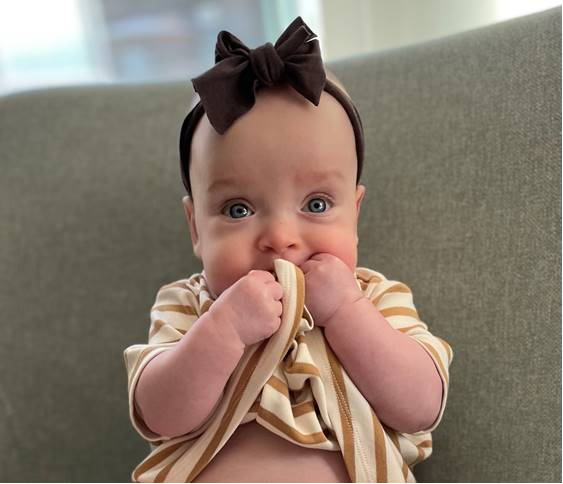 Photo (Figure 1): Brooklyn Harvey, Surrey Memorial Hospital NICU graduate
The incredible work of our physiotherapists and speech-language pathologists ensures that babies in the NICU are supported to be able to learn and grow during their stay, and after they go home.
"Being part of this chapter of an infant and family's life is such a privilege," Brooke says. "As physiotherapists, we have the opportunity to positively impact the long-term development and quality of life of these infants, which is so important. Seeing how these infants benefit from developmentally supportive care and family presence during their NICU stay is such a gift."
"The most rewarding part for me is when families come back to visit or send in pictures or stories about the beautiful and fulfilling lives they are leading − when we get to see these tiny babies grow up to be strong, resilient and happy children," says Caroline.
"Seeing how they grow and thrive once they are home makes it all worthwhile. But none of that would be possible without the amazing team that we have in the NICU," says Tracy.