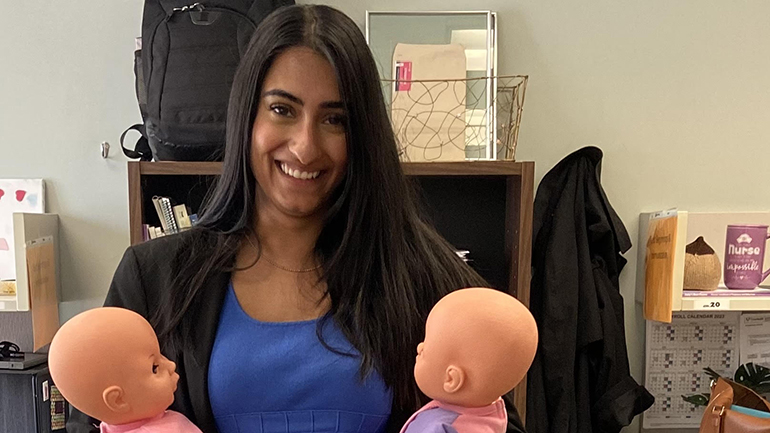 "I knew early in my education I wanted to go straight into Public Health," explains Registered Nurse Simran Sanghera.
"I love the upstream approach to health care. I also love that I get to sit and talk with my clients. It helps me get to the bottom of their issues and ensure I am providing the best information and education to them."
The University of the Fraser Valley graduate says she decided to go into nursing as she's always had an interest in both sciences and health.
"From a young age, I was fascinated with the human body and how everything – from mental to physical health – is connected," she says. "Having that lens is helpful in my role now because when my clients are expressing a specific concern, I am able to connect the dots and see the bigger picture when considering how I can best serve them."
Simran completed her preceptorship with the Abbotsford Public Health's Best Beginnings team in 2022, and went on to join the team officially in April 2023. Along with her team, she helps provide best beginnings – literally. They work primarily with parents-to-be and new parents to ensure they have the resources to get the best possible start to life with their new baby.
"We do prenatal assessments with pregnant people to check on their health, but also their general well-being," she explains. "Sometimes they are dealing with some pretty hard things, such as financial difficulties, depression or the inability to access food."
Depending on the person's needs, her team provides them with the appropriate resources and connections to the community. But the relationship doesn't end there. After the birth, Simran and her team members will follow up with their clients to see how things are going.
"They may need assistance with breast or chestfeeding, in those cases we connect them to our online modules or community resources. In some cases, we provide at-home or in-clinic sessions with our nurses."
Her team also helps protect babies' health by providing immunizations up to two years of age. Simran says one of the most valuable parts of her job is being able to talk to families about the recommended vaccinations.
She notes that sometimes parents are confused about vaccines and are hesitant because of information they've read online or heard from a friend, but once she is able to sit down and address the concerns and benefits for both babies and others, parents often feel relieved and confident about vaccinations. "That's what I love about my role is being able to have these important conversations with people."
When people think of best beginnings, they often think 'pregnancy' or 'babies' but, according to Simran, there is so much more that goes on in the background.
"I recall one mom who I spoke with who told me, 'I'm so hungry, I have no food and I am struggling to feed my baby.' I spent the next several hours working on getting food resources for that family."
"Sometimes people are afraid to talk to you about their struggles. My job is to reassure them I am here to help. I make sure to take my time and pause and allow people time to open up. It's an amazing feeling to hear someone go from sounding deflated to uplifted over the course of a 30-minute phone call."
Simran says her work can be challenging, but it would be much harder if it weren't for such an amazing support network in her colleagues.
"I am lucky to have such great co-workers who I can rely on when I'm dealing with tough situations. They are a wealth of knowledge and everyone is always willing to pitch in and help each other. We all really love what we do."
---
We are highlighting and celebrating stories of nurses who provide exceptional, person-centred and compassionate care in celebration of National Nurses Week. Read other stories here.
Interested in a nursing career with Fraser Health? Visit our Careers page.