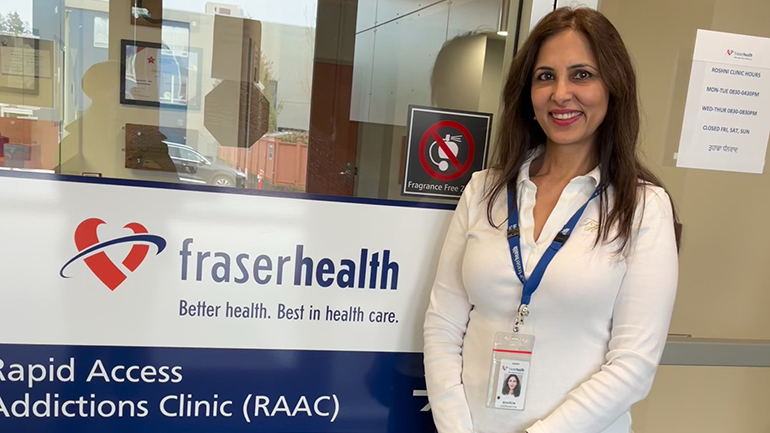 Registered Psychiatric Nurse Sharon Dosaj thinks of the community as her extended family and puts her heart into her substance use withdrawal work.
Registered Psychiatric Nurse (RPN) and Patient Care Coordinator Sharon Dosanj has worked to support people seeking addictions medicine services within our region for decades.
She marvels at the strides Fraser Health has made to support people who use substances in the ways they need most – such as offering immediate access to withdrawal support.
"Our first Rapid Access to Addiction Care (RAAC) Clinic was at Creekside Withdrawal Management Centre in Surrey," Sharon says. "When we first opened the service, we would see between eight and ten patients a day. In a very short time, we began seeing twenty and then thirty patients a day. And what we were doing was working."
Sharon recalls many clients saying how much they appreciated being able to get withdrawal management help on demand, a service made possible with the opening of the Creekside Rapid Access to Addiction Care Clinic.
"It's so rewarding to be able to help people exactly when they need it. Seeing a patient accept a prescribed safer alternative to the substance they're using often means folks would come in at 3:00 PM, receive care, and then go home by dinner time, feeling hopeful, supported and knowing how to continue to receive care.
There was a lot of success and that's what made us work hard—because we saw that what we were doing was working," Sharon says.
Sharon says she's honoured to be able to support people in Surrey, where she raised her family. She shares that she thinks of the Surrey community as her extended family, and is able to identify with and help support South Asian families in particular.
"Nurses working in addiction medicine are quite special in many ways," says Fraser McKay, RPN and manager of mental health and substance use clinical programs. "They understand people are hurting and have a unique level of specialization amongst RPNs. Sharon and the other nurses have created an environment of unconditional positive regard and have made concerted efforts to reduce stigma and create a safe and welcoming space for treatment and genuine caring that is working."
---
We are highlighting and celebrating stories of nurses who provide exceptional, person-centred and compassionate care in celebration of National Nurses Week. Read other stories here.

Interested in a nursing career with Fraser Health? Visit our Careers page.