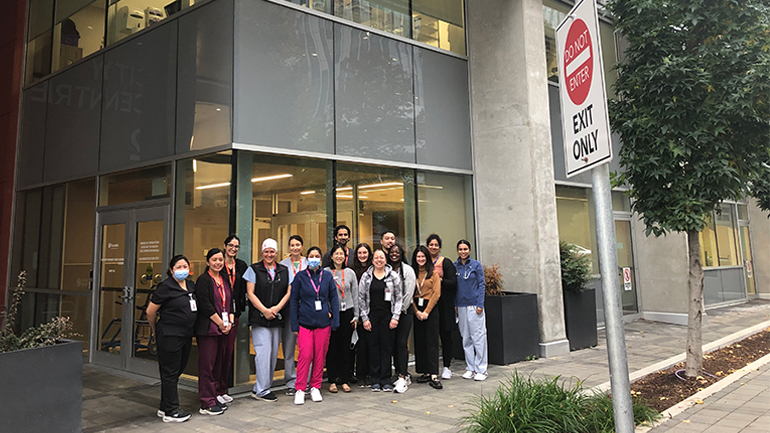 Since opening in 2018, the Surrey-Whalley Urgent and Primary Care Centre (UPCC) has offered wraparound, person-centred and team-based services to provide comprehensive care to marginalized communities.
On November 5, the Surrey-Whalley UPCC marked its fifth anniversary. Since first opening its doors, the UPCC has become an essential health care hub to the Surrey community.
Leigh, a Surrey resident, was one of the first patients attached to the UPCC in 2018. "My family doctor retired, and I couldn't find a replacement. I was relying on walk-in clinics," he says.
Leigh saw an advertisement for the new Surrey-Whalley UPCC. Without hesitation, he decided to connect with the team.
"It's fantastic. The staff is friendly, and it's taken the pressure off," says Leigh.
The UPCC has established itself as an innovation hub within the health care system. Notable initiatives introduced by the team include, a cancer survivorship program, regional pain clinics, collaboration with BC Centre for Disease Control's Sexually Transmitted Infections program and the launch of Fraser Health Virtual Care.
"Fraser Health Virtual Care nurses were initially set up using our backroom," says Dawn Benson, primary care director. "Patients who needed follow-up, in-person assessment were then booked in to see a care team member."
The UPCC also earned distinction for its accomplishments during the COVID-19 pandemic, including serving as the first testing site in the Fraser Health region. The centre's team also led mobile COVID-19 testing at Fraser Health sites experiencing outbreaks and offered assessments for the prescription of Paxlovid, an antiviral medication used to treat the virus.
Dr. Sunjit Parmar, who joined in 2019 as a resident doctor, and who later became the centre's medical director, notes a significant shift in the UPCC since it fully adopted a team-based care model.
"We leverage the expertise of every member of the allied health team, which has improved patient care, especially for complex cases."
Dr. Parmar also stresses the centre's commitment to supporting patients with complex issues, including mental health, substance use and homelessness.
"These marginalized populations, which include new immigrants and refugees, often encounter obstacles to accessing health care, and the Surrey-Whalley UPCC team employs a trauma-informed approach when providing care to clients who are often hesitant to engage with health care providers," he says.
The centre's dedication to providing care to marginalized communities is both comprehensive and deeply rooted in its mission.
The team regularly collaborates with Fraser Health's Integrated Homelessness Action Response Teams (IHART), Surrey Memorial Emergency Department and the Surrey Mental Health and Substance Use Urgent Care Response Centre, streamlining the coordination of outreach efforts.
This collaboration ensures that patients with complex, multifaceted needs are efficiently referred to the centre, where they receive personalized care and treatment – including prescriptions and medication management – and comprehensive wraparound services, including support for housing and financial assistance.
"Following a patient's stabilization, the team works together to provide ongoing care and a path to long-term well-being," says Dr. Parmar.
The Surrey-Whalley UPCC's journey embodies the principles of compassionate, innovative and comprehensive health care, marking its five-year milestone as a testament to its impact on the community it serves.
Urgent and Primary Care Centres (UPCCs) provide care for urgent, non-life-threatening injuries and illnesses for individuals unable to see a family provider or visit a walk-in clinic.