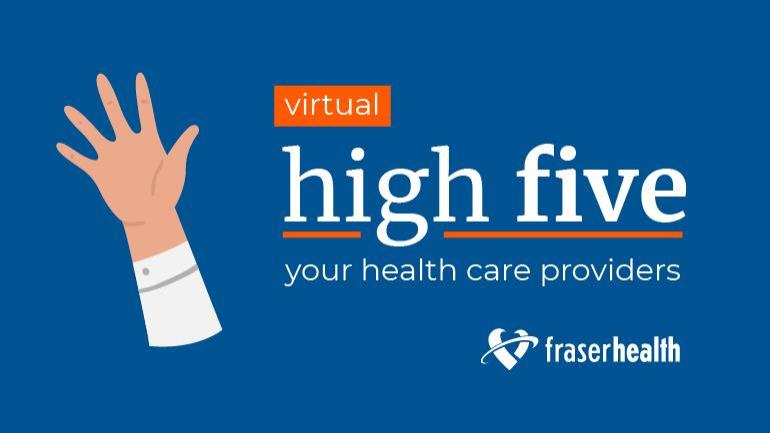 This week's high fives go to our amazing people at Abbotsford Home Health, Abbotsford Regional Hospital, Burnaby Hospital, Eagle Ridge Hospital, Langley Memorial Hospital, Ridge Meadows Hospital, Royal Columbian Hospital and Surrey Memorial Hospital.
Want to send a high five to your health care provider or Fraser Health team member? Leave a comment below or send your thanks using our online submission form. Read more kudos at fraserhealth.ca/highfive.
---
For Abbotsford Home Health
Your wonderful nurses have been looking after my husband for nearly four months. They are always punctual, efficient and so kind to us both. Thank you from the bottom of our hearts.
---
For Abbotsford Regional Hospital
I have nothing but praise for all the staff we met when visiting the Emergency Department at Abbotsford Regional Hospital, from the security staff to the doctor and all in between. Thank you for the great care I received.
---
Thank you to Dr. Tufnell, Dr. Cohen and Nurses Mikaela, Jessica, Michelle, Kezia and Barb. No matter how busy they were, they always had the time to provide care with utmost skill and compassion.
---
I would like to thank Nurses Dion and Kezia from the Pediatric Unit. I recently spent a few days at Abbotsford Regional Hospital with my infant, and their quality of care was outstanding. They were both kind and reassuring. It's not easy when our children are sick, but they did their best to make us feel comfortable and confident. We're very thankful for them both.
---
For Burnaby Hospital
Thank you to Dr. Gracias for treating my chronic back pain. The care he provided has greatly improved my quality of life. Thank you – these services are essential and appreciated by patients with chronic pain.
---
Thank you to Nurses Maria and Faye for their kind and professional demeanour. Their care made my stay very comfortable.
---
For Eagle Ridge Hospital
A thank you to all the Emergency Department staff who cared for me during my recent visit to Eagle Ridge Hospital. It was fast, very efficient and the care was top-notch.
---
I recently visited Eagle Ridge Hospital after experiencing insomnia for over three weeks. The doctor I saw was kind and compassionate. Thanks to his care, I finally had a good night's sleep. I appreciate him and wish to give him a handshake and a hug.
---
Thank you to the team at Eagle Ridge Hospital for the thoughtful and sensitive communication we experienced while on our final care journey with my mother-in-law. From being admitted to the Emergency Department to determining it was time for end-of-life care, the team was kind and compassionate. We appreciated that they made space for us to mourn her passing and how each person clearly cared about our family. Thank you.
---
For Langley Memorial Hospital
I had a wonderful experience giving birth at Langley Memorial Hospital. The doctors were excellent, and the nurses went above and beyond. I felt like I was with close friends as I was giving birth. They were friendly, encouraging and helpful. Thank you so much for making such a scary, wild experience feel more calm and comfortable.
---
For Ridge Meadows Hospital
I have been receiving treatment at Ridge Meadows Hospital for several months. Dennis has been nothing short of amazing, kind and caring. On top of that, all of the nurses, especially Jill and Christine, have been exceptional. I feel safe, cared for and comfortable each and every time. I can't express enough gratitude for the staff I have met here.
---
For Royal Columbian Hospital
My husband was recently a patient in the Older Adult Mental Health Unit at Royal Columbian Hospital. He received excellent care from Dr. Phaterpekar, Pharmacist Anya and the rest of the staff. Our family was updated regularly and informed of his treatment, and any concerns were listened to and acted upon. The Older Adult Mental Health Unit is a vital necessity for the community, and we appreciate the program.
---
For Surrey Memorial Hospital
My recent experience at Surrey Memorial Hospital was a positive one. I fell onto my right elbow, which resulted in a fracture that required surgery. The staff were friendly and professional. Thank you to all of the people who cared for me.