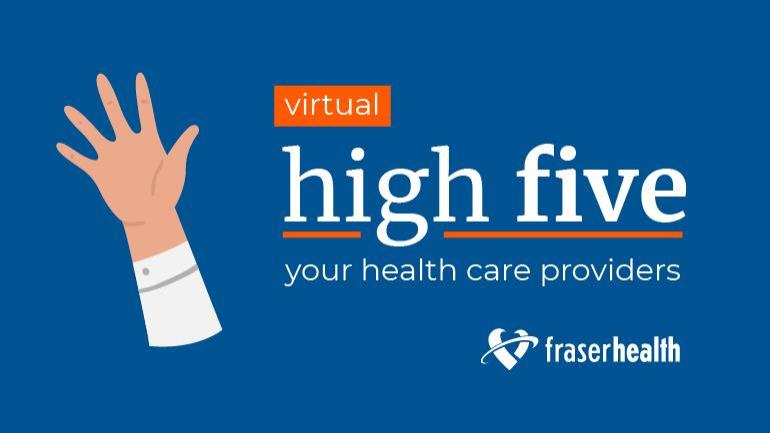 This week's high fives go to our amazing people at Burnaby Cast Clinic, Cloverdale Public Health Unit, Eagle Ridge Hospital, Langley Memorial Hospital, Laurel Place Hospice, Port Moody Urgent and Primary Care Centre, Royal Columbian Hospital and Surrey Memorial Hospital.
Want to send a high five to your health care provider or Fraser Health team member? Leave a comment below or send your thanks using our online submission form. Read more kudos at fraserhealth.ca/highfive.
---
For Burnaby Cast Clinic
Thank you, Dan 'The Bonecracker' for being so calm and friendly with everyone at the clinic. I was impressed by his demeanor. Thank you again, Dan.
---
For Cloverdale Public Health Unit
I visited the Cloverdale Public Health Unit with my child, who has a needle phobia, for influenza and COVID-19 immunizations. Nurse Magdalena was the epitome of patience and understanding, maintaining the same calm tone throughout the appointment, allowing for the best experience in very trying circumstances. Her efforts and kindness were greatly appreciated.
---
For Eagle Ridge Hospital
We were visiting friends in Canada when my husband experienced discomfort in his chest. Our friends took us to Eagle Ridge [Hospital] Emergency Department. We were very impressed with the quick response and great service. Everyone was very efficient and supportive. Dr. Green was very kind, and he explained what was going on and what to do when we returned home. Thank you all.
---
For Langley Memorial Hospital
Thank you to the staff at Langley Memorial [Hospital] for making my mammogram, an often unpleasant experience, efficient and as easy as possible. I was impressed with how organized, skilled and friendly the staff and doctors were. Thank you.
---
I had the pleasure of receiving care from many nurses, orderlies and Dr. Silver during my recent stay at Langley Memorial [Hospital]. I appreciated the excellent care; this team is the best. Thank you.
---
For Laurel Place Hospice
I am writing to express my gratitude and appreciation for your hospice and staff, namely Nurse Practitioner Brenda and Nurse Jo, and to all other staff, for your help and compassion. Thank you so much for your dedication and hard work.
---
For Port Moody Urgent and Primary Care Centre
I visited the Port Moody Urgent and Primary Care Centre with my daughter yesterday and received care from James and Nurse Jackie. Both were professional and compassionate in their care of my daughter. James was very thorough and helpful and addressed her concerns. Thank you.
---
For Royal Columbian Hospital
I want to thank the nurses who cared for me during my recent stay at Royal Columbian [Hospital]. Thank you, Nurse Kelly, for helping me manage my pain. Thank you to Nurse Ralph for his unique personality that made the stay a little less boring. Finally, thank you to the ladies in the post-operative room who kept me company.
---
I recently visited Royal Columbian [Hospital] for the birth of my son. Thank you to Nurse Angie for making my stay a wonderful experience. She provided support by keeping me positive the entire time and encouraging me. She also worked great alongside my midwife, Zahra. She was the best nurse. Thank you, Angie.
---
For Surrey Memorial Hospital
I was recently taken by ambulance to Surrey Memorial [Hospital]. During my stay I received excellent care. Thank you.