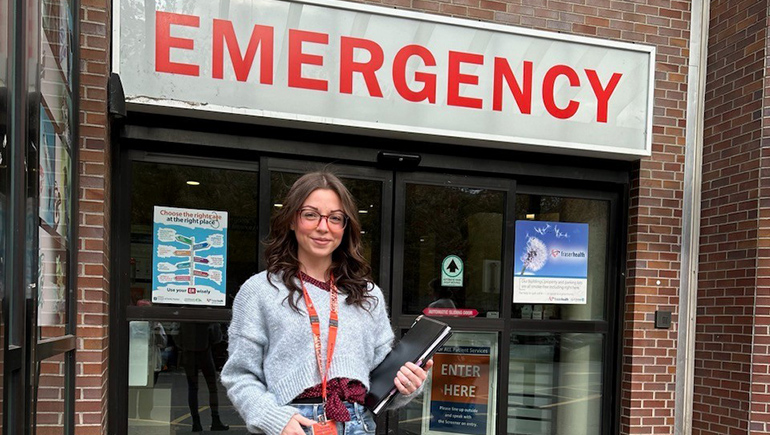 Being able to relate to the struggles of people who use substances has proven to be a blessing for a newly-hired peer support worker at Chilliwack General Hospital.
Photo: Kim Wood, peer support worker
"I know what it's like to feel unworthy, unloved and left out," says Kim Wood, who joined the Chilliwack team in September.
"I was able to pull myself up with the support of others and now I want to be that support person for other people."
Kim is one of four new peer support workers hired as part of a pilot project to help support the response to the overdose public health emergency, and address harms related to the toxic drug supply.
Kim and her colleagues work closely with emergency department staff and medical staff to provide social and emotional support to people who use substances. Patients are referred to the peer team or the team reaches out to patients who may need additional support.
Peer support workers also facilitate access to emergency care and discharge into the community. They connect patients to resources, if requested, and play a key role in deescalating situations that might arise to ensure people seeking emergency care can navigate the health system safely.
The peers do "rounds" on hospital grounds, checking on vulnerable people who might benefit from treatment inside the hospital. They provide standby support during witnessed consumption outside the hospital. The peers are trained in Naloxone use and carry harm-reduction supplies.
"We know people who use substances may be hesitant to come into emergency departments for fear they may be judged and not get the care they need," says Janelle Tarnow, regional clinical nurse educator, Fraser Health. "What we're saying with this initiative is, you have an ally, someone who will advocate for you, meet you wherever you're at and help you get the care you need."
Kim Wood knows the value of a friendly face and a smile.
"Having experienced mental health and addiction in my own life I understand the fear of being judged," she says. "I want people to know that I'm here to help, no matter what substances they're using or what they are doing."
The peer support program is currently operating seven days a week in the emergency department of Chilliwack General Hospital and may expand to other Fraser Health hospitals in the future.