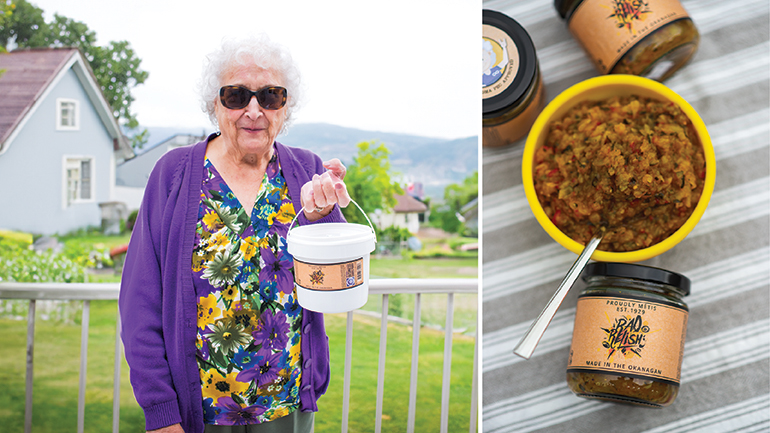 Indigenous-inspired menu items starring Rad Relish, a zucchini relish created by a Métis Elder, were featured at some Fraser Health hospital cafeterias in honour of National Day of Truth and Reconciliation.
Photo (L) to (R): Peggy Millsap, Métis Elder and creator of Rad Relish.
Amanda Laboucane is passionate about the vital role food can play in healing our bodies, minds and spirits.
"Food is medicine. It provides many benefits and healing properties. It's a way to welcome someone and bring comfort. By the very gesture of bringing food to a person, you are extending an offering of healing, connection and trust," says Amanda, a director within the Indigenous Health Department.
She understands that food is an impactful component of connecting, rebuilding and repairing relationships with the Indigenous communities in our region.
"Bringing everyone together around food is important. Our elders love to say, 'First we eat, then we work.' Sharing meals and ensuring everyone has enough to eat is part of Indigenous Peoples' history," Amanda continues.
As part of our broader journey towards reconciliation, the Indigenous Health and Culinary Food Services teams partnered to create new Indigenous-inspired menu items in honour of the National Day for Truth and Reconciliation on September 30.
"We were at a food show recently and came across Rad Relish, a zucchini relish created by Peggy Millsap, a Métis Elder. We were inspired to use this ingredient as a focal point for new recipes, including a bison burger and salmon burger," says Steven Courtney, lead of Culinary Food Services.
Photo: Bison burger featuring Rad Relish
An Okanagan-produced relish, endorsed by the Métis Nation of B.C., Rad Relish exists to preserve Indigenous culture one bite at a time.
"Including Indigenous foods in our cafeterias and other care settings within the health authority is a meaningful act towards reconciliation," remarks Carolyne Neufeld, vice president, Indigenous Health and Cultural Safety. "Food can provide a feeling of welcome to Indigenous Peoples while supporting Indigenous businesses and entrepreneurs to be part of the health care system."
Accompanying the burgers was a nutrient-rich smoked salmon salad with strawberry and rhubarb vinaigrette.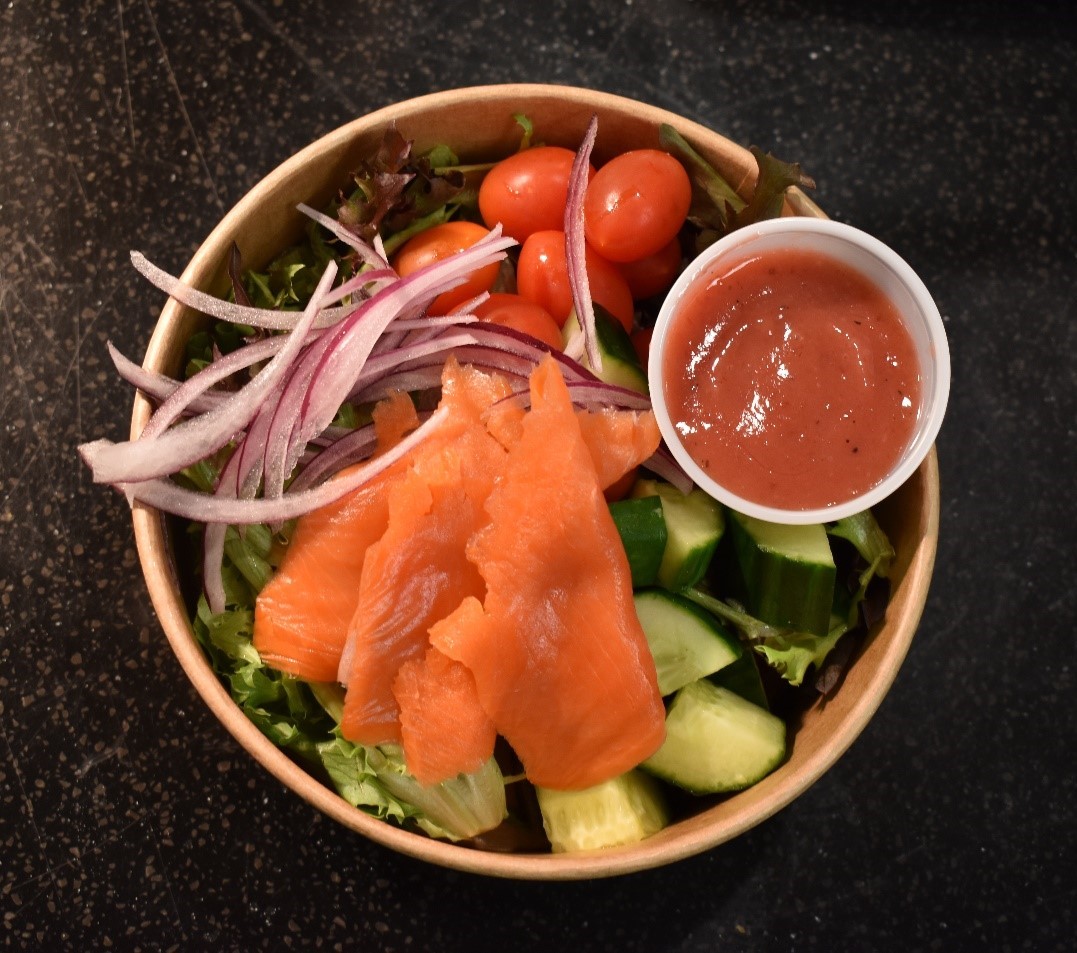 Photo: Smoked salmon salad with strawberry and rhubarb vinaigrette
The featured Indigenous menu items were a step towards creating welcoming spaces and experiences that support Indigenous Peoples. Earlier this year, hospital cafeterias and cafés across the region were repatriated under the name Eyáleq'ep, which means "tasty or delicious" in Halq'eméylem.
"Initiatives like this further our work to restore broken relationships with Indigenous Peoples in our region while building trust that we will provide culturally safe spaces, programs and services," reflects Carolyne. While these featured items may have been around for a limited time, the Indigenous Health and Culinary Food Services teams are working towards introducing more Indigenous menu items in the future.
"This is the first step in our initiative to cultivate traditional foods that nourish the body, soul and spirit, further strengthening the partnership between Fraser Health and the Indigenous populations and communities that we serve," says Amanda.
It's the first, but not the only step towards our commitment to systemic change.
"It's my hope that this work will encourage our staff to learn more about how they can help contribute to a better path forward for Indigenous Peoples," says Carolyne.