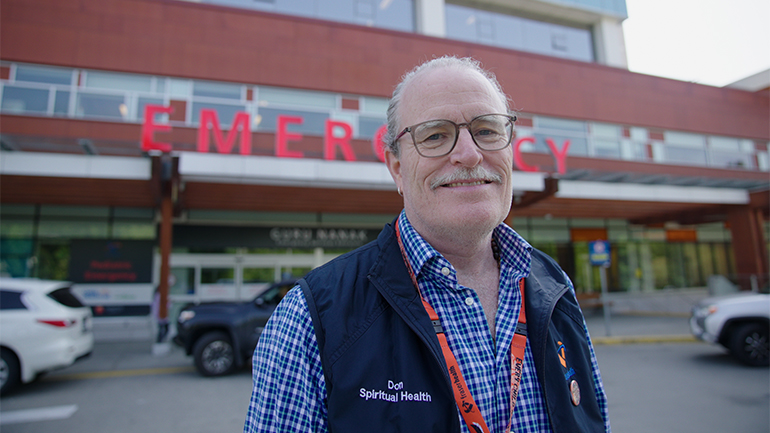 Spiritual Health Practitioners are in the Emergency Departments at three Fraser Health hospitals as part of a pilot project to enhance person and family-centred care in the region.
Photo: Don Cowie, spiritual health practitioner, Surrey Memorial Hospital.
In a fast-paced Emergency Department, life can change in a moment. Families receive devastating news, patients face life-altering diagnoses and staff experience moral distress. For Spiritual Health Practitioner Michael Sanya, being able to identify who is in distress is the first step in providing spiritual care.
He often starts a conversation with: "How can I be helpful to you?"
"Every person is different in how they exhibit stress," says Michael, who leads the Spiritual Health Team at Fraser Health. "They have to give me permission to engage with their story and I want to ensure I honour their time."
As part of a regional initiative to support the provision of holistic (physical, mental, emotional and spiritual well-being) person and family-centred care, spiritual health practitioners are participating in a pilot project in the Emergency Departments at Langley Memorial Hospital, Surrey Memorial Hospital and Abbotsford Regional Hospital.
"The Emergency Department is busy and this unique role is really to be 'in the moment' and explore how to best support patients, families and staff," says Michael.
"From the waiting room to bedside, we can help with de-escalation, being there at end-of-life, supporting families and staff," says Don Cowie, who practices spiritual health at Surrey Memorial Hospital. "Every connection with every person can make a difference and I consider it a privilege to be able to help patients and staff."
The work of the Spiritual Health Team is far-reaching. For example, Caitlin Kennedy, senior coordinator, Quality Improvement, says the presence of Spiritual Health Practitioner Emmanuel Ayedzi in the Emergency Department of Abbotsford Regional Hospital has boosted the spirits of staff, too.
"Emmanuel has connected with staff members including housekeeping, clerks, aides and nurses, and has extended that reach to our community partners: paramedics, corrections officers, police and more," Caitlin says.
"A staff member mentioned to me that his compassion, wisdom and personable attitude has allowed the team and our patients and families to feel heard and valued."
"Our role is to invite connection and offer comfort, in whichever way that may be for each individual," says Kathryn Calzavara, palliative spiritual health practitioner. "Some of the blessings of being in this role include creating meaning through facilitated conversations, tangible legacy work for loved ones and hearing a person's story: their joys and struggles throughout a lifetime, how they have endured and overcome many obstacles to obtain a place of peace and love within self and for those around them."
"When people are experiencing a health crisis they often experience a spiritual health crisis as well," says Shane Flanagan, spiritual health practitioner.
"Having a peaceful, comfortable space to work through thoughts and feelings helps to heal the heart, mind and spirit."