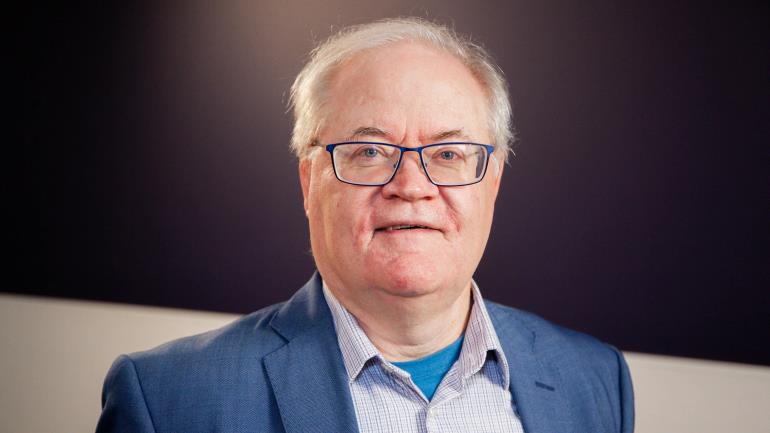 Now retired, Bruce Millin was the executive director of Lower Mainland Pharmacy Services. In 2015, he was awarded the Distinguished Service Award by the Canadian Society of Hospital Pharmacists for his accomplishments. With a keen eye for detail and a heart of gold, Bruce has dedicated himself to fostering a new generation of pharmacists that will become exemplary leaders like he was.
Bruce Millin didn't always want to work in pharmacy – he had originally set out to become a doctor. Those plans changed one night at a dinner party where he happened to meet a pharmacist during his qualifying year who inspired him to change direction. Thanks to that lucky encounter, Fraser Health and health care in the province is better off.
That encounter was the starting point that triggered a series of events that resulted in a career as a pharmacist with Lower Mainland Pharmacy Services and its various iterations for more than 30 years. Bruce has held a variety of positions, including, pharmacist, supervisor, residency coordinator, manager, director and executive director. Over his career, he has worked at a variety of institutions, from large tertiary referral teaching hospitals, to small community hospitals.
Bruce has served as president of the Canadian Society of Hospital Pharmacists (CSHP) at both the provincial and national level and has been a member of the Health Employers Association of B.C. bargaining committee and a member of the Board of Examiners of the College of Pharmacists of B.C.
In 2015, he was awarded the Distinguished Service Award by the CSHP for his many accomplishments, including being selected as one of the provincial representatives to participate on the clinical pharmacy Key Performance Indicators task force, whose results are currently being reviewed nationally and internationally.
Pharmacists are defined by their attention to detail, something Bruce has in abundance "I think I score an 11 or 12 on the anal-retentiveness scale" Bruce laughs. Nevertheless, Bruce is seen by his colleagues as authentic and collaborative. Someone you wouldn't hesitate to approach with a tricky human resource or finance problem. He cares about each one of his team members - inspiring them to deliver on Fraser Health's commitment to patient-centered care. He shows perseverance in the face of adversity and lives the values of respect, caring and trust.
Bruce has been an exemplary team player and leader who has always stepped up to meet new challenges. He delayed his retirement several times: first to maintain leadership continuity when there was no suitable successor, then to lay the groundwork for the integration of pharmacy services into the Ministry-mandated Provincial Pharmacy Services Plan, and lastly to help meet the demands on pharmacy services during the COVID-19 pandemic.
Bruce is especially proud of the work he has done bringing up the next generation of pharmacists, many of whom have gone on to take leadership roles throughout the health care sector. He is most proud, though, of serving as the first provincial ombudsman for student pharmacists in residence. Previously, students had nowhere to turn if they had a problem with their residency coordinator.
If he could pass on any advice to new and up-and-coming new pharmacists, he would say "be yourself and know your strengths. And, don't be afraid to toot your own horn – pharmacists can be a little too reserved sometimes."
Fraser Health and indeed the pharmacy profession in B.C. is fortunate that an architect or tax lawyer didn't show up to that dinner party, all those years ago. Congratulations, Bruce, on your retirement and on your Lifetime Achievement Award – you've truly gone above and beyond.