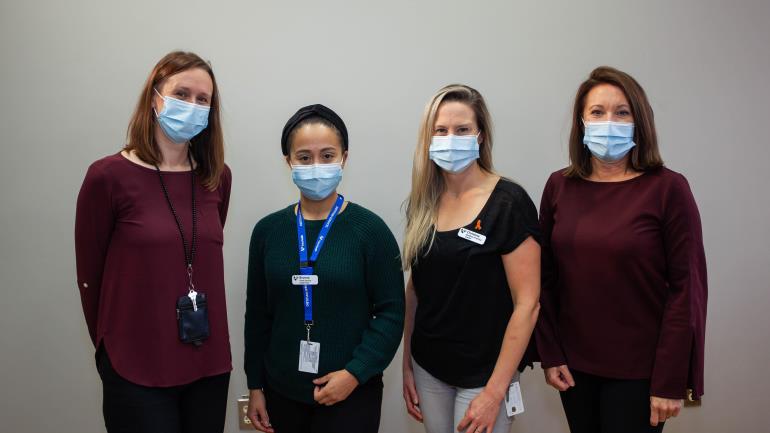 On November 15, 2020, Burnaby Hospital was faced with an arson-lit fire. Staff and medical staff kept their cool as they executed their emergency response plan.
In health care, emergency situations happen every day. Increasingly, our teams are having to respond to significant system-wide health care emergencies including the opioid epidemic, wild fires, pandemics, heat dome, and flooding. For staff, medical staff and an extended collaborative team, an arson-lit fire at Burnaby Hospital on November 15, 2020, was another unanticipated emergency.
"When the Code Red alarm initially went off, we didn't notice much at first, but then we smelled smoke on the unit," remembers Emily Nguyen, charge nurse on the Acute Care of the Elderly (ACE) unit. "Then we saw firefighters gearing up outside the hospital, and that's when our emergency response reaction kicked in."
Jojo Agtarap, Site Access Coordinator, was also working that evening. He quickly called all the units and notified them to immediately go into their code red procedures.
For Emily and Jojo, their immediate actions kicked-off the response of almost 80 individuals all working together, when moments mattered most.
The fire started at about 10:00 p.m. on the first floor of the Cascade Building inside the Outpatient Mental Health Clinic, triggering a code red, which indicates a fire; then a code green was called to alert staff of the need to evacuate, then a code grey noting system failures. The fire would later be identified as the largest ever in an acute care setting in the Lower Mainland.
Despite a stressful situation and feelings of uncertainty, staff safely evacuated 28 patients from the inpatient Psychiatric Unit. Some remained onsite in other units while others were transferred to other hospitals in our region by TransLink bus with three nurses, two security staff and two psychiatrists with Emergency Health Services (EHS) following behind.
As smoke moved to the fourth and fifth floors of the West Wing, the decision was made to move 21 patients from two units and then another 28 patients from the ACE unit on the fifth floor from the North side of the building to the South side.
Together, the team and others who came in to help, put their heads-down and did what they were trained to do: take care of patients and each other. It was all hands on deck, as everyone stepped up to support what needed to be done.
As patients were being safely evacuated, Fraser Health site engineers and maintenance staff were working closely with fire fighters to identify and shut-off about a dozen major systems, such as electrical, gas and oxygen to ramp down the building and stabilize the site.
"Hospitals are very complex buildings and our team went into action to secure the site without hesitation - it was a total group effort," said Mitch Weimer, Director of Facilities Maintenance and Operations.
The ripple effect of the fire was vast, with diagnostics cancelled, consult visits going virtual and staff redeployed to work in other areas of the hospital. The regional support and collaboration was exceptional and helped ensure the hospital was able to continue to operate. Meals were delivered from Queen's Park Care Centre because of damage to the on-site kitchen and multiple Medical Device Reprocessing Departments helped to support the hospital's operating rooms. Hospital leadership quickly developed a new lateral transfer process to move patients to other Emergency Departments in Fraser Health, Vancouver Coastal Health and Providence Health Care.
"Wave two of COVID-19 was significant on Burnaby Hospital, requiring our teams to be adaptive, nimble, and resilient - qualities that were very evident on the night of the fire and in the days that followed," says Leanne Appleton, Executive Director, Burnaby Hospital and Burnaby Community Health Services. "As professionals we are trained to handle tough situations, but what really came through was the bravery and heroism of everyone involved - to come together to do what needed to be done and to support each other – it was an incredible team effort by our Fraser Health family and beyond."
On reflection, Jojo remarks "this experience made me appreciate the value of teamwork - but most of all, to this day - I remain thankful that no one was hurt or severely injured throughout the process."
Emily echoes a similar sentiment. "At the end of it all, we felt proud to be part of Burnaby Hospital because the teamwork shown that night demonstrates the commitment the staff have for patient safety and in supporting each other."
Congratulations to the Burnaby Hospital Fire Response Team for winning one of this year's Above and Beyond Award for Collaboration.