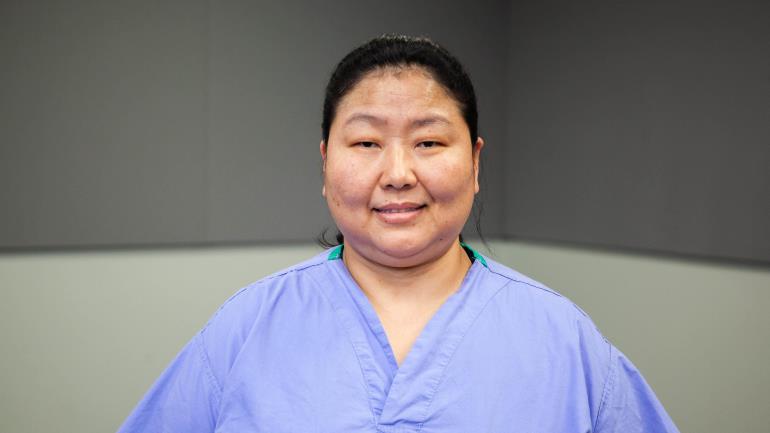 Health care assistant at Royal Columbian Hospital, Chime Chodon's dedication to make a meaningful difference is unrivaled. Her smile and care, for both patients and colleagues alike, inspires everyone she meets and embodies Fraser Health's values of respect, caring and trust.
Health care assistant Chime Chodon believes we all have a responsibility to take care of our community. As a member of the hemodialysis team at Royal Columbian Hospital (Chime now works in the general surgery department), she worked tirelessly to help the unit run smoothly.
Described by her colleagues as one of our most dedicated staff members, Chime goes above and beyond to make sure every patient feels safe and comfortable. From remembering the names of patients to making note of how many pillows or blankets they need to feel comfortable – Chime believes it's the little things that can make a big difference.
A beacon of positivity, Chime's presence on the dialysis unit was noticed and appreciated by the care team and patients alike. "She's caring, compassionate and respectful of others. Her kindness to staff, patients and families is second to none." says Joseph Gutierrez, manager of clinical operations.
Chime knew the flow of the unit and where she was needed the most on the unit. Her colleague, Raymond Wong, a nurse on the hemodialysis unit shares "in my own experience, my day (was) always more efficient and less stressful when Chime was working, and I am positive the patients felt the same way." He continues "we could all feel the difference she made when she is on duty."
A team player who always seems to be at the right place at the right time, Chime regularly helps boost team morale with her positive outlook on life. An inspiration to everyone she meets, she embodies Fraser Health's values of respect, caring, and trust. Always there with a warm smile or a coffee or treat for her colleagues, her compassion for patients and ability to build strong relationships with staff and patients inspires everyone around her.
When asked what inspires Chime to go above and beyond each day she explains, "it's the least we can do to be responsible, communicative and understanding of others."
Chime's final advice for others striving to deliver exemplary patient care? "When you come to work for whatever job, try to be compassionate and jolly. This way your day will be more meaningful and less stressful."
Chime Chodon is a recipient of this year's Service Delivery Excellence Award.