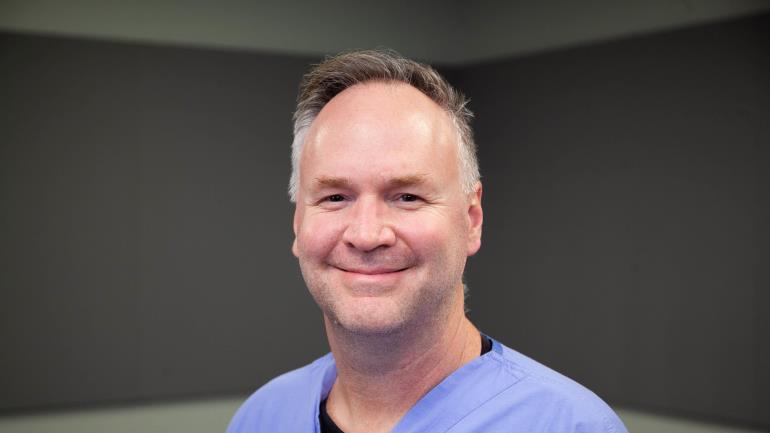 Project Leader, Jeff Kain, created Code Blue simulations that challenged what his Royal Columbian Hospital team thought they knew about intubation and COVID-19 care. His leadership, research and mock scenarios were integral in improving the performance of the Emergency Department and Code Blue teams.
Jeff Kain has been a nurse for 16 years, but, his passion for helping others started at an early age. "Since I was 17, I've been teaching first aid and CPR," Jeff says. He studied nursing at the British Columbia Institute of Technology and began working for Fraser Health in 2006.
Jeff, Project Leader of Clinical Operations, acts as a site resource in simulation, resuscitation and quality improvement. This role came out of an emerging need as COVID-19 began as both a force and a mystery that his emergency department team was understandably nervous about.
This led to the development of a COVID-19 simulation room. A full patient room was set up solely for testing interventions to save lives. The emergency, critical care and cardiac teams now had a safe space to run through scenarios they expected to encounter with real patients.
"Whether it's perfecting their PPE preparation, donning or doffing equipment, or simulating cardiac arrest, our team has had the opportunity to practice a range of scenarios that we think we could be faced with," Jeff explains. Through the simulations, the team worked out communication issues they encountered in the trials, rather than having to address them in the field while caring for real people.
From the beginning of the pandemic, even with limited information Jeff knew they could make the difference in patient outcomes. Simulation scenarios came from Jeff's research, hours pouring over practice guidelines and speaking with trusted colleagues about what they observed in practice.
As part of wanting to be prepared, Jeff started running daily mock code blue and intubation scenarios, introducing teams to the guidelines and processes and giving them a chance to work out glitches.
His Respiratory Therapy colleague Jason Zurba says, "Under his leadership, a twice a month code blue simulation program was created. It is now a standard operating procedure that there are high fidelity mock Code Blues in random locations throughout the hospital. When COVID-19 appeared in the spring, Jeff was absolutely instrumental in preparing the staff for what was to come."
Educating and training his colleagues inspires Jeff. "It makes me feel good when I help other people." Jeff shares, "It gives me a sense of personal pride to see other people happy and healthy, knowing that I was able to positively impact them with my work." He finds meaning in nursing every day through empowerment. "Empowering my colleagues with resources in the workplace, and empowering patients with autonomy and delivering a human experience are what keep me going."
Always a beacon of positivity, he encourages his team to be open to change, reflect on what they've done and remember that they can get through this.
Jeff is the winner of an Innovator Above and Beyond Innovator Award.