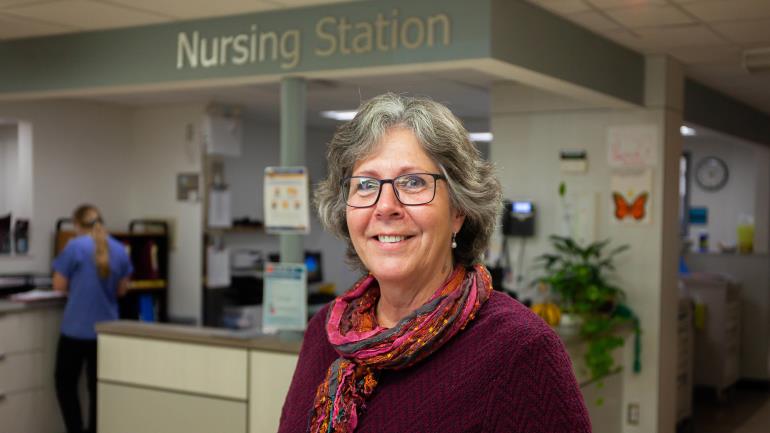 Retired Fraser Canyon Hospital nurse, Jo-Dee Chisholm, recalls the history of her 29-year-long career. Working in various units, Jo-Dee helped save the lives of innumerable patients and was always available. Her efforts went beyond the hospital, organizing numerous fundraisers during the pandemic and making a lasting effort on her community.
When it came to starting her career as a nurse, all the pieces just fell into place for Jo-Dee Chisholm.
"Everything worked out so well," recalls Jo-Dee, who worked as a nurse in the emergency department, medical units and hospice at Fraser Canyon Hospital in Hope, B.C. before taking on the role of patient care coordinator and clinical nurse educator before retiring. "I understood the content of the program easily and I had a compassion for people. It was just perfect."
Once her education was complete, Jo-Dee found Fraser Canyon Hospital, where she stayed for 29 years, after being interviewed and hired on the same day. Immediately, Jo-Dee began to make her mark on the patients, staff and community.
Loving the diversity of the role as a nurse at Fraser Canyon Hospital, Jo-Dee worked in the emergency department, maternity unit, pediatric unit and more. She helped save the lives of innumerable patients and always responded with skill and compassion. Her commitment to quality patient care did not go unnoticed in Hope. The sight of Jo-Dee's red Dodge Ram truck named 'the Rocket' gave patients a sense of relief as they arrived at the Emergency Department. "I was very proud of that truck and very humbled by the comfort it gave to some community folk sitting in the parking lot," recalls Jo-Dee.
Throughout her time at the hospital, Jo-Dee was a source of support for her colleagues and community members and was a team player who went above and beyond. She mentored hundreds of new staff by helping them recognize their patients' needs and guiding them through critical interventions. Staff members and physicians have expressed their gratitude for Jo-Dee's support of them and their professional growth. Whenever there was a gap in the hospital that needed to be filled, Jo-Dee was there to step in. One example that speaks to her dedication is how she would come to the hospital after hearing multiple ambulances in the community in order to assist her team with the care response.
Jo-Dee's above and beyond efforts go far beyond the walls of the hospital. At the beginning of the pandemic, she took the initiative to fundraise among the staff of Fraser Canyon Hospital to support the local food bank. She also organized a fundraiser for a family in Hope during the holidays, raising enough money to fill their stockings and purchase gifts for all the members of the family including six children.
Over the last 29 years, Jo-Dee's love of nursing, combined with her dedication to her career and helping the community has touched the lives of many. Now that Jo-Dee has retired, the 'Jo-Dee impact', as her colleagues call it, continues to be felt at Fraser Canyon Hospital and the community of Hope as she mentors new grads and orients new patient care coordinators.
"I am proud of our team of nurses and doctors and those we were able to help," says Jo-Dee. "The impact you have on people's lives is why I loved my job. Anyone can have a positive impact and anyone can make positive change."
Jo-Dee is a recipient of this year's Above and Beyond Fraser Health Hero Award.