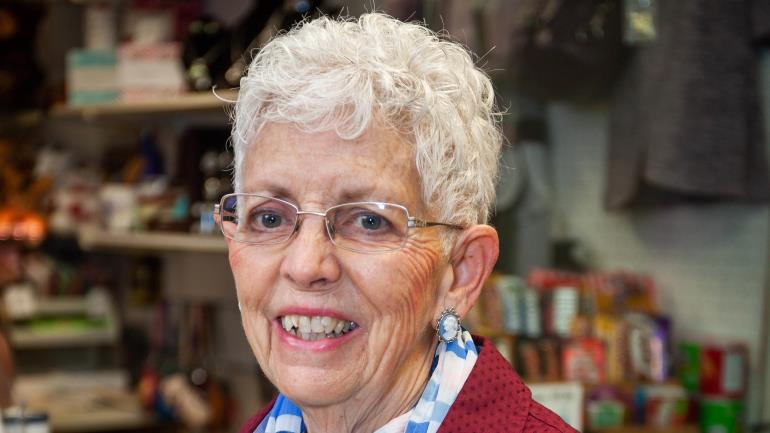 When asked why Lynda Beecham volunteers, she quoted Albert Einstein, "without deep reflection one knows from daily life that one exists for other people."
Lynda Beecham is a dedicated volunteer at Fraser Canyon Hospital and Fraser Hope Lodge who has worked tirelessly throughout the pandemic to consistently better the lives of the residents within her community. Her persistent determination led to the creation of an order system that provided much needed comfort items to residents of the Lodge. She is known for her steadfast enthusiasm, unwavering devotion and infectious spirit.
Lynda Beecham demonstrates her extraordinary commitment to provide excellence in all aspects of her role as a volunteer at Fraser Canyon Hospital and Fraser Hope Lodge. "Lynda is a tirelessly enthusiastic volunteer, she inspires all who cross her path" says her manager Beckie Evans.
After her mother became a resident at Fraser Hope Lodge, Lynda sought out an opportunity to provide a better quality of life for her and all those who reside within the community. Lynda began her volunteer journey as treasurer for the hospital auxiliary in 2011. Five years later she took over the role of gift shop manager where she continues to oversee the administration and operation of the store.
Her passion to provide a better experience for those in the hospital and the lodge led her to recruit more volunteers in order to extend the hours of the gift shop. This improved accessibility to comfort items for hospital visitors, patients and staff. Taking it a step further, Lynda transitioned the gift shop to be mobile and popped up at local senior facilities to provide them the opportunity to purchase items they may not normally have access to.
Upon taking over the role as manager, the gift shop sales quadrupled in four years. With the added funds, the Auxiliary has been able to purchase wish-list items for residents.
Unfortunately, due to the pandemic, the Fraser Canyon Hospital gift shop had to be shut down. This did not hinder Lynda's dedication to her community.
"During this past year she has not let COVD-19 restrictions slow her down." shares Marianne Cameron, President of Fraser Canyon Hospital and Lodge Auxiliary. "She is actively seeking ways to offer pop-up sale to staff safely. I find her an amazing resource in learning how to best improve our efforts at service and fundraising."
While most auxiliary volunteering slowed during the pandemic, Lynda created an ordering system for the residents of the Lodge to provide access to important treats and toiletries. The bi-weekly orders were a hit and soon Lynda and her husband were going on weekly shopping trips within the Valley. Together, they would fill the orders, then, individually bag each residents' request.
"Her efforts and initiative have brought joy to the lodge residents who have faced isolation" says Nancy Hutsul, her co-worker in the Auxiliary.
Lynda remains steadfast in her important role as a volunteer. She always makes herself available to the request of anyone, because, she notes, "some of these individuals have no one to get them things. She adds "…it was important that the residents of the Lodge had something to look forward to when they couldn't see anyone [during the pandemic]." Lynda's cheerful spirit and devotion provided a necessary joy to the Lodge residents who faced isolation.
Lynda is a recipient of this year's Above and Beyond Service Delivery Excellence Award.