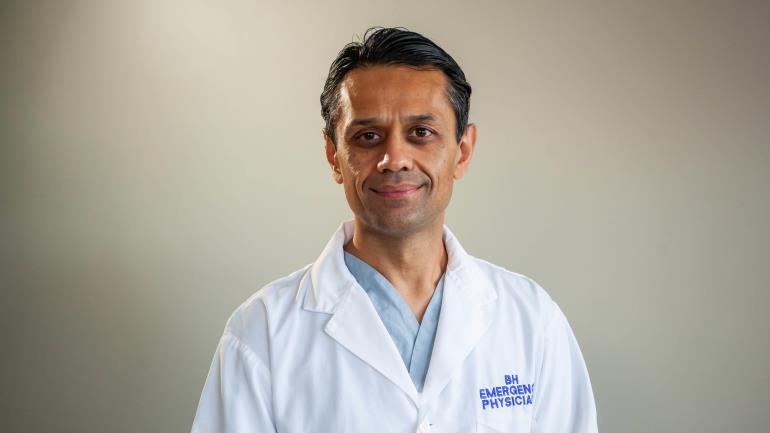 Dr. Johar, recognized for his excellence in his past leadership of the emergency department as well as current leadership of the Medical Staff Association at Burnaby Hospital, credits collaboration for cultivating a community that fosters innovation and professional development, all in support of delivering top quality patient care.
Teamwork and collaboration have been part of Dr. Paul Johar's practice from his early days as a newly minted medical school graduate. He was drawn to emergency medicine after completing his training in family medicine, enamoured by the variability of the patients and their presentations, and by the team-based culture of those providing their care. Coming to Burnaby Hospital, he was impressed by the strong sense of community and the capacity of the team to help and support each other to the ultimate benefit of the patients. He was inspired by the collegial atmosphere, recognizing that the quality of teamwork contributed directly to the quality of patient care.
Excellence in leadership
In his previous role of local department head of emergency medicine at Burnaby Hospital, Dr. Johar promoted a culture of teamwork, departmental involvement and professional development amongst his fellow physicians, learners, and colleagues. He helped advance numerous initiatives from deep vein thrombosis and pulmonary embolus outpatient management to mentoring programs for new doctors; from collaborating with multiple departments to improve efficiencies and patient care, to spearheading department growth and engagement projects. He frequently brought physicians and team members into the sphere of responsibility within these initiatives, fostering their educational and professional growth while also improving the function of the department.
As president of the Burnaby Hospital Medical Staff Association, Dr. Johar was elected to be a voice and representative for the medical staff. He digs deep into issues, not shy to address a concern by positively engaging all parties in constructive collaboration. Dr. Johar has been able to maintain a non-adversarial relationship with his administrative partners, coming together to foster physician engagement and to move health care forward, together.
Among his colleagues in the emergency department at Burnaby Hospital, Dr. Paul Johar is highly respected, known for his enthusiasm and passion for his roles, as well as for his insight and warm leadership. He is described as "the quintessential responsible leader" by his peers.
A pebble in a shoe; empowering innovation
Dr. Johar is motivated by a deep desire to help patients. His colleagues describe him consistently treating patients well by taking time to listen, always treating patients with respect, and helping them in any way that he can.
Through his commitment to help patients, Dr. Johar recognizes the best patient care happens when care teams are empowered to identify and collaborate on solutions to their patient's issues, creating system improvements to the benefit of even more patients.
Dr. Johar encourages his teams to find that 'pebble in the shoe', an issue - big or small - that isn't working well for the team or for their patient. He challenges them to be a part of the solution, moving forward to improve the issue.
He leads by example, working together with others towards mutual improvement. He notes solving problems isn't a matter of meeting one goal or the other, instead he focuses on collaborating to find ways to do both; more than finding a win/win, collaborative success comes from working together to everyone's benefit.
He has learned to be patient with the system and himself, as well as encouraging his teams to do the same. It can take time to affect change and to see desired results. With patience, with ideas, with willingness to move opportunities forward and to be part of the solution, improvement is the result.
From 'a pebble in the shoe', Dr Johar's work has been recognized as a very positive example of what an emergency department can achieve, providing timely, high-quality care to a high volume of patients. Dr. Johar has improved patient care and professional development at Burnaby Hospital by working patiently and collaboratively, affecting positive change for patients, for staff and medical staff and for the region.
Dr. Johar is a recipient of this year's Fraser Health Hero Award.