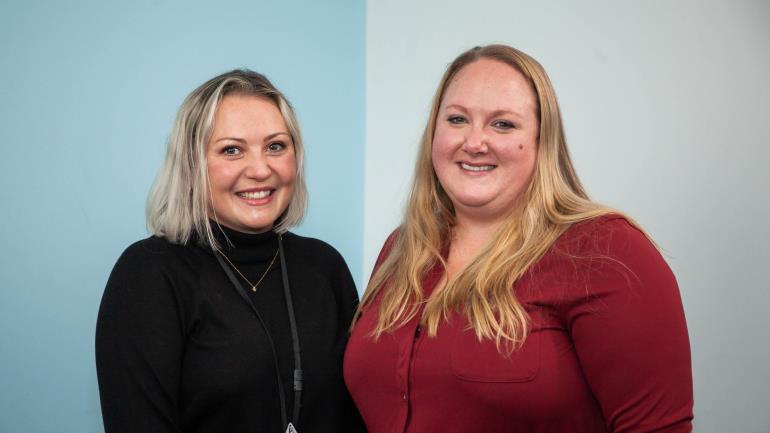 The Regional Workforce Coordination Committee collaborated with cross-functional teams and fostered partnerships with operational leaders to address unprecedented staffing needs in the health care system. The team hired and trained thousands of medical and non-medical staff to support immunization efforts, benefiting the community at large.
Working in tandem with operational leaders and various departments, the Regional Workforce Coordination Committee embraced the organization's diversity to benefit Fraser Health employees, patients, residents and communities.
The COVID-19 pandemic brought on challenges that extended to all facets of the health care system. One challenge Fraser Health faced was responding to a variety of health human resource needs, including the immediate and urgent need for more staff and medical staff.
To meet these needs, a Regional Workforce Coordination Committee (RWCC) was formed that consisted of representatives from various departments, including, employee experience, patient experience, and professional practice. Together, the team worked together to overcome barriers, embrace ingenuity and harness the collaborative efforts of a multi-talented team to address unprecedented staffing needs in the health care system.
By establishing innovative approaches using emerging evidence and fostering partnerships with operational leaders, the team was able to consistently meet and exceed the ongoing and ever-shifting human resource needs.
In just a few months, the team hired more than 650 staff to do contact tracing, including 430 contact-tracing aides, a role unique to Fraser Health and one that was later adopted by other health authorities across B.C.
The team also led the development for a new care model for mass vaccination centres and influenced changes to the CDC Immunization course to focus on requirements specific to COVID-19 for regulated professionals. At the same time, they developed education and practice requirements for non-health care individuals to be able to provide immunizations. In total, the RWCC team was responsible for training 2300 existing staff and onboarding and training more than 4200 staff and medical staff to support immunization efforts.
When asked how the team was able to achieve such monumental tasks in such a short time, Janine Kegler, Clinical Practice Consultant explained "The focus never waivered from including the patient in all conversations. Everyone had someone or a personal connection to the work we were doing and could see the connection to high quality safe patient care because of this. There was not only a focus on the work to be done but also the people doing it."
In true Fraser Health fashion, the team embraced the organization's we culture by setting aside hierarchies and barriers to get the job done. When asked what made the RWCC team such a collaborative success, Amanda Arione, Leader, Allied Health Practices shared 'When there is a challenge, problem or need in front of you, you reach out and bring a team together who have unique experience, knowledge, perspectives and potential solutions. You build on each others' ideas to find a solution that is stronger than if you were to go at it alone."
Building on the notion of finding strength in diversity, Dana Hayward, Leader of Student Practice and New Initiatives shared that being part of the RWCC team made her realize that she was "most proud of the coming together of the Fraser Health staff and found it heart warming to observe how readily these diverse team members were willing to do whatever was needed to get the job done. She continues "Everyone realized that in order to survive, we need to stay safe, focus on our community as a whole and not focus on an individualistic view."
When asked what inspiration she could offer to other teams looking to establish collaborative partnerships, Dana continued "never forget that we need to work together, through our differences, to find solutions to survive, heal and thrive in crisis and every day. It takes a village, in all shapes and sizes, to journey through tough times. And at the end, life is a lot sweeter when you share this unprecedented journey with others."