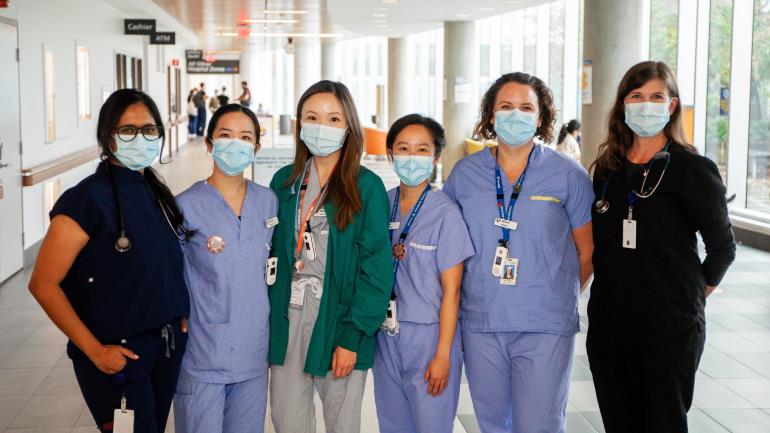 The first in-patient care program for individuals with eating disorders in the Fraser Health region, the Surrey Memorial Eating Disorder Team embodies the definition of teamwork. Their desire for fostering collaborative partnerships ensures every patient feels heard, understood and medically supported.
A team of hospitalists, psychiatrists and registered dietitians are working together to provide a first-of-its-kind program and a safe nutrition plan for patients at Surrey Memorial Hospital.
If the saying goes teamwork makes the dream work, then look no further than the interdisciplinary, patient-centered work of the Surrey Memorial Eating Disorder Team to see it in action.
Two years ago, this group set up the first in-patient care program for individuals with eating disorders in the Fraser Health region - a collaboration between hospitalists (Drs. Tricia Ewert, Shereena Khan and Cara Warrington), psychiatrists (Drs. Danny Lee and Gunpreet Singh) and registered dietitians (Bernie Chui, Allison Hawkins, Mei Cheng Ho, Nanette Ho and Jason Lau).
For Dr. Singh, the key word is just that - collaboration. "It truly is a collaborative approach so we can ensure every patient receives the best medical and psychiatric care," she explains.
Together, the team strategizes and plans to make sure every patient feels heard, understood and medically supported – during their admission, over the course of their stay, and when they are discharged.
"An in-patient admission can be an emotionally charged time for an eating disorder patient," says Dr. Warrington. "There is a level of consistency required to create stability and build trust."
Prior to the team coming together, there had never been any specific approach to in-patient eating disorder care at Surrey Memorial Hospital. Identifying this gap, Dr. Warrington and Dr. Khan set out to fill it, together. They immediately recognized it would require additional expertise. "We quickly realized that we also needed dietitians who shared our interest," Dr. Warrington explains.
"A safe nutrition plan for eating disorder patients is often unique from that of the needs of other patients. Our psychiatry liaison colleagues have been instrumental in providing support for our patients and ensuring their safety during their stay," says Dr. Khan. "We really had to develop our care plans so that all members of staff – including nursing and allied health – understood the unique needs of our patients, as everyone involved in a patient's care is essential to the journey."
The team also works closely with the Fraser South Eating Disorders Program. Dr. Christine Lammerse is a physician with the program and nominated the group for this award.
"[This group has] had to take considerable time to consult with other hospital departments, community mental health teams, regional community eating disorder teams and the provincial adult specialized eating disorder programs to create this client-centered, trauma-informed treatment approach," she says.
She also emphasizes the value of the team's constant support, explaining how members will also spend time with caregivers and family members to provide resources and education.
"I have the security and confidence of knowing that a patient will be admitted and receive all of the appropriate care they need. I believe that this helps to potentially save the lives of some very unwell clients."
Delara Saran, dietitian practice leader at Surrey Memorial Hospital, echoes the care, dedication and passion that fuels much of the team's work.
"The registered dietitians have devoted so much of their limited time and energy to develop resources and guidelines to standardize and improve the care these patients receive – not only at Surrey Memorial but at other Fraser Health facilities," she says.
For Dr. Warrington, it's knowing that working together they are stronger, and making a difference.
"We have each others' backs and we support one another with any difficulties that arise. The teamwork improves care for our patients and we are constantly learning from each other – and also our patients."
It's a learning appreciated by everyone, and for registered dietitian Bernie Chui, it's one of the greatest things about the team.
"I think the best thing about working together as a team is knowing that we have each other to talk to. We're all still learning about eating disorders as we go and it's nice to be able to bounce ideas off of each other as well."
Dr. Khan has these words for anyone looking to take a team from dream, to reality.
"Take that first step if you think there is a need you can fulfill. People with a similar passion will join you."