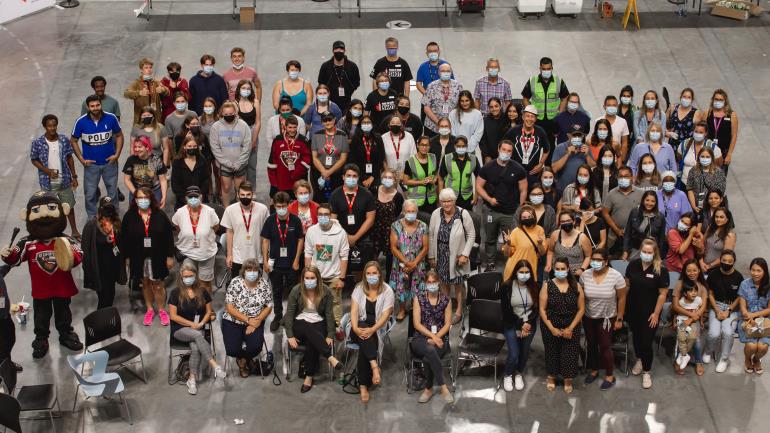 The Vaccine Coordination Centre Operations Leads, Planning and Logistics team (VCC) had the immense challenge of rolling out the COVID-19 vaccine in our communities. The team opened their first immunization clinic within seven days of receiving the vaccine and have now administered over three million vaccines and visited over 350 community care facilities.
"Everything we did was about getting this vaccine to people. It wasn't a job to get done. It was something we were doing to serve our communities." Learn more about the Vaccine Coordination Centre's important work of rolling out the COVID-19 vaccine in our communities.
When the COVID-19 vaccine arrived, hope was on the horizon. It was vital to get it to the people in our communities urgently, starting with the most vulnerable.
It would take careful planning, navigation of challenging logistics and a formidable team to pull off this feat.
Enter the Vaccine Coordination Centre Operations Leads, Planning and Logistics team – also known as 'The VCC'. This tenacious team was charged with rolling out the vaccine to our communities.
"The end of a pandemic begins with the implementation of vaccine," says Sharat Chandra, former co-lead of the team. "This once-in-a-lifetime opportunity brought team members from varied backgrounds together with the common goal of getting the vaccine into eligible arms in a timely way," he continues.
The team includes medical health officers, public health pros, data analysts, corporate supports and many more.
What was the first mission that they made possible? The team opened their first immunization clinic within seven days of receiving the vaccine. Abbotsford Regional Hospital was the first to go live.
From there, the operations grew and evolved. They stood up 22 community drive-through clinics and several neighbourhood clinics, including five locations tailored to provide a culturally-safe experience for Indigenous clients. Milestones by the fall of 2021 include giving nearly three million vaccines and visiting over 350 community care facilities. They team has also organized 179 outreach events and hired over 3,500 immunizers.
"Ramping up an operation from 50 doses per day to more than 20,000 doses per day within three months requires systems, human resources and clinical infrastructure," says Sharat.
The team faced obstacles and dealt with complex logistics to make these accomplishments happen. They were up against changing variables like weekly allocated vaccine quantities, eligibility, staffing, locations and delivery options.
Although long days and challenges were a part of life for the team, challenges simply fueled creativity. Their innovative ways of getting the vaccine to people evolved and they formed their unique approach to outreach. They used data and modelling to analyze their operations and target their efforts.
"Incredible, insightful modelling and digging into the data helped us understand where we were and where we needed to go. Strategies were crafted based on that," Karen Reutlinger, co-lead of the VCC explains.
When it came to brainstorming, ideas were limitless and so was their ambition to keep reaching out and getting the vaccine to more and more people.
They set up clinics at ferry terminals, beaches, parks, places of worship. They went to farms, shelters, First Nations communities. They organized a 36-hour vax-a-thon – the first in the province. They vaccinated at the side of the road. They vaccinated on boats.
"Everyone was leaning in and doing whatever they needed to do. That was the magic behind how things happened," Christine Mackie, co-lead of the team says.
Partners like municipalities and industry partners were also key.
"One collaboration happened when TransLink and BC Transit joined forces with us. Together we ensured that people with accessibility issues were able to get their COVID-19 immunizations in a safe and timely way," Sharat says.
Solid communications strategy was crucial. This meant being a source of truth for the public and communicating new, rapidly evolving information to them in a way they could understand.
Senior Communications Consultant, Megan White highlights how important it was to meet the needs of our diverse communities.
"We did a lot of work with Diversity Services and the South Asian Health Institute to find ways to make sure that our vaccine messaging was getting out to all of our communities," she says.
"We did Town Halls in different languages with Medical Health Officer, Dr. Ingrid Tyler. We have up to 26 different languages on our translated resources web page," she continues.
The VCC are leaders in the province for many of their initiatives. They adapted a virtual wait-time monitoring app to improve the experience. Organizations have adapted the communications materials like those about how to talk to your friends and family about COVID-19 vaccines. They were first out of the gate with an online booking system.
How does the team feel about their award-winning work?
"People talk about how meaningful this work was. All roles were so important to this calling to get people vaccinated as quickly possible," says Karen. For Christine – "It wasn't a job to get done. It was something we were doing to serve our communities."