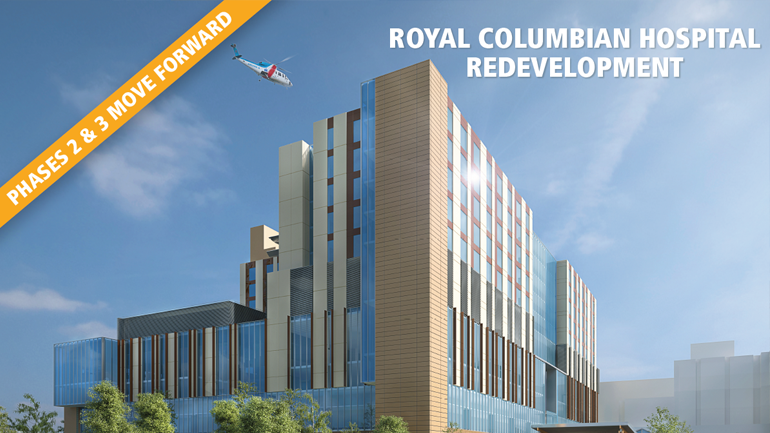 A new acute-care tower, a larger emergency department, and upgrades to existing spaces are in store for Royal Columbian Hospital.
NEW WESTMINSTER – A new acute-care tower, a larger emergency department, and upgrades to existing spaces are in store for Royal Columbian Hospital as the Province today announced business plan approval for phases two and three of the hospital's redevelopment.
Preliminary design concepts have also been unveiled for the new mental health and substance use wellness centre, which is a part of phase one of the project. Construction for phase one got underway earlier this month.
"This investment in the completion of Royal Columbian's redevelopment will help to ensure we can continue to deliver exceptional patient-centred care to the province's most critically ill and medically complex patients as our population grows and ages, and for generations to come," said Maple Ridge-Pitt Meadows MLA Doug Bing, who made the announcement on behalf of Health Minister Terry Lake. "This is great news and I know people in the region have been supportive of the redevelopment and I look forward to watching this project move forward."
Overall, the redevelopment project is expected to increase Royal Columbian's capacity by over 50 per cent, address growing service capacity needs to help ease congestion, introduce advanced medical technologies and enhance the working environment for health professionals.
"Patients will have access to a greater range of health services in a bright, modern space and I will look forward to seeing the new facility open its doors," said Linda Reimer, MLA for Port Moody-Coquitlam.
"These facilities at Royal Columbian benefit my community as well as each of the 1.6 million people served by Fraser Health," said Burnaby North MLA Richard T. Lee. "It's great to see approval of the business plan for the second and third phases. I am also very pleased that the Ministry of Health has also approved the concept plan for the redevelopment of the Burnaby Hospital Renewal and a business plan is being developed. I look forward to seeing the collaboration of these two great hospitals in serving the people in our region."
Phase two includes a new acute care tower and emergency department. Procurement is expected to begin in 2018, with construction planned for 2020 and the acute care tower expected to open to patients in 2024.
Phase three will expand the capacity of existing hospital areas that support the beds and services added in phase two, such as the laboratory, pharmacy, food services, and medical imaging, plus the addition of more single-patient private rooms in Columbia Tower. Phase three also includes updates to the neonatal intensive care unit, pediatric unit and outpatient clinics. Phase three construction is projected to start in 2023 and be complete in 2026.
Phases two and three are expected to create 3,574 direct jobs and more than 2,193 jobs in supplier industries for a total of more than 5,767 jobs during construction.
Bird Construction was selected as the preferred proponent for phase one of the project, which includes a new mental health facility. Construction started in March 2017 and be complete in late 2019. It is expected phase one will generate more than 985 direct jobs and more than 530 jobs in supplier industries for a total of more than 1,515 jobs during construction.
"This is an historic day for the Royal Columbian and for Fraser Health," said Michael Marchbank, president and chief executive officer of Fraser Health. "As a tertiary and quaternary care facility that serves our entire region and in some cases all of BC, this is an investment in all our patients, clients, residents, staff, and communities. We expect the benefits will be many and far reaching."
"Our donors recognize that Royal Columbian Hospital is unmatched in the province for its scope of services at such a high level of care," says Royal Columbian Hospital Foundation chair Doug Eveneshen. "We are eager to support redevelopment plans and are thrilled to welcome BMO Financial Group, which is providing thoughtful leadership on mental health with a $1 million donation towards this first phase of construction."
"This is wonderful news for New Westminster," said Jonathan Coté, mayor of New Westminster. "Royal Columbian Hospital is a key contributor to our local economy. To support the hospital's growth our IDEA Centre is already working to attract health research and tech organizations, real estate development, businesses and neighbourhood amenities to the hospital's precinct. This will provide benefits to the hospital's patients, visitors, staff, and physicians, to the Sapperton community, and to all British Columbians."
In 2015 the Province signed a Memorandum of Understanding with the City of New Westminster on planning for future improved road, bike, and pedestrian access to improve the safety, accessibility and connectivity to and from the hospital and through New Westminster.
New buildings will be designed to Leadership in Energy and Environmental Design (LEED) Gold green building standards, and incorporate B.C. wood, as part of Fraser Health's and the Province's commitment to environmental sustainability.
The estimated $1.1 billion cost of phases two and three will be funded by the Province, Fraser Health and the Royal Columbian Hospital Foundation. The foundation is fundraising to make a substantial multi-million dollar contribution to these phases.
Royal Columbian Hospital opened in 1862, and today serves as a vital referral centre and regional centre of excellence for trauma, critical care, cardiac care, maternity, neonatal intensive care, acute mental health care, and neurosurgery.
Royal Columbian Hospital redevelopment timelines
Phase one, through to 2019:
Adds mental health care capacity and also prepares for future expansion.
The new 20,600 square metre (221,736 square foot) mental health and wellness use centre will have three floors of inpatient units including 45 beds for acute mental health care, a 10-bed psychiatric high acuity unit, and Fraser Health͛s first older adult psychiatric unit with 20 beds.
One floor of the facility will house 12 outpatient clinics, many of them new or expanded, plus clinical education space.
An underground parkade, new energy centre for power and utilities, and a new IT communications server hub will also be part of the facility and serve the entire hospital.
Phase two, 2020-2024:
Adds acute care capacity.
A new acute care tower will add more beds for critical care, maternity, medicine and surgical patients, plus a new emergency department, more operating rooms, more interventional suites for cardiology and radiology, more MRIs, a new main entrance, an underground parkade, and a rooftop heliport.
Phase three, 2023-2026:
Expands existing spaces.
The third phase will expand the neonatal intensive care unit, pediatric unit, laboratory, pharmacy, diagnostic services, food services, ambulatory care services and other service support areas.
Four-bed patient rooms in Columbia Tower will be converted to private or semi-private rooms.
The acute care tower, health-care centre and Columbia Tower will be connected on three levels, creating a super-floor for interventional and surgical services, and another superfloor for families
Media contact
For media inquiries, please contact:
Ministry of Health Communications
250-952-1887

Fraser Health Media Number
604-613-0794
media@fraserhealth.ca