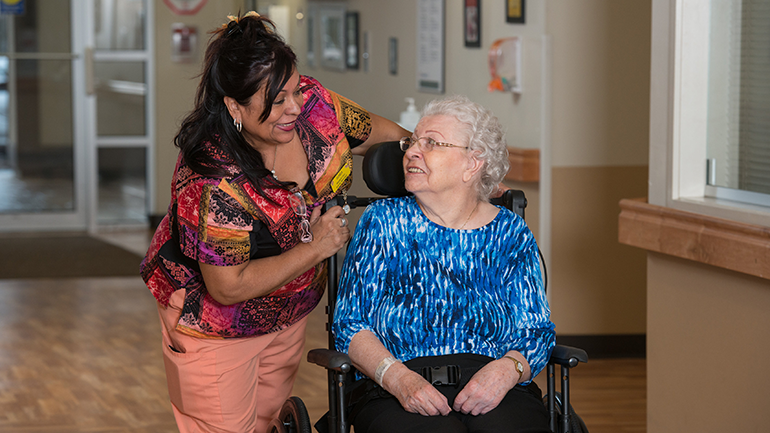 Fraser Health has added an additional 20 publicly funded long term care beds in Chilliwack.
SURREY – To support those seniors who are not able to live out their days in their own homes, Fraser Health has added an additional 20 publicly funded long term care beds in Chilliwack, bringing the total number of publicly funded long term care beds in this community to 479.
The 20 new publicly funded beds will be located at Cascade Lodge and Valleyhaven. All of the beds will be in private rooms that open out to common living and dining spaces to give them easy access to the facilities' amenities. The rooms are clustered into 'neighbourhoods' to facilitate community-building with other residents, family members and staff. Both long term care facilities meet current Fraser Health building design standards and the beds will collectively be resourced at an average of 3.36 direct care hours per resident day in keeping with the provincial target.
"Seniors are a priority for our government. They deserve to live lives with dignity and respect," said Health Minister Adrian Dix. "These new beds provide seniors in Chilliwack with increased access to long term care and support our commitment to ensure residents can benefit from enough direct care hours."
"As our population grows and ages, we want to ensure we have the capacity to care for people when they need it the most," said Fraser Health President and CEO Michael Marchbank. "While we want seniors to live at home as long as they can, we are committed to providing safe, supportive and caring environments to seniors when living at home is no longer an option."
In the last two years, in addition to these new beds, Fraser Health has opened a total of 403 new long term care beds across the region with more than 8,000 people calling long term care their home.
As our population ages, we are continuing to plan to ensure we can meet the needs of our elderly population. In addition to making investments in long term care, Fraser Health has been supporting older adults to live in their homes in the community longer by investing in home support and integration with primary care.
Media contact
For media inquiries, please contact:
media@fraserhealth.ca