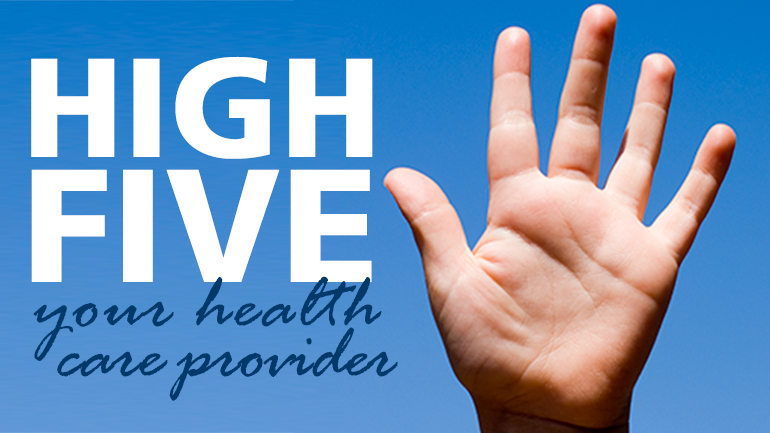 This week's kudos go to our amazing people at Abbotsford, Chilliwack, Langley, Royal Columbian, and Surrey Memorial Hospitals.
Abbotsford Regional Hospital
I brought my two-year old daughter into [Abbotsford Regional Hospital] emergency after she decided to drink a bottle of [eye drops]. The nurses from the start were so nice and attentive and treated my little girl like their own. I cannot remember the doctor's name that we met (stressful situation) but he was amazing and I didn't get a chance to thank him.
He went above and beyond to remind me that this stuff happens when you are a parent. [It] made me feel a lot better talking to him and he didn't have to go out of his way.
The nurses brought my little girl apple juice, crackers, cheese and applesauce. [They] are just amazing human beings. [It was] a very stressful situation for me. Just wanted to say thank you so much for taking care of my baby girl.
Chilliwack General Hospital
I visit[ed] the emergency room at Chilliwack General Hospital on January 25. I want to extol our thanks to the emergency room staff, and especially our male nurse Tyson. [He] provided me with exceptional care in a polite and professional manner.
I was having acute discomfort and Tyson calmly and quickly administering my care. He later brought my wife in while I was waiting for the procedure to finish. It was then, my wife commented that two years ago…Tyson was my attending nurse and in the same professional manner [he] gave me care during that visit.
Emergency room visits usually have patients in great discomfort, scared and sometimes agitated. Our praise goes out to all the men and women who staff these stations, under difficult and trying circumstances. Once again, please pass on our many thanks to Tyson and all the Emergency Room staff at Chilliwack General Hospital.
Langley Memorial Hospital
Thanks to the nurses in Langley Memorial Hospital's Intravenous (IV) Clinic for their great care and efficiency in caring for me while I was coming in every day for IV antibiotics. They were thorough and caring and professional in every way. Thanks so much!
I was overnight in the ER with my mom at Royal Columbian Hospital on January 16-17. The nurses were kind, efficient and clearly cared about their patients. The male porter we had was a highlight for us. He treated everyone with exceptional respect and kindness. Without asking, he brought my mom a warm blanket for her trip to nuclear imaging. He is an absolute gem!
---
A special compliment about security guard, Cameron, at Royal Columbian Hospital. He is always on the move around hospital. Very sharp eye, checks locked doors...he loves his job and keeping everyone safe.
Thanks to the doctors, technicians and nursing staff at Surrey Memorial Hospital Renal Unit for the excellent care I received there. Everyone was so diligent and caring, but special note [for] the nurses who treated me with respect, and the best of care. Thanks to the porter, Norm, who has been at the hospital for over 40 years!
Wow! You have the greatest staff in your hospital...the nursing staff represents the world as they come from all corners of our great earth. They bring their personalities, gifts and skills to care for each of us as if there was only one of us. Thank you to you all.