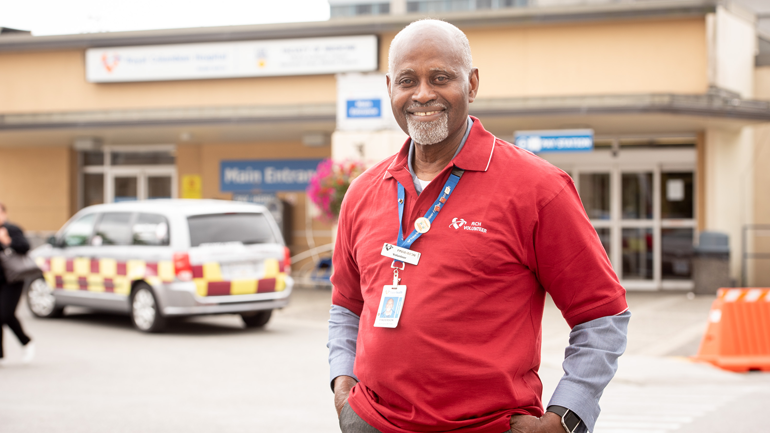 Finderson Alves started volunteering after becoming a renal dialysis patient at the Royal Columbian Hospital 20 years ago.
Attuned to people and able to spot someone in distress and offer help describes the nature of Royal Columbian Hospital volunteer veteran Finderson 'Fin' Alves.
Finderson started volunteering after becoming a renal dialysis patient at the Royal Columbian Hospital 20 years ago. "I was on dialysis three times a week," recalls Finderson. "Like other patients, I felt tired and frustrated."
Not one to dwell on difficulties, he reminisces fondly about those countless hours because of the friendships he formed. "There is a real sense of community in the renal unit and more importantly – trust." he said.
After six years of being on dialysis, Finderson underwent a successful kidney transplant. Grateful for his new lease on life, he was inspired to give back through volunteering.
"He could have just walked away, gone on to live his life at new highs and try to recuperate all those hours he spent on dialysis," said Diabetes Nurse Fibia Zgreaban. "Instead he gathered all his energy and continued giving back to the same unit."
Being on dialysis is not an easy journey and patients can struggle with depression, but staff in the renal unit say that Finderson lights up the day when he arrives and that his ability to empathize with dialysis patients has a positive impact.
"Sometimes when people are on the verge of quitting dialysis and withdrawing all treatment, Fin will talk to them," says Zgreaban. "After, they are calmer and more content."
Finderson is humble about the impact he has on others and shies away from praise. His philosophy is that in giving he receives more: "We are all human beings and we learn from each other."
When asked what he loves about volunteering, he said: "The moments that stand out are seeing people light up with a smile when they see me. I enjoy being there for people and helping to comfort them."
Finderson also says he is often invited to attend funerals by the families of patients who were touched by his kindness. "It can be emotional," he reflects. "But I value my experiences in helping others. It's a collection of beautiful, invaluable moments."
Finderson volunteers mainly in the renal support, spiritual care and therapeutic touch programs at Royal Columbian Hospital, but he's often spotted helping people outside those areas including staff and other volunteers. Whether he's showing people around, asking people if they are feeling okay or getting someone a glass of water while they wait for a loved one – he's always ready to help. "It all comes back to the basic thing," says Finderson: "Treat others as you would like to be treated."
"Fin is so passionate about his volunteer role, sometimes I have to gently remind him this isn't a full-time job," says Volunteer Resources Manager Kathy Corbeil. "He wears many hats, and his kind spirit shows through his big smile. If he sees a problem, he won't give up until it's fixed."
Outside his volunteer work, Finderson spends his time raising awareness about kidney health. At the hospital's annual Diabetes Day and Kidney Day events, he speaks to people about the importance of screening and prevention. And he extends this passion beyond the walls of Royal Columbian Hospital. "Once I asked him to help me organize a Diabetes Day at Surrey Memorial Hospital," recalls Zgreaban. "He doesn't volunteer there, but he came out on his day off to help anyways."
In addition to his volunteer work, Finderson serves as the president of the Kidney Foundation of Canada, Eagle Ridge Chapter, and is part of the Patient Voices Network. He is committed to self-development and attends training courses and workshops to stay up-to-date on his knowledge.
Finderson is the recipient of this year's Above and Beyond Fraser Health Hero Award. His colleagues Zgreaban and Corbeil, who nominated him for the award, say that couldn't be more fitting. "Fin is the perfect picture of what a volunteer is. I've never met someone who came close to his standards of care. I believe he deserves this award like no one else."