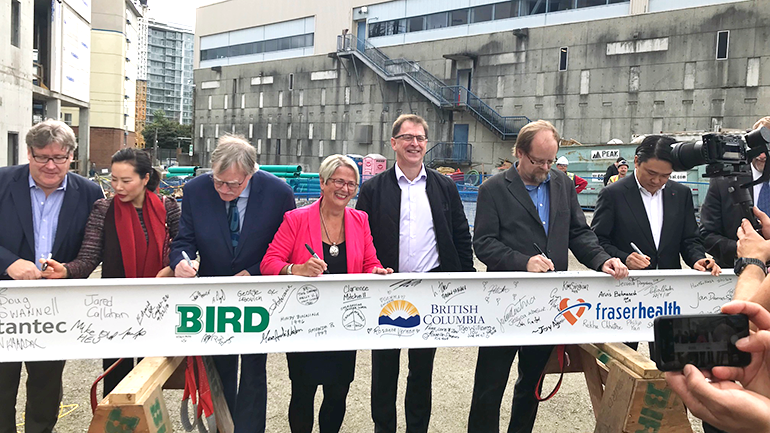 The next phase of a massive expansion of Royal Columbian Hospital in New Westminster is moving forward.
NEW WESTMINSTER - To help meet the demands of a growing population, the British Columbia government is moving forward with the next phase of a massive expansion of Royal Columbian Hospital (RCH) in New Westminster.
This new phase will include a new acute care tower and an expanded emergency department.
In making the announcement, Adrian Dix, Minister of Health, said Phase 2 of the RCH revitalization plan will proceed as a design-build project, rather than the previously approved public-private partnership.
"With more and more people relying on Royal Columbian for the care they need, our job is to make sure this hospital continues to meet that growing demand," said Dix. "The expansion we're planning will deliver better care across the board, from emergency services to diagnostic services to acute care."
The decision to proceed as a design-build model for this phase was determined by a review led by Fraser Health executive and followed by Treasury Board approval. Fraser Health has an experienced and knowledgeable project team that, along with qualified external advisors, will be able to ensure a successful project under the design build model.
Phase 2 will officially get underway Thursday, Sept. 27, when a request for qualifications to design and build will be issued. The new facilities, which will be owned and operated by Fraser Health, will include:
229 new beds, shared between an expanded emergency department and the new acute care tower.
more MRIs to provide faster diagnostic results for patients.
a neonatal intensive care unit.
a rooftop heliport to improve emergency patient transport.
Phase 1 of the revitalization project centred around a 36,500 square-metre Mental Health and Substance Use Wellness Centre to replace the aging 30-bed Sherbrooke Centre, that will allow the hospital to care for hundreds of additional patients each year. That centre is expected to open in 2020.
In anticipation of the completion of this facility, Dix and Judy Darcy, Minister of Mental Health and Addictions, added their signatures to one of the new facility's rooftop beams, along with the signatures of stakeholders and RCH staff.
"This redevelopment at RCH is about connecting more people to the help they need, when they need it," said Darcy. "The new state-of-the-art mental health and addictions centre will be an important part of our work transforming B.C.'s system of care for mental health and addictions."
When complete, the new 36,500 square-metre Mental Health and Substance Use Wellness Centre will include:
Fraser Health's first dedicated older-adult psychiatric unit for seniors, with 20 beds;
a 10-bed psychiatric high-acuity unit;
45 beds for acute mental-health inpatient care;
clinical teaching space;
more outpatient clinics;
a new energy centre; and
a 450-stall parkade.
The estimated $1.35-billion cost of the three-phase redevelopment is funded by the Province, Fraser Health and the Royal Columbian Hospital Foundation. The foundation is fundraising to make a substantial multi-million dollar contribution to these phases.
Quotes:
Michael Marchbank, president and CEO, Fraser Health
"We are increasing the number of patients we can treat, incorporating evidence-based design to create a space specifically for people with mental-health or substance-use issues, and enhancing the patient's experience and privacy. This is British Columbia's oldest hospital, and it's also one of the busiest, accepting patients from across the province. This project will allow our clinicians to enhance care to our province's most seriously ill in a world-class facility."
Doug Eveneshen, chair, Royal Columbian Hospital Foundation
"Led by BMO Financial Group's $1-million contribution, donors are demonstrating how vitally important mental care is in this province and helping to shine light onto mental-health issues. As this phase of redevelopment and phases 2 and 3 move forward, we continue to expand our network of support for a hospital that is unmatched in the province for its scope of services at such a high level of care."
Learn more:
The request for qualifications for Phase 2 will be available for view on the BC Bid website when the RFQ has been issued.
Interested firms are expected to follow the new Apprentices on Public Projects in British Columbia policy, which can be viewed online.
For more information on the redevelopment, visit www.fraserhealth.ca/royalcolumbian


Backgrounder:
Plans for revitalization of the Royal Columbian Hospital:
Phase 1 of the redevelopment project includes a new, more-efficient energy centre; new parking; a campus communications hub and relocation of the current helipad.
The new mental-health facility included in Phase 1 has been designed and is being built to achieve LEED Gold certification.
Phase 2 is expected to begin construction in 2020.
Phase 2 will be procured as a design-build, which will see the successful proponent design and build the project.
Facility operations and maintenance will be the responsibility of Fraser Health.
Phase 2 includes a new acute care tower.
The tower will add more beds for critical care, maternity, medicine and surgical patients, plus a new emergency department, more operating rooms, more suites for interventional cardiology and radiology, more MRIs, a neonatal intensive care unit, pediatric unit and outpatient clinics, a new main entrance, an underground parkade and a rooftop heliport.
Phase 3 is currently scheduled to start at the completion of Phase 2 in 2024.
Phase 3 will expand the capacity of existing hospital areas, including laboratory, medical imaging, pharmacy and food services, and includes renovation of the existing medical-surgical inpatient rooms in Columbia Tower.
Overall, phases 1, 2 and 3 will increase the capacity of Royal Columbian Hospital, one of B.C.'s most specialized hospitals, by 50%, to 675 beds from 446 beds.
Royal Columbian Hospital is the only hospital in B.C. with trauma, cardiac care, neurosurgery, high-risk obstetrics, neonatal intensive care and acute mental-health care all are consolidated on one site. It is one of only two Level 1 adult trauma centres in the province.
Contacts:
Ministry of Health
Communications
250 952-1887 (media line)
Ministry of Mental Health and
Addictions
Communications
250 208-8438 (media line)
Fraser Health
Media Line
604 613-0794