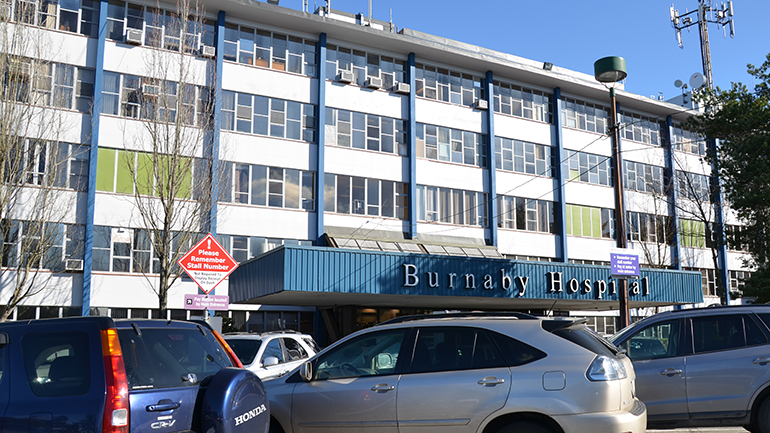 Burnaby Hospital is a big facility with the heart of a small community hospital. People make the difference here for patients, outpatients, and visitors. Current construction projects are bringing people closer – literally, through narrowed corridors, but also in the broader sense as team members work together to help others to find their way.
Tina Murphy is the Clinical Operations Manager for Community Outpatient Services (COS) and Refugee Clinics at Burnaby Hospital (currently in the community). These services will be relocated into one area as part of the hospital renovations. Clustering outpatient services will simplify the process for outpatients to get to the right place at the right time, right from the time of making the appointment. Tina explains that having a single access point will streamline the instructions that are typically given by phone about when and where to arrive. Simplified communication should minimize unnecessary stress for outpatients and their support people.
"Having our services in a single area provides one way in, and one way back out. This physical change actually makes receiving care easier on our outpatients, without the stress of navigating through the rest of the hospital and the physical effort of moving between service locations during a visit," says Tina. "Parking spots at the hospital will also be increased through the construction projects, which will again, help with reducing extra stress."
Along with her team, she's looking forward to the changes the renovations will bring for her area, and she's also seeing the best side of people during the waiting process.
"Renovations can be stressful for people, when hallways don't look the same because of construction, or we need to enter through a different area of the hospital. I've really been noticing many of our team members reaching out to people who look like they might not be sure of where they're headed, and just asking 'Are you lost?'" says Tina. "Making that first connection to our community members is a natural reaction during a time like construction, and it's a nice reminder of how we can all support each other with minimal effort, all the time."
Construction update:
Admitting/Registration is relocating to just inside the east entrance, which will become the Main Entrance for the hospital – this entrance is adjacent to the parkade
Community Outpatient Services will be clustered together to create a single access point for most outpatients attending the hospital for appointments
Mental Health and Substance Use (MHSU) Zone 5 construction will begin in April – a separate patient zone inside of the Emergency Department, with expected completion by early 2020