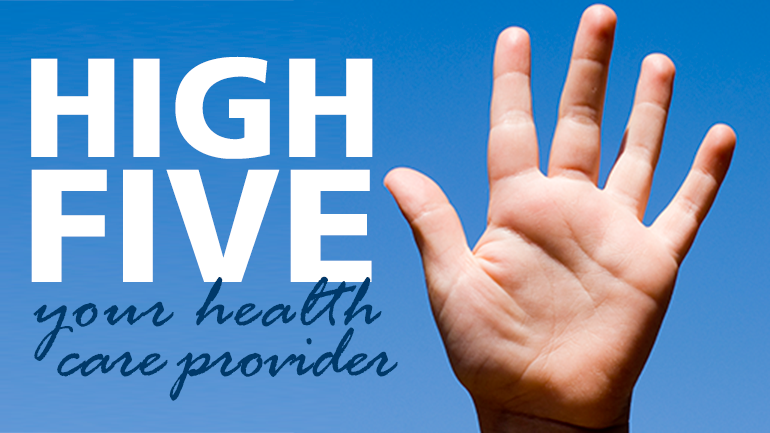 This week's High Fives go out to our amazing people at Jim Pattison Outpatient Care and Surgery Centre, Ridge Meadows Hospital and Royal Columbian Hospital.
Want to send a high five to your health care provider or Fraser Health team member? Leave a comment below or email feedback@fraserhealth.ca.
For the Pain Clinic at the Jim Pattison Outpatient Care and Surgery Centre
I have been attending the pain clinic for the past six years for my back and neck pain.

I just have a few words to say that the staff is amazing. Very professional and always courteous in all aspects. I have to highlight Dr. David Twist and Nurse Practitioner Ruth Ringland who are the best. Always caring and very willing to listen to any possible changes in my pain management, and willing to assist where possible. Always very casual yet very professional.

Thanks to all the staff that I've encountered on my visits over the years.
---
For Ridge Meadows Hospital
---
For Royal Columbian Hospital
I just wanted to say thank you so much to the wonderful staff at Royal Columbian Hospital pediatrics.

Our newborn son had a quick stay there a few weeks ago after developing a fever the same day he was born. The pediatricians, residents, unit clerk, nursing staff were so friendly and helpful and spent the time to make sure we had enough information about our son, the unit etc.

I can't say enough about how attentive the nursing staff was, not just to my son and myself but to all the other patients in the room. Anytime a monitor or IV beeped or a child cried they were in immediately to check and reassure. They were very supportive of myself and my husband and continued to check in to see if we had any needs or questions.

Mandy, Kirby, Robert, Kaye, Mariecris and many more – thank you! Your warmth and professionalism was so appreciated.