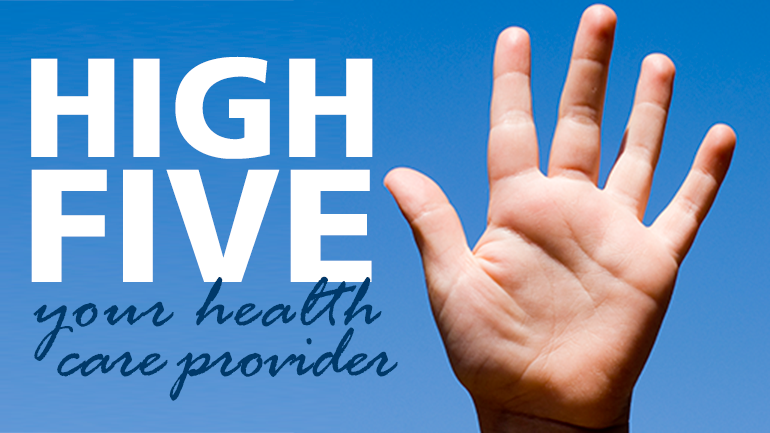 This week's high fives go to our amazing people at Langley Memorial, Peace Arch and Chilliwack General Hospitals and George Derby and Surrey Urgent Primary Care Centres.
Want to send a high five to your health care provider or Fraser Health team member? Leave a comment below or email feedback@fraserhealth.ca.
For Langley Memorial Hospital
I would like to express my appreciation for the compassionate and responsive care my brother, has received from the Langley Memorial Hospital. I am so grateful for the professional comprehensive treatment he is receiving.
As family, we are able to access health care providers in hospital and gain the information we need to support his recovery. My interactions with the bedside nurses, students, unit clerks on 4 South and 3 South, and Lori the patient care coordinator have been extremely professional and caring.
I value our health care system and the wonderful people working within it who tirelessly serve all who enter with needs.
Thank you and blessings to all!
---
For Peach Arch Hospital
I just wanted to give a shout out to your staff for taking care of a very dear friend. The observations of the nurses in post-operation helped [keep] things from worsening.
[My friend] is a mother of young kids and obviously this is a very busy time of the year. Because of the quick interventions of the ICU team she is home in less that a week.
Wishing you all a Merry Christmas and a Happy New Year.
---
For Medical Imaging Department at Chilliwack Hospital
I would like to pass along my compliment to Laverne. Laverne displays a professional and positive attitude and appears to be very knowledgeable in her position. Laverne is a role model for current and future staff working in the health care system.
Keep up the great job!
---
For George Derby Centre
I am writing about a nurse named Kris, who is beyond dedicated, consistently goes beyond her required duties. Kris works with my mother in the lower north wing of the George Derby Centre in Burnaby. My mother was doing poorly, but Kris consistently went the extra mile with my mom, and I saw a dramatic improvement. I wish to thank George Derby Centre for having the wisdom to have Kris on their staff. I hope that Kris is acknowledged for her extraordinary work and efforts.
---
For Surrey Urgent Primary Care Centre
A super big thank you to Jen, the registered nurse at the front desk of Surrey Urgent Primary Care Centre. I really appreciate her attentiveness and care for my needs at that time. Being a nurse myself, I know there are things we cannot control especially the wait times, but she did what she can do within her nursing power to help me. I look up to Jen as a nurse.