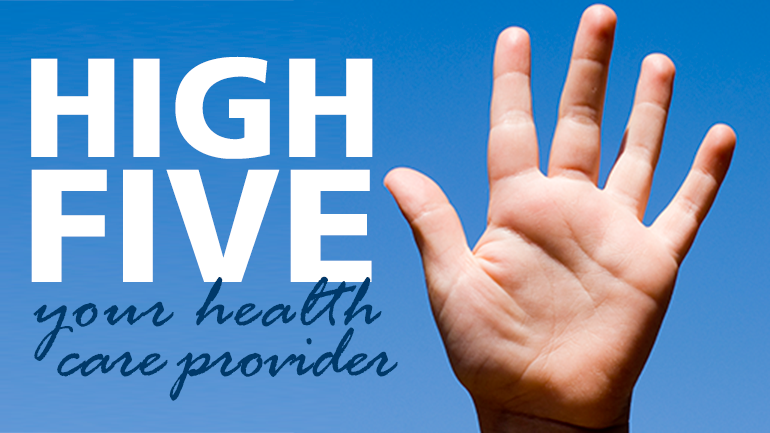 This week's high fives go out to our amazing employees at Surrey Memorial, Royal Columbian, and Peace Arch Hospitals.
Want to send a high five to your health care provider or Fraser Health team member? Leave a comment below or email feedback@fraserhealth.ca.
For the ICU team at Surrey Memorial Hospital
On behalf of our entire family, we would like to express our gratitude for the kindness, compassion and respect we received from the Surrey Memorial Hospital intensive care unit (ICU) team.
Our daughter arrived at Surrey Memorial due to complications from pneumonia. We were greeted by Meena, a social worker, who introduced us to her care team and assured us that she was there to support our family. Our large family was welcomed to be at her bedside, and medical information was communicated clearly in family meetings. We were very grateful for the comfort and escape of the family respite room, allowing us to be with her around the clock. We watched as her doctors and nurses spoke to her with respect.
While we appreciated the entire team, we would like to recognize the following individuals specifically:
Social workers: Meena and Pamela
All of the nurses, including Steve, Nazly, Prab and Rebecca
Dr. Haljan and Dr. Yerman.
She passed away following the decision to discontinue life support. We are heartbroken but grateful for the care provided to us at Surrey Memorial Hospital intensive care unit.
---
For Royal Columbian Hospital
From my admission to my discharge from the hospital, I was treated with care, dignity, compassion and empathy. I was seen, first, as a human being, secondly as a person requiring help, and third as a person requiring medical treatment. Every person I encountered during my stay saw me in every exchange:
Dr. Dionne, Dan and Juliana: thank you for your care, compassion and the gift of a second chance.
2 South Cardiac Care: Thank you for caring for my mother over the years. We were able to spend an additional 20 years with her, and she spoke highly of you. Sam, Samantha, Elisse and Simone: You were instrumental in helping me want to get better. Thank you for giving me the gift of a second chance. Allison and Chantelle: Thank you for your concern, compassion and gift of a second chance. And for letting me go home.
Jeff, a very special thank you. Thank you for being an essential part of an incredible team.
Mrs. Krishna from Housekeeping: Thank you.
To everyone else in the cardiac unit, thank you for doing your part to give me the gift of a second chance.
---
For Peace Arch Hospital
I was in the emergency and Mickey was the person who took care of me. I want to say that he was a caring nurse and made me feel comfortable. Mickey went a step further than usual. Thank you, Mickey.
---
For Surrey Memorial Hospital
We wish to express our gratitude to the Emergency staff at Surrey Memorial Hospital who were quick, professional and helpful. The doctor and nurses in the Emergency, Dr. Brown, and the orthopedic team – thank you.
---
I observed your staff interacting with the gentleman I was visiting as well as with other patients. What a wonderful staff you have. It started with the way people were greeted at the check-in desk by Lesley and the other staff. Big smiles, a warm greeting and a few laughs put people at ease right away and got things off on a good foot.
The same goes for the wonderful nursing staff: very caring, very professional, and at the same time, a lightheartedness about them to help calm anxious patients. And of course, everything runs like clockwork…a model of efficiency!
I was just so impressed, as was the elderly gentleman I was visiting. He could not say enough good things about our hospital. These teams…do our great hospital proud. I certainly feel proud, and I am grateful to your team!