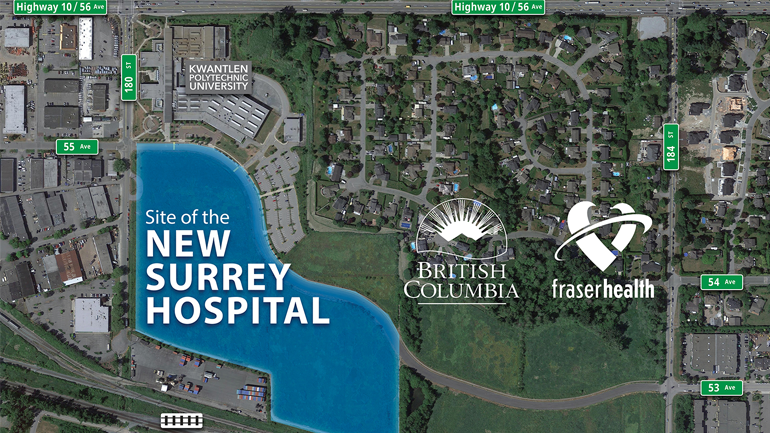 A second hospital is coming to Surrey. Following the purchase of the site for a new, state-of-the-art facility, the project is moving to the business-planning phase.
Surrey's new hospital will be built in Cloverdale beside the Kwantlen Polytechnic University campus at 5500 180 St.
"This is a great day for people in Surrey as we are delivering a new hospital in the community," said Premier John Horgan. "Surrey is a fast-growing community and people will be able to count on better health care close to home for generations to come with the approval of this project."
The new Surrey hospital will have inpatient beds, an emergency department, operating rooms, laboratory and diagnostic services, and outpatient services.
"We are now all systems go for a second hospital in Surrey," said Adrian Dix, Minister of Health. "The Premier promised the City of Surrey a new hospital and today, we are delivering on that promise. This is a key commitment to help meet the health-care needs of Surrey's rapidly growing community."
The business-plan phase will now get underway and finalize details such as the project scope and budget for the new facility. Upon approval of the business plan, the project will proceed to procurement and then construction. Community participation will take place in the months ahead for people to engage in the planning process.
Concept planning is an important part of the process for planning a new hospital. It's an opportunity to make sure the new facility meets community needs and future demands. The plan outlines a high-level vision, providing a framework for projected health services and infrastructure.
This hospital is part of work underway to deliver comprehensive health services for people in Surrey, including a new urgent and primary care centre, a new mental health and substance use urgent care response centre, and a second MRI machine at Jim Pattison Outpatient Care and Surgery Centre.
Provincewide, thousands more MRI tests are being performed each year through the Surgical and Diagnostic Imaging Strategy. People are accessing team-based health care with the launch of new local primary care networks and the announcement of 14 urgent and primary care centres, 12 of which are already open.
All new hospitals in B.C. are planned to a LEED (Leadership in Energy and Environmental Design) Gold standard.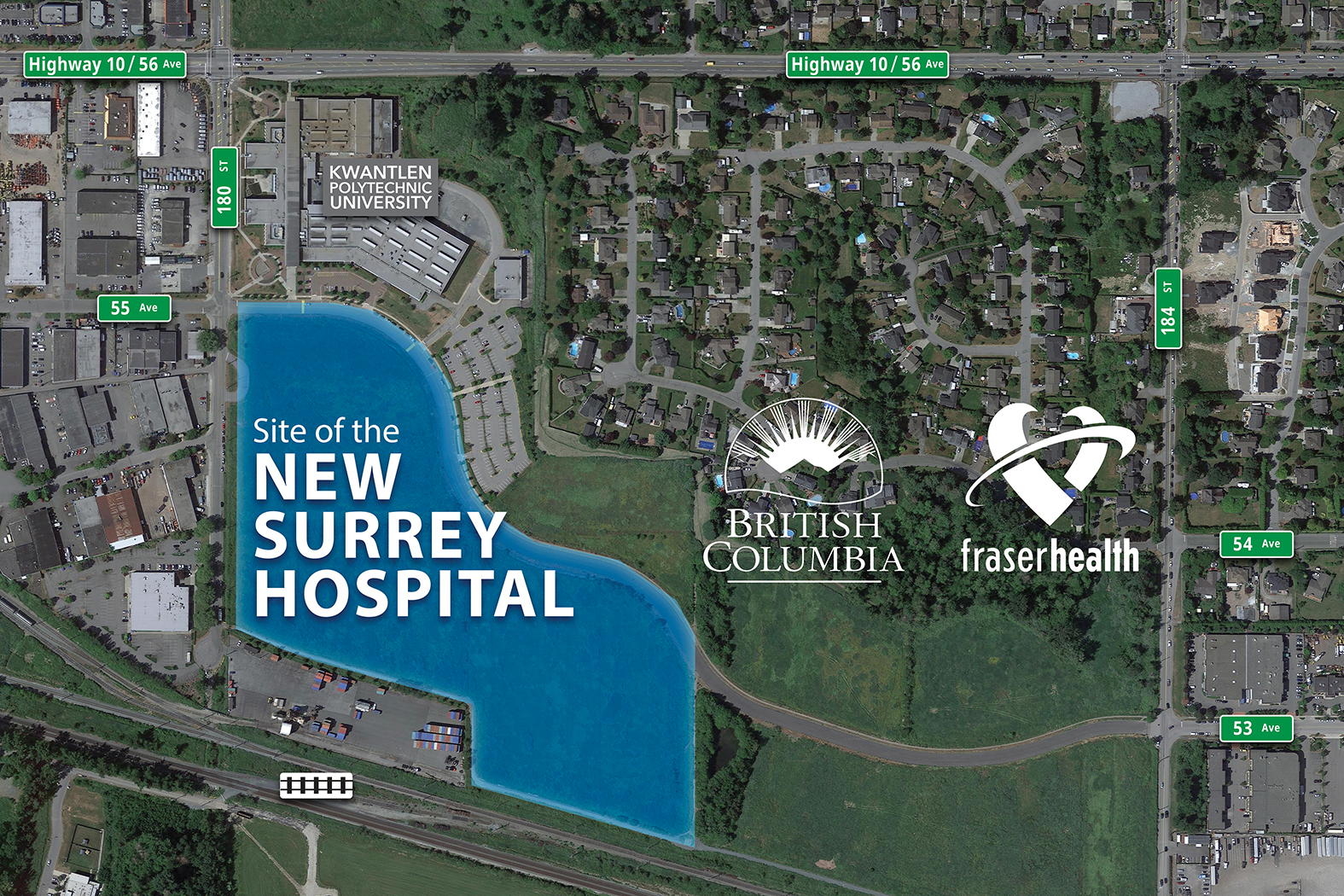 Quick Facts:
The second Surrey hospital is one of 13 major health capital projects announced under this government.
As the second-largest city in British Columbia, Surrey is on pace to overtake Vancouver as the most populous city in the province by 2041.
Clinic outpatient visits in Surrey are expected to increase from approximately 296,000 in 2016-17 to around 423,000 in 2026-27.
Emergency room visits in Surrey are expected to increase from approximately 153,000 in 2016-17 to around 221,000 in 2026-27.
Inpatient and outpatient surgeries in Surrey are expected to increase from approximately 47,000 in 2016-17 to around 63,000 in 2026-27.
Watch the YouTube video: It's official: second hospital coming for people in Surrey
What people are saying about Surrey's second hospital

Dr. Victoria Lee, president and CEO, Fraser Health -

"The new hospital in Surrey allows us to re-envision how health services can meet the demands of this fast-growing and diverse community with an expansion of services and the incorporation of virtual health-care services that go beyond the walls of the hospital. The new site will complement the care provided by Surrey Memorial Hospital and the Jim Pattison Outpatient Care and Surgery Centre and together, the three sites will offer quality patient care for a range of care needs."

Jagrup Brar, MLA for Surrey-Fleetwood -

"Concept plan approval for the new hospital gets us another step closer to a new state-of-the-art facility in our community so people in Surrey will see further enhancements to their quality of public health care."

Rachna Singh, MLA for Surrey-Green Timbers -

"I am thrilled that our government is taking the next step towards making a new hospital a reality, which will offer even higher levels of public health care in our fast-growing community."

Garry Begg, MLA for Surrey-Guildford -

"Our government committed to improving public health care and it's great to see the concept plan approved for a second hospital in the community, which will enhance health-care services for people in Surrey."

Harry Bains, MLA for Surrey-Newton -

"Surrey Memorial Hospital is very busy, and people want quicker access to care, which is why I am grateful our government is approving the concept plan for a new hospital in the community."

Jinny Sims, MLA for Surrey-Panorama -

"Surrey is growing, and Surrey Memorial Hospital is busy helping to meet local health-care needs. Our government is working to meet these challenges, and I thank everyone involved for their collaboration to ensure this new hospital's concept plan was approved."

Bruce Ralston, MLA for Surrey-Whalley -

"A new hospital in our community means people will get the enhanced care they need, health-care workers will help people get better in a modern facility and the economy will be boosted through the construction jobs created once work gets underway."

Ravi Kahlon, MLA for Delta North -

"This new hospital will mean better and faster access to health-care services for people in the area, and I thank Premier Horgan and Health Minister Adrian Dix as well as all of the community partners who worked hard to make this hospital a reality."

Provincial health care investments

Fourteen urgent and primary care centres have been announced around B.C., including: Surrey, Kamloops, Kelowna, Vernon, Quesnel, the Westshore, Victoria, East Vancouver, North Vancouver, Downtown Vancouver, Prince George, Nanaimo, and Burnaby and Ridge Meadows.

Primary care networks are improving access to team-based care in communities throughout the province, including: Brentwood/Hastings, Edmonds, Metrotown, Port Coquitlam, North Coquitlam, Port Moody/Anmore/Belcarra, New Westminster, Southwest and Southeast, Maple Ridge, Pitt Meadows, Richmond West, Richmond City Centre, Richmond East, South Okanagan Similkameen and Prince George.

The provincial government has also completed tens of thousands more MRI exams by boosting the number of MRI machines running longer so people can access care faster.

The Province has announced 13 major health capital projects to replace outdated facilities and meet the needs of growing communities, including:

Surrey - new hospital concept plan approval (December 2019)

Burnaby - Burnaby Hospital Redevelopment (September 2019)

Williams Lake - Cariboo Memorial Hospital (July 2019)

Quesnel - G.R. Baker ED and ICU (March 2019)

Vancouver - St. Paul's Hospital (February 2019)

Trail - Kootenay Boundary Regional Hospital pharmacy and ambulatory care (February 2019)

Richmond - Richmond Hospital tower (March 2018)

Nanaimo - ICU for Nanaimo Regional General Hospital (November 2018)

Fort St. James - Stuart Lake Hospital (October 2018)

North Shore - Lions Gate Hospital (September 2018)

Dawson Creek - Dawson Creek and District Hospital (July 2018)

Cowichan Valley - new Cowichan District Hospital (July 2018)

Terrace - Mills Memorial Hospital (February 2018)
Fraser Health and Ministry of Health Media Contact
Fraser Health Media Relations
Media@fraserhealth.ca
Ministry of Health
Communications
250-952-1887 (media line)
Jen Holmwood
Deputy Communications Director
Press Secretary
Office of the Premier
250-818-4881