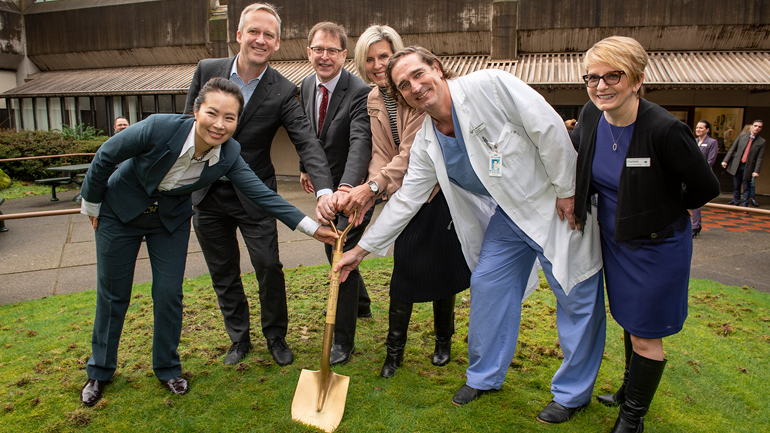 Construction has started on the expanded emergency department (ED) project at Eagle Ridge Hospital. The expansion will increase the number of patient treatment spaces in the ED to 39 from 19.
PORT MOODY - Better emergency care for people in the Tri-Cities area is on the way as construction work begins on a new emergency department at Eagle Ridge Hospital.
"Our government is making the investment for an expanded emergency department at Eagle Ridge Hospital that will meet the needs of the growing Tri-Cities population," said Adrian Dix, Minister of Health. "We are treating emergency care in this region as a priority, so people will be able to receive health-care services in a state-of-the-art facility, and health-care workers will have the room they need to help patients get better, quicker."
The provincial government is investing $22.6 million through the regional health authority in the emergency department expansion. The Eagle Ridge Hospital Foundation is providing an additional $5 million.
The prior plan for the project, announced March 29, 2017, left unresolved questions about the Province's share of the funding.
The expansion will more than double the number of patient treatment spaces in the emergency department from 19 to 39. Construction is expected to be complete in late 2020.
The work will include four new isolation rooms to support improved infection-control measures as well as two new trauma resuscitation bays. Walk-in patients and ambulances will have separate entrances. An area will be designated for chemical decontamination.
When Eagle Ridge Hospital opened almost 35 years ago, the hospital's emergency department had about 20,000 patient visits per year. Since then, visits have increased to more than 50,000 per year. By 2030, demand is projected to increase to 68,000 per year.
Rick Glumac, MLA for Port Moody-Coquitlam –
"I know that over the past years, we've seen overcrowding in the emergency room and people deserve better when it comes to their care. This expanded emergency department is great news for the health needs of people in the community and the region."
Selina Robinson, MLA for Coquitlam-Maillardville –
"It's great to see construction is underway for the expanded emergency department at Eagle Ridge Hospital. I heard from many people that action needed to be taken about emergency care within the facility, and the new ER will help people get the services they rely on."
Mike Farnworth, MLA for Port Coquitlam –
"The expansion of the Eagle Ridge Hospital emergency department is essential to reducing overcrowding and allowing our dedicated health-care workers to continue to provide a great service. I'm proud our government is moving forward with this project."
Dr. Victoria Lee, president and chief executive officer, Fraser Health –
"We know that as the Tri-Cities continue to grow and change, so will the demand for emergency care, which is why we are expanding the emergency department at Eagle Ridge Hospital as one of several expansions we are making across our region. By improving and streamlining the care we deliver, we can ensure our emergency department is there for patients when they need it, and that our physicians and staff can build upon the exceptional care they already deliver in a new facility that will benefit the community now and for many years to come."
Alison Johansen, board chair, Eagle Ridge Hospital Foundation –
"Together with our donor community, we are thrilled to have construction begin on this first phase of the hospital expansion. This is an exciting time for the foundation as we experience first-hand how immensely philanthropic our community is and how transformational the generosity of individuals, businesses and families can be to Eagle Ridge Hospital. Today's event furthers the momentum forward, in partnership with Fraser Health and our passionate community, towards our $5-million fundraising goal to make this expanded hospital a reality."
To expand the emergency department, health records will move to the basement of the hospital, and diagnostic cardiology will expand into some of the existing health records area.

Community outpatient services will relocate to a vacant part of the hospital and rehabilitation services will move to the existing community outpatient services area.

Built in 1984, Eagle Ridge Hospital is a community hospital located in Port Moody, providing primary and secondary services to the areas of Coquitlam, Port Coquitlam, Port Moody and the villages of Anmore and Belcarra.

By 2024, the population of the Tri-Cities is expected to grow by 10%, from approximately 253,000 to just over 278,000.
Media and Ministry Contact
Ministry of Health
Communications
250-952-1887 (media line)
Fraser Health Media Relations
Media@fraserhealth.ca