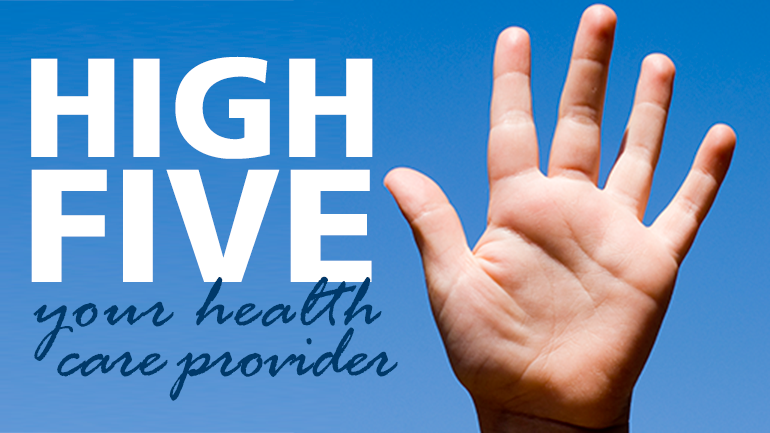 This week's High Fives go out to our amazing people at Hope, Langley Memorial, Royal Columbian Hospital and Surrey Memorial Hospital.
Want to send a high five to your health care provider or Fraser Health team member? Leave a comment below or email feedback@fraserhealth.ca.
For Fraser Canyon Hospital
I wish to express my highest thank you to the paramedics and emergency staff of Hope Hospital. In June, I called 911 to report my wife had fallen into our crawl space; a 4 foot fall. The opening into the crawl space was small; the area was confined.
First to arrive were the paramedics. Their response was fast and in no time they were attending to my wife. Hope fire [also] responded to assist. It was determined to sedate her to numb the pain. Soon she was able to wiggle her way with much assistance. She was the transported to Hope Hospital.

A team of awesome people worked on my wife. Thank you so much from my heart.
---
For Langley Memorial Hospital
I'd like to say thank you to the doctors and nurses of Langley Memorial Hospital.
You made me very comfortable with my stay there. Special thanks to Dr. Phelps and the anesthesiologist and nurses who attended my caesarian section. And to Christine, the nurse who monitored my non-stress test, and to nurse Kayda; you're amazing as well. Keep up the good work. Kudos!
---
I was discharged from Langley Memorial Hospital this evening and just wanted to send some compliments to the ER staff. I saw Dr. Tran and he was extremely attentive and thorough. All of the ER nurses, including registration and triage, were great too – very professional and kind. Everyone was a pleasure to deal with, and I was in and out in a fairly reasonable amount of time, which I really appreciated. Although no trip to the ER is fun, the staff tonight made my evening much less miserable than it could have been. Thank you!
---
For Royal Columbian Hospital
I thank all the staff at RCH from emergency, to Columbia tower, to Sherbrooke. Everyone cared for my wife at the highest level and all should be proud of their work and caring.

I hope my future donations help the hospital staff continue their outstanding caring service. Thank you.
---
I am contacting you to tell you what a great experience I had yesterday at Royal Columbian Hospital. I had an angiogram that was completely successful. The staff when I arrived to prepare were excellent as were the operating staff and recovery. Please keep up the good work.
---
For Surrey Memorial Hospital
I would like to thank the surgical day team staff for making my visit comfortable. In July, I went in for a hysteroscopy, dilation and curettage, and polypectomy. I have never had a surgery before and I was nervous with what to expect and how things would play out. The staff, especially, nurse Sulinder, Dr. Bakhat, and Dr. Findley, eased my feelings of anxiety by thoroughly explaining the procedure, welcoming my questions, and providing a caring, friendly service. Thank you again. Much appreciated.