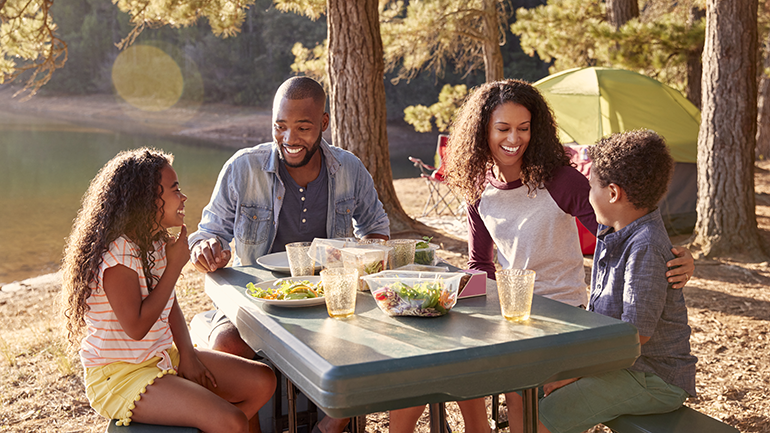 Find tips for healthy eating on the go.
Summer vacations and family road trips mean snacks and meals on the go. It's easy to grab these foods from roadside fast-food restaurants and concession stands – but it's not the most nutritious or economical choice.
While it can be convenient to choose prepared processed foods while travelling, this can add extra sugar, salt, and saturated fat to you and your family's diet. Buying foods from restaurants, convenience stores, and gas stations can also make your vacation much more expensive.
A little advance planning can help you keep your costs down and your energy up during your next summer adventure. So get out a cookbook along with your map and start plotting out your healthiest summer vacation ever.
Follow these tips for a healthy, active and enjoyable vacation:
Nutritious food options are often limited while travelling. Planning ahead is key.
Get inspired by recipes in your favourite cookbooks, or online. Try Canada's Food Guide and Cookspiration for healthy, delicious recipes.
Make a shopping list and stick to it. Make sure to include healthy snacks.
Vacation prep can be hectic, so schedule a visit to the grocery store for ingredients.
Involve the whole family to ensure everyone has food they enjoy while away from home.
Keep hot foods hot in an insulated thermos. Keep cold foods cold with freezer packs or ice.
Freeze BPA-free water bottles to use as ice-packs in lunch bags to keep your food safe and drink later in the day
For longer trips, use a cooler with ice and refill at gas stations and grocery stores.
Pack foods you prepared at home, or easy to assemble foods such as wraps, burritos, or picnic-style lunches with whole grain crackers, hummus, and cut-up fruits and vegetables. Avoid too many processed foods.
Bring a variety of foods that are easy to eat:


Produce: Pre-washed bagged salads, washed, cut fruit and vegetables, guacamole, cherry tomatoes, and snap peas are good options.
Protein: Eggs, beans/lentils dairy and meat. Travel-friendly options include hard-boiled eggs, hummus, cubes of low fat cheese or Greek yogurt cups.
Whole grains: Whole grain crackers, bread, tortillas, pitas and rotis are great for sandwiches, to dip in hummus or snack on with cheese.
Going on a day trip? Pack a lunch with healthy food to keep you going. Ideas to try:
Sandwiches or wraps, such as Greek-style chicken sandwiches.
Washed and cut fruit and vegetable sticks.
Hard boiled eggs. Buy them pre-prepared at deli counters for extra convenience.
Whole grain crackers with nut butters or hummus.
Quick and easy no-bake granola bars, trail-mix, unsalted nuts.
Make water your drink of choice. Add sliced cucumber, herbs, or berries to flavour water.
Keep extra filled reusable water bottles in your cooler to help your family stay hydrated.
Avoid sugary drinks. Forgo the frappuccinos, soda pops and energy drinks and hydrate your kids with water instead of juice.
Plan meal stop locations in advance to make better choices – let kids get involved.
Eating in vehicles can increase choking risks for children. Make a rest stop for a quick picnic or meal.
Make meal time enjoyable. Bring your favourite blanket, play music, and enjoy nature.
Taking time out for meals can help your family feel refreshed and rested for adventure.
Don't forget to pack nutritious foods and you and your family will be set for a fun-filled vacation.
Visit our Fraser Health Children and Youth and School Health web pages for even more ideas to keep your kids healthy all through the summer season.