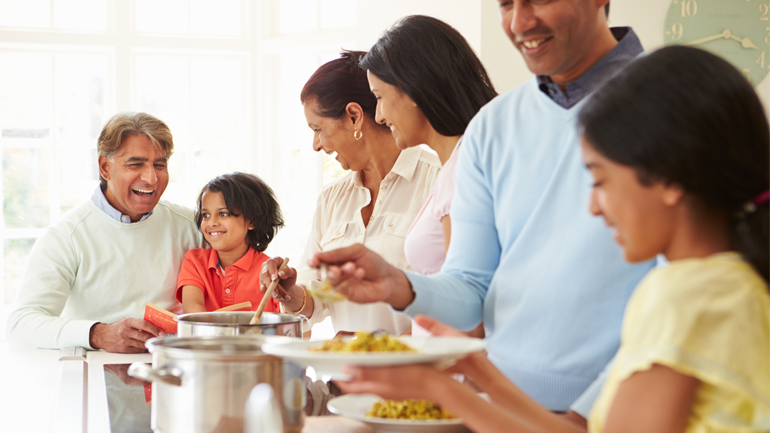 People of South Asian decent are at higher risk for developing heart disease compared to the general population. Learn how to lower the risk.
Did you know people of South Asian decent are two times more likely to develop heart disease than the general population? There are many reasons why heart disease is on the rise. Lifestyle choices such as poor diet, lack of exercise and too much screen time are some of the issues. That said, it's never too late to learn what you can do to lower your risk of heart disease. Read on for healthy food and exercise tips that can help you improve your own heart health.
Eat soluble fibre rich foods often. Choose from cereals with psyllium, oatmeal, beans, lentils, barley, ground flax, apples, strawberries and citrus fruits.

Eat fish high in omega-3 fatty acids twice per week. Some examples are sardines, salmon, herring and tuna. Choose fresh, frozen or canned fish without salt as well. Plant based sources of omega-3 fatty acids include ground flaxseed, hemp hearts and chia seeds, which can be added to yogurt or cereals, and snacks like edamame or walnuts.

Eat more vegetables and fruits. They are full of fibre and antioxidants that are protective for heart health. Try a handful of pomegranate seeds or frozen blueberries mixed with plain yogurt for an afternoon snack.

Avoid eating too many foods with added salt, sugar and fats, such as store bought cookies, pastries, granola bars, ice cream, mithai and other Indian sweets.
Creating a daily self-care routine, which includes exercise, is important to staying active and managing stress levels. Health Canada recommends 150 minutes of moderate to vigorous physical activity each week for adults. Being active helps lower cholesterol and triglyceride levels, boosts energy and just makes you feel good. Here are some tips to help you get started:
Stretch your body when you wake up.
Go for a walk during your lunch break.
Take the stairs instead of the elevator.
Go on a hike with your family or friends.
Walk to the park, climb the equipment and move around with your kids.
For more information about the South Asian Health Institute and recipes, visit www.fraserhealth.ca/SAHI.