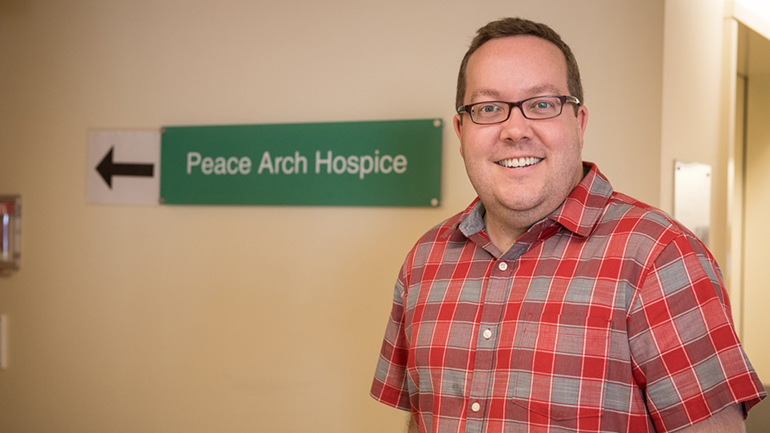 The death of a loved one is one of the most painful and difficult experiences we encounter in life. Fraser Health physician Dr. Andrew Collins has found a way to help with the loss and bereavement families feel after a loved one passes – through legacy art.


A palliative care physician at Peace Arch Hospital, Dr. Collins cares for patients at the end of their lives. "My passion is helping patients live as long as possible with the highest quality of life," he says.
Dr. Collins' trajectory towards medicine was set at an early age. His older brother was diagnosed with a brain tumour when they were children. "It really changed the dynamics and the whole family structure," he remembers. "We had to go to the hospital all the time, we saw so many doctors. And seeing the difference that care made for my brother profoundly impacted me."
He studied family practice medicine at Memorial University in Newfoundland before moving to Edmonton to complete a fellowship in palliative care in 2016. Since that time, he has worked in palliative care at Peace Arch Hospital.
"Palliative care goes beyond whole person care," Dr. Collins says. "It extends to support the family and friends as well. I've found legacy art helps make this possible."
Legacy work is a tangible object that patients can leave their loved ones when they die. It can be a letter, card, video or piece of art. "Research shows legacy work helps with the acceptance and grieving process; it creates a link between the person who has passed away and their loved ones," Dr. Collins says.
He recalls one particular story to illustrate:
"We had a patient who was a young man in his twenties who suddenly went from a normally functioning, going-out-for-beers kind of guy to not being able to see or walk and being bed-bound because of his brain cancer. It was around Christmas time and we could just see how difficult a time this was for his family. The patient agreed to do a legacy art project and create a thumbprint impression we then turned into a keychain for his dad and necklaces for his sisters and mom. We surprised his family with the thumbprint on Christmas day. They were just running down the hall to give us a hug and there were lots of tears and joy."
"A legacy project can help families or individuals realize how their loved ones felt and can allow the patient to recognize that their life had impact and meaning," says Dr. Shikha Minhas, a colleague of Dr. Collins' and a palliative care physician at Surrey Memorial Hospital. "To be able to give families and patients this opportunity at such a difficult and often scary time is so powerful, it can change their experience of death and dying."
Dr. Collins agrees. "Legacy work is powerful. In my work, I order medications and treatments all the time and I'm grateful I have the knowledge to help with symptoms. But there is only so far medications can go at the end of life. Legacy work can help fill the gap."
Dr. Collins along with his team has trained volunteers from other sites on how to do legacy work in their own units and facilitates self-care art therapy workshops for Fraser Health hospice employees.
"Dr. Collins is a physician of integrity, grit and compassion," says Dr. Shikha Minhas. "He goes above and beyond in his daily interactions with palliative care patients and he approaches each person with respect, curiosity and humility."
Dr. Collins is the recipient of this year's Above and Beyond Innovator Award.
Read more about this year's other Above and Beyond Award recipients.