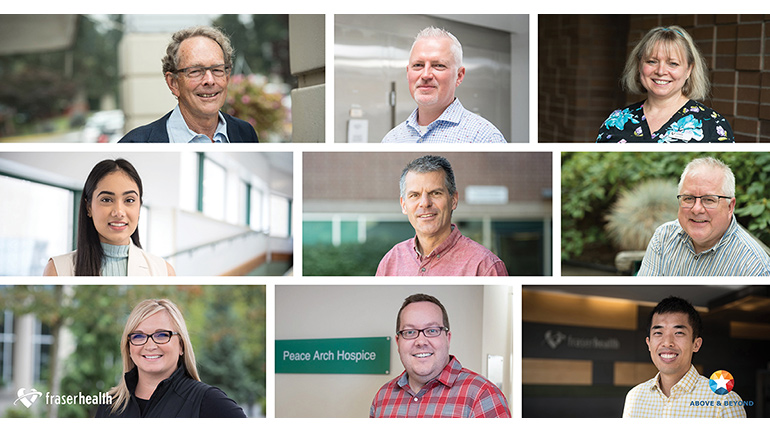 The 2019 Above and Beyond Awards honoured nine individuals in five categories at a special awards ceremony on November 25.
The Above and Beyond Awards recognize Fraser Health employees, teams, physicians and volunteers who have achieved extraordinary results in everything from improving care to health care innovation.
"I am so pleased to celebrate our Fraser Health family and the exceptional ways these award recipients have helped us deliver the best in health care," said Dr. Victoria Lee, Fraser Health President and Chief Executive Officer. "These individuals have led by example, and by exceeding expectations, they inspire and motivate others to go above and beyond as well."
Congratulations to all of the 2019 Above and Beyond Award recipients and all those who were nominated.
Meet the recipients
Fraser Health Hero Awards
| | |
| --- | --- |
| | Linda Hutnan, unit clerk at Eagle Ridge Hospital, is passionate about creating a healthy and happy workplace. Her positive outlook, caring nature and commitment to quality improvement have earned her the reputation of being 'the heartbeat' of her unit. |
| | Social Worker Scott Stewart embodies the idea of doing small things with great care. His unwaveringly positive attitude and commitment to support and advocate for residents and their families have made a positive difference for the residents and care team at Queens Park Care Centre. |
Innovator Awards
| | |
| --- | --- |
| | Senior Operations Engineer Robby Chen analyzes and utilizes patient metrics to inform quality improvement. He led the development of the myPSP Dashboard, an online tool that makes data more readily-accessible in order to support better decision-making and patient outcomes. |
| | Palliative Care Physician Dr. Andrew Collins' innovative legacy program at Peace Arch Hospital enables patients to create tangible objects – letters, videos, or works of art – to leave for their loved ones when they die. His work has helped many patients and families experiencing grief and bereavement. |
Best Collaboration Awards
| | |
| --- | --- |
| | Maternity Clinics Coordinator Tracy Messmer brought together teams, sites and other health authorities to create Fraser Health's first Early Pregnancy Assessment Clinic and the Obstetric Internal Medicine Clinic at Jim Pattison Outpatient Care and Surgery Centre. These clinics enable expectant women, new parents and babies to access specialized services closer to home. |
| | Regional Morgue Coordinator Ian Murray has built strong partnerships at sites across Fraser Health as well as with BC Coroners Service and local funeral homes. Because of his collaborative approach, the hospital morgues in the region are better equipped to provide quality post-mortem care for patients. |
Service Delivery Excellence Awards
| | |
| --- | --- |
| | Poonam Deol is a volunteer who has dedicated more than 500 hours to Langley Memorial Hospital through our student volunteer program. She is known for her enthusiasm and dedication in leading the student volunteers and supporting the daily operations of the program. |
| | An emergency physician at Abbotsford Regional Hospital and Cancer Centre, Dr. Philip Shaw is known for his high standards of care and for continuously striving to improve processes. He helped launch a Simulation Program that enables emergency department teams to practice drills with high-fidelity mannequins, supporting inter-professional training at the bedside. |
Lifetime Achievement Award
| | |
| --- | --- |
| | Before retiring in March 2019, Dr. Michael Noble treated patients suffering with cancer and blood diseases at Royal Columbian Hospital for more than 40 years. For many of those years, he was the sole specialist physician who supported patients with these conditions. His tireless dedication and commitment to his patients and colleagues have left a lasting legacy in the oncology and hematology departments at Royal Columbian Hospital. |
Join the celebration
During the next few weeks, we will be sharing stories of award recipients on our social media channels. You can share their inspiring stories and offer up your own kudos to recipients on social media using the hashtag #ABAwards.
You can also view and share some of the event photos from this year's ceremony on Twitter @Fraserhealth, with the hashtag #ABAwards, and on Instagram.

Thank you again to everyone who nominated inspiring candidates from across Fraser Health, and to the nine award recipients for their dedication and commitment to making Fraser Health the best in health care.