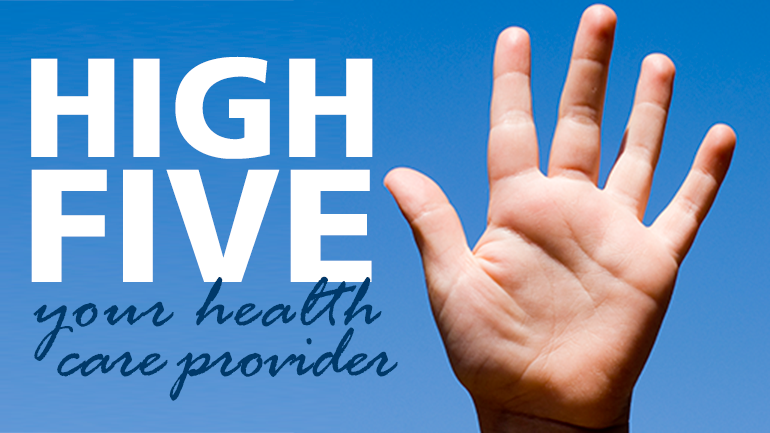 This week's kudos go out to our wonderful employees at Eagle Ridge, Abbotsford Regional and Surrey Memorial Hospitals, as well as Tri-Cities Home Health.
Want to send a high five to your health care provider or Fraser Health team member? Leave a comment below or email feedback@fraserhealth.ca.
For Eagle Ridge Hospital
The level of care was great and a wonderful atmosphere was present … every nurse smiled and was great to talk to. The resident doctor explained what she was doing [and was] personable. My wife and daughter were with me. They have similar experiences to share. I feel like the care I received was thoughtful [and] thorough ... I think the coolest part was to watch the interactions amongst the staff. They seem to be a great team.
---
For Abbotsford Regional Hospital
I would like to extend my utmost appreciation to the following staff in the Palliative Care Unit: Katerina, Rachel, Julie, Elaine, Kendra, Ashley, Cheyne, Neelam, Joanne, Rae and Tara. Each and every one of these amazing individuals provided astounding services to my grandmother during her final days in the Palliative Unit. The amount of dignity, care and concern they provided unto her is worthy of recognition.

I am truly grateful for their kind hearts.
---
From my pre-operation discussions to my post-operation recovery, everyone was amazing. The professionalism, courtesy, and empathy was second to none. That comes from great leaders and a great collaborative team. It was very impressive.

Thank you all for making my operation, that I was a little nervous about, so bearable.
---
For Surrey Memorial Hospital
I would like to pass along my thanks to the team at the Pediatric Emergency Department at Surrey Memorial Hospital. [They] took great care of my six-year-old son after he fractured his elbow yesterday afternoon. My husband who accompanied him had nothing but great things to say about the entire team from triage to the medical staff.

The nurses and doctors made our son feel very comfortable and told him he was their 'star patient' that day, earning him a special sticker, which he was very proud of.

Thank you for making this stressful situation as painless as possible.
---
We would like to say a big thank you to Grace in the maternity ward at Surrey Memorial Hospital. She was so incredibly nice helping us through the delivery of our first baby and made the experience so amazing with her dedication and kindness.

She was exemplary and we couldn't be happier with how she looked after us.

We would also like to thank all other members of staff who assisted us and thank Surrey Memorial Hospital for their kindness and great service.
---
For Tri-Cities Home Health