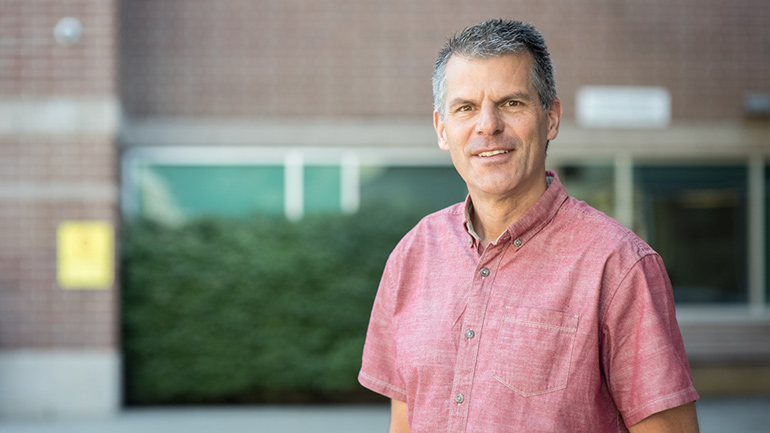 For most people, the Emergency Department is a stressful place to avoid, but for Dr. Philip Shaw, emergency physician at Abbotsford Regional Hospital and Cancer Centre, it is a place he feels at home.
Dr. Shaw has dedicated 25 years to treating patients and training the next generation of Emergency Department teams at Matsqui-Sumas-Abbotsford and Abbotsford Regional Hospitals.
"Growing up I actually thought I would become a physical education teacher or physiotherapist," Dr. Shaw recalls, "but a conversation with my older brother when I was 19 was what set me on the path for medicine."
Dr. Shaw completed his undergraduate studies at Guelph and McGill universities before pursuing medical school at the University of Ottawa. When he moved to B.C. in 1993, he began working in emergency medicine for Fraser Health at the former Matsqui-Sumas-Abbotsford Hospital.
This long-term commitment and dedication to the community and to his local hospitals has provided fertile ground for growth, innovation and adaptation. He's been instrumental in ensuring high quality care for patients in the Emergency Department, successful expansion of the department and the implementation of countless quality improvements.
Dr. Shaw served as the Emergency Department head from 2009-2014. "He deftly mentored the new physicians, myself included, and set a high bar with his level of collegiality, involvement and dedication to our Emergency Department," says current Emergency Department Head Dr. Payrastre. "Now, years later, Dr. Shaw has mentored and supported three subsequent department heads and has been a steady and supportive voice for all physicians within our department and continues to play a very active role in our emergency community."
Dr. Shaw is a UBC faculty member, teaching family practice residents in the Emergency Department, and is also actively involved in the recruiting and training of direct care staff in the department.
He was also one of the core leaders in the development of the Simulation Program at Abbotsford Regional Hospital. "Under the guidance of Dr. Mike Yatscoff, we pulled together a committee and built a simulation lab," Dr. Shaw explains. "This has allowed us to bring medical simulations to physicians and nursing staff on a regular basis, supporting interdisciplinary training at the bedside." Through this program, direct care emergency and hospital staff are able to regularly practice drills and exercises with high fidelity mannequins, helping them augment their individual and team skills in stressful clinical situations.
"Dr. Shaw's tireless work and leadership has led to the betterment of not only our Emergency Department but to Abbotsford Hospital as a whole," says Dr. Reg Peters, an emergency and trauma physician at the hospital and one of his colleagues who nominated him. "After more than 25 years, he continues to shape the fabric of our hospital, and for that reason he is deserving of this award."
Dr. Shaw is the recipient of this year's Above and Beyond Service Delivery Excellence Award.