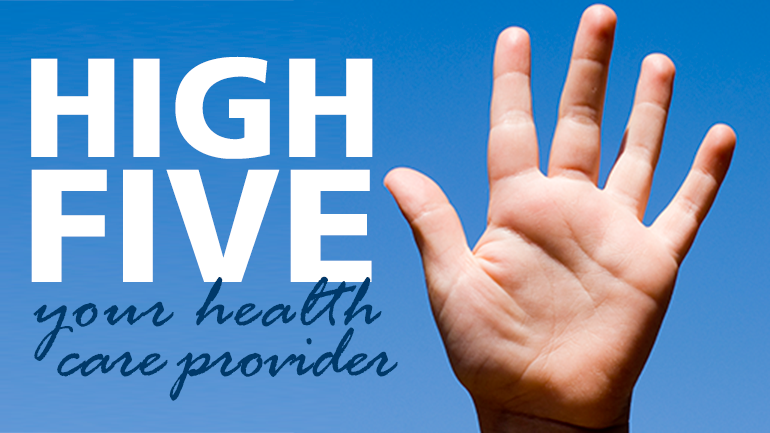 This week's high fives go to our amazing people at New Westminster home health, Royal Columbian and Ridge Meadow hospitals and Dr. Hussein.
Want to send a high five to your health care provider or Fraser Health team member? Leave a comment below or email feedback@fraserhealth.ca.
For Royal Columbian Hospital
I went to the Emergency and I was out of the hospital just after 1:00 pm. Wow!
The treatment I received from your staff, from start to finish was exemplary; kind, efficient, humorous, professional, even the egg sandwich was good.
Dr. Davison, Dr. Max, Robert and Sherry and other staff all deserve my thanks, for making me feel better physically and mentally. This was my first experience at Royal Columbian Hospital and I hope it will be my last, but if not I know I will be in good hands.
*******************************
I want to extend my gratitude to the staff at Royal Columbian Hospital. My mother was admitted for surgery for her cancer diagnosis last month. This was an emotional and stressful time for all of us and your staff provided compassionate and excellent care.
I would like to especially thank the following nurses: Fahima for taking the time to explain everything and she didn't rush through pre-op assessment. Linda is a real joy in the Post Anaesthetic Care Unit. She was amazing at explaining how things were going with my mom and providing updates. The nurses on 3 south, Taylor, Jovy, and Amanda, and her nursing student Brandy were all so kind to my mom.
And of course, Dr. Mackenzie and his staff. We feel blessed and we couldn't be happier with the care that she received.
---
For New Westminster home health
Please accept our sincere gratitude for everything you have done to assist in my recovery. We appreciate your help in accessing the Fraser Health care team. Your patience, encouragement, advice and wound care expertise were outstanding. All of you were instrumental in ensuring my treatments were always available. I am walking because of your kind and compassionate care. Your dependable professional advice was appreciated when we didn't know what to do! Thanks again for your expert care.
---
For Ridge Meadows Hospital
I had surgery on September 26th at Ridge Meadows Hospital. The care, compassion and complete attention to every detail from the moment my doctor scheduled me was outstanding. I knew where to go, who to see, what to do. Every detail was organized.
The hospital was clean and the doctors and nurses went above and beyond in my care. Could not have asked for anything better.
Thank you to all the staff, the doctors, nurses and everyone who aided in my recovery. You all deserve praise and thanks.
---
For Dr. Hussein