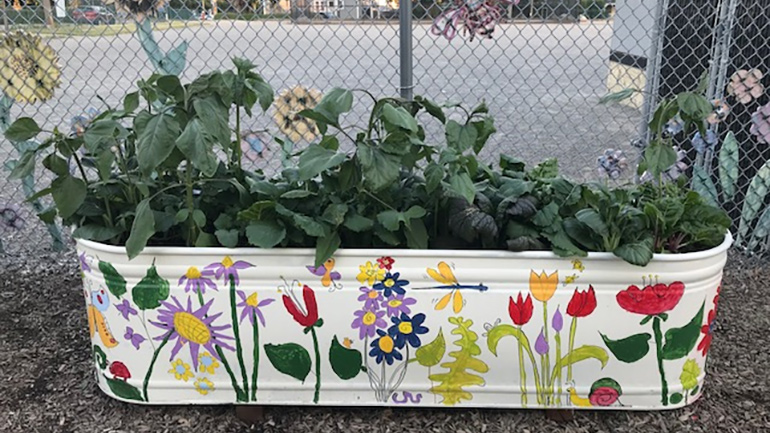 A Farm to School BC grant enabled a New Westminster elementary school to expand their garden to grow a variety of vegetables, fruits, herbs and sunflowers.
Lord Kelvin Elementary School in New Westminster already had a small shrub garden and garden club established. In 2018, a Farm to School BC grant enabled them to expand their garden by adding three 8 foot galvanized steel containers to grow a variety of vegetables, fruits, herbs and sunflowers.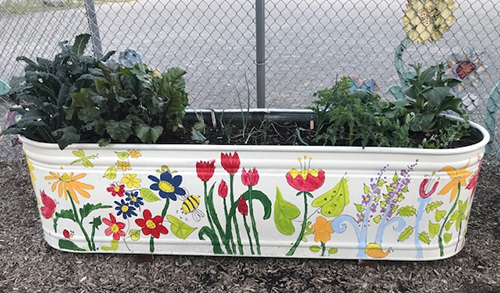 The school partnered with Paint New West Beautiful who are involved in public art painting projects. The goal of Paint New West Beautiful is twofold – to beautify an area and engage citizens in community and collaborative art. This organization seemed a perfect match to the needs and goals of the school garden – to beautify the garden space and also engage the students with the garden in new ways.
The painting was done over a period of a week and involved priming, outlining the design and painting. The artists from Paint New West Beautiful generously donated their expertise, time and painting supplies. Students were given the opportunity and freedom to paint the containers from their own artistic perspectives in a way that represented beauty to them. Most of the students were from the grade 4 and 5 classes. The artists outlined each of the containers, while the students painted them.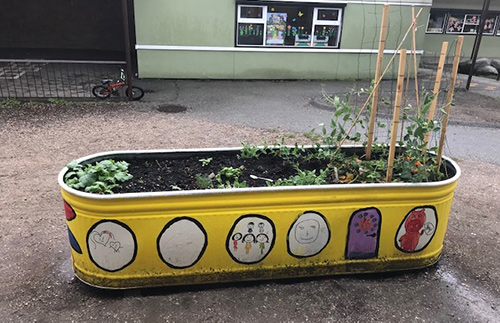 Beautifying the garden containers gave the students another opportunity to be hands-on with their garden space and to take pride in the creative outcome of their painting project. Letting them explore their artistic side is a reminder that school gardens are about so much more than just growing food. While Farm to School BC brings healthy, local and sustainable food into schools and provides students with hands-on learning opportunities that foster food literacy, it can also enhance school and community connectedness.
Strengthening relationships between the school and with the larger community is an important aspect to ensure gardens' long term success because community partners often bring expertise, talent and experience that may not be found within the school.