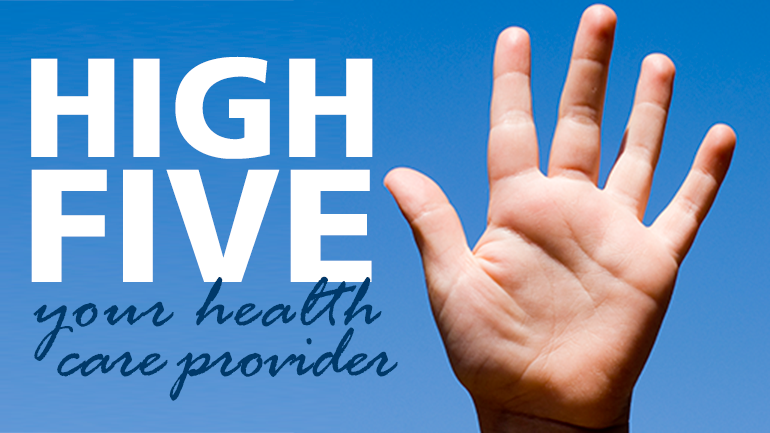 This week's high fives go to our amazing people at Royal Columbian and Surrey Memorial Hospitals and Queen's Park Care Centre.
Want to send a high five to your health care provider or Fraser Health team member? Leave a comment below or email feedback@fraserhealth.ca.
For Royal Columbian Hospital
My husband, was released after having brain surgery with Dr. Chan on Friday. We would like to say what wonderful staff you have at Royal Columbian Hospital. Dr. Chan is a master at his craft and we couldn't be more thankful that he was the person in charge of my husband's surgery.
All the staff was kind and helpful, but we specifically would like to mention Kevin in recovery, Jereme and Anna in neurological recovery and especially my husband's night nurse Elena in the neurology ward.
These people went above and beyond to make us feel cared for. They asked good questions and showed concern and empathy. The world is a better place for having such people in it, they have all chosen a career that most people could never do, never mind excel at.
Please pass on our unending gratitude and thanks.
---
For Queen's Park Care Centre
I would like to express my gratitude to the staff on 2 west, Queen's Park Care Centre. My mother was a resident there for a few months. The staff went above and beyond with their responsibilities with my mother. When I was there to see her, every morning, they always had a smile, said good morning and if I ever had a concern, they would address it immediately. The staff also commented on how pleasant my mom was to work with.(She always had a smile, a positive attitude, and thanked them, even if it was to take blood, or any uncomfortable procedure). I am forever grateful for those people, and it made me feel assured that she was well taken care of.
Thank you from the bottom of my heart.
---
For Surrey Memorial Hospital
I developed severe pain on my left knee. This was only my second visit to an Emergency in my entire life. I found the staff at Surrey Memorial very friendly and helpful. They listened and attended to me at their earliest. Doctor Gill was very thorough in diagnosing the problem and had me administered with pain medicine to ease the severe pain. The male nurse who administered the pain medicine was very professional. The x-ray technician was very helpful as well, even the porters. My experience at Surrey Memorial Hospital was very satisfying. Thank you all and keep up the good work.